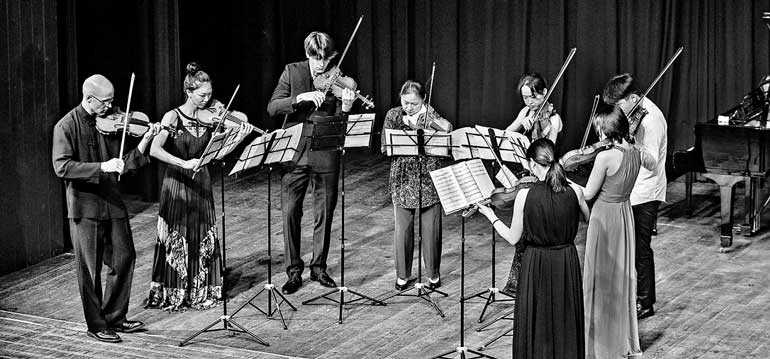 A review of 'The Art of the Violin' – The Midori Violin Studio Project
By Richard Simon

On the evening of 17 March at the Lionel Wendt Theatre, under the auspices of the Chamber Music Society of Colombo and before an invited audience of its patrons, the great Midori and some of her protégés gave an exhibition of classical violin music of a quality and virtuosity never before heard in this country, and unlikely, in my opinion, ever to be heard again.

I was privileged to be a member of that audience, and I found the performance breathtaking. I also got to hear some pieces of music I had never expected to see played live, simply because no-one in our part of the world is physically capable of playing them.

That Midori Goto (who is known professionally only by her first name) should have chosen to perform in Sri Lanka at all seems implausible at first blush. This is a woman who stands in the front rank of classical violinists; her performances and recordings are normally supported by the world's most celebrated orchestras, and she is one of the few performers ever to have recorded a version of Saint-Saëns's formidable First Violin Concerto.

At the time of writing she holds the Jascha Heifetz Chair at the University of Southern California's Thornton Music School and an honorary professorship at the Beijing Conservatory, as well as guest professorships at Shanghai and in her native city of Osaka, Japan. For some time, she was also a humanitas professor at Oxford. Classic FM magazine has named her one of the world's top 25 violinists.

How did humble Sri Lanka manage to attract a musician so grand? Part of the answer, as I heard from CMSC concertmaster Lakshman Joseph de Saram, is that he and Midori were once students together at Juilliard Pre-College in New York. Midori also collaborated for some time with an accomplished pianist of Sri Lankan origin, Rohan de Silva, and he, assisted by another accomplished Sri Lanka-born American pianist, Sujeeva Hapugalle, helped arrange her visit. But of course, personal acquaintance is not nearly enough, of itself, to alter the schedule of one of the world's top concert violinists; the lady had her own reasons.

Midori, as I have recently learnt, is the founder and chief executive of a USC-backed charity or 'community engagement project' aimed at bringing great Western classical music to people who, through poverty, disability or similar disadvantages, might otherwise never hear it. She achieves this in the simplest possible way: by going and playing to them herself. Much of her work is conducted in Asia: Bangladesh, Cambodia, India, Indonesia, Laos, Mongolia, Myanmar and Nepal have all been beneficiaries of the project. Sri Lanka was, you might say, due a visit.

That she and her studio members ended up at the Lionel Wendt, playing to a Colombo audience all dressed to the nines, was, in a way, incidental. This wasn't the gig they really came to play. Over the previous few days, the maestra and her studio had already performed several times – at the Victoria Home for Incurables at Rajagiriya, the Deaf & Blind School and the MJF Special Needs School in Ratmalana, and at a home for the aged run by the Little Sisters of the Poor, a Roman Catholic religious order, in Colombo. The audiences for these shows comprised only the inmates and staff of the said institutions. Apart from a few CMSC members, no outsiders were present.

I don't suppose many of those listeners were aficionados of classical music, or had any idea who Midori was, but I was assured that they enjoyed the music all the same. I am fully prepared to believe it. I have been a regular at Chamber Music Society recitals for several years now, but though I can tell Bach from Mozart and Vivaldi from Beethoven I wouldn't call myself knowledgeable about what people call classical music. Nevertheless, I found myself perfectly able to engage with the music played at the 'Wendt that Saturday night. How could I doubt that the institutional residents and students who heard Midori and her group play earlier in their visit were any less delighted than I?



The audience, comprising long-term patrons and sponsors of the Chamber Music Society, were in their seats well before curtain time and had settled down nicely by the time the first performers entered stage right. These were Jiyoung Park, the first of a long parade of soloists, and Jiayi Shi, the pianist who was to perform their accompanying music. The young lady who helped Shi with her sheet music would later be identified as Yue Qian, another of Midori's violin students.

Park gave us Hindemith's Sonata in E flat Major, a work written in 1918. Like many of the other players we heard that evening, she is currently at USC Thornton, studying for her doctorate under Prof. Goto (Midori's academic alter ego) while carving out a concert career for herself. Her interpretation of the Hindemith lived up to the composer's own tempo instructions for the first movement: frisch, or, in English, 'fresh'. Park's tone was like good Chablis: a little thin, with a touch of acid, but vivid and invigorating just the same.

Next in the programme was Chausson's Poéme, performed by Mei Ching Huang, a seasoned orchestral player (her credits include the Philadelphia Orchestra, the New York Philharmonic and the San Diego Symphony) for whom the piece was barely an appetiser. Poéme is, of course, popular with audiences for its moody rises and falls, but I found myself less captivated by it than by Huang's second offering, Liszt's Mephisto Waltz in a transcription by Nathan Milstein that made the famous work sound more diabolical than ever.

A New York Times critic once wrote that Milstein's transcription 'pared down' Liszt's music, with 'repetitions eliminated, harmonies altered, leaving only Mephisto, the violinist, executing sweeps and pluckings that composed a frightening concordance of instrumental daring.' That describes Huang's performance pretty well, too, and I need only add that her cherry-red stiletto heels made Mephisto seem even more devilish than usual. This old man's breath was well and truly taken away.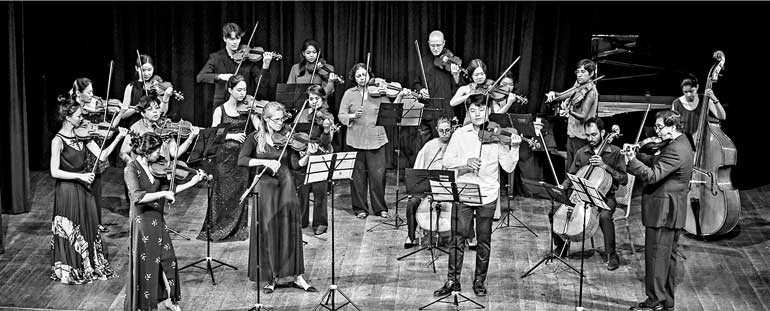 A change of mood was provided by the next soloist, Yabing Tan, who played Fritz Kreisler's arrangement of Dvořák's Songs My Mother Taught Me. Its soft, rather sentimental melody was well served by the performance, though Tan herself appeared rather fierce, perhaps due to the various electronic bleats and tweets now being given off by barbarians in the audience.

By this time, however, I had become utterly charmed by Jiayi Shi's piano-playing. I learnt later that Shi is Midori's own principal collaborator, working with the maestra on her concert and recital schedules as well as in her work with violin students. The versatility she demonstrated on this night was staggering, but what was still more impressive was the musicality and sensitivity of expression she brought to every piece. Although she never upstaged a soloist, there were moments when my ear, of its own volition, found itself attending more to the piano than the violin.

The first part of the programme came to a climax with the appearance of Midori herself. She had chosen to perform the Sonata in B Minor for Violin & Piano by Ottorino Respighi, an intense, harmonically tricky composition in three movements that takes about 25 minutes to play. I had never heard it before and I fear the attention it demanded from me as a first-time listener was stolen instead by the sound and sight of Midori.

In contrast to the elegantly gowned soloists who had appeared so far, she was dressed down, in a printed smock and nondescript pants, her long hair secured by a simple slide. Her comportment, too, was in marked contrast to the soloists', for in place of their formal, almost hieratic decorum Midori danced – bobbing and weaving like a bantamweight prizefighter, attacking her priceless 300-year-old fiddle with exuberant slashes and stabs of her bow.

The sound she generated from the instrument was huge: ripe and round and luxuriant, intrinsically laced with drama. Twenty-five minutes went past in what seemed like four or five, and I am afraid you will have to press somebody else for a detailed critique of the performance for it was, I confess, too fiery a draught for my inexperienced head.



After a short interval – a necessary respite post Respighi – the programme continued with the Melody from Orfeo ed Euridice in a violin and piano transcription by Fritz Kreisler. The piece featured the first male soloist of the evening, James McFadden Talbot. Gluck's lovely, plaintive melody did its usual work, but Talbot's performance seemed somehow constrained, more correct than heartfelt.

This piece by an 18th-century composer of operas was followed, quite appropriately, by a work from a living composer perhaps best known for his Grammy- and Oscar-winning movie scores: the Sonata for Violin & Piano by John Corigliani. It seemed to me not to have worn especially well since its debut in 1964; its Phrygian seconds and jazzy rhythms no longer seem as audacious as they must have done half a century ago. The soloist was Chang He, a chamber music and violin tutor at the Beijing Conservatory with a particular interest in modern music.

Perhaps I would have enjoyed this piece a little better if someone a few rows behind me had not found it necessary to search inside an apparently labyrinthine plastic bag in search of, I don't know, a nose-bone or a loincloth or something. The crackling plastic effectively drowned out the musicians and appeared to go on for hours. How bizarre that a member of an invited audience should behave so boorishly; even by Colombo's ankle-high standards of public considerateness, it was a bit much.

Massenet's familiar Meditation Thaïs came next, featuring Moni Simeonov on violin. A former doctoral student under Midori, Simeonov has now gained considerable eminence in his own right. The Meditation, in its original form, is a piece for solo violin and small orchestra that even features a vocal chorus, though most of us know it better in stripped-down form for violin and piano, or just piano. For Simeonov it was just the amuse-bouche before the feast; although he made the yearning melody work its customary magic, it was with the next piece that he really showed his mettle.

This was Ravel's Tzigane, a rhapsodic, at times delirious affair originally written for solo violin and piano. Tzigane used to be in Midori's own concert repertoire – I don't know if it still is – but Simeonov's approach was, to my ear, less aggressively busy than his mentor's. It was emphatic enough for all that; this is a piece that demands the skills of a virtuoso, but Simeonov was not only equal to the challenge, he had enough technical headroom left over to make the music affecting as well as dazzling. Politically-correct killjoys might decry the unconscious Orientalism of this soi-disant 'gypsy' composition, but for this audience member at least, Tzigane offered the evening's most perfect combination of music, musician and moment.

But we were not yet done with Moni Simeonov, who then led his fellow-protégés in a dazzling performance of Andrew Norman's Gran Turismo, a breathless gallop for eight violins that revives the old concerto da camera trick of passing themes and musical fragments back and forth among the players – but these are postmodernist fragments, all squalling glissandi and crashing dissonances.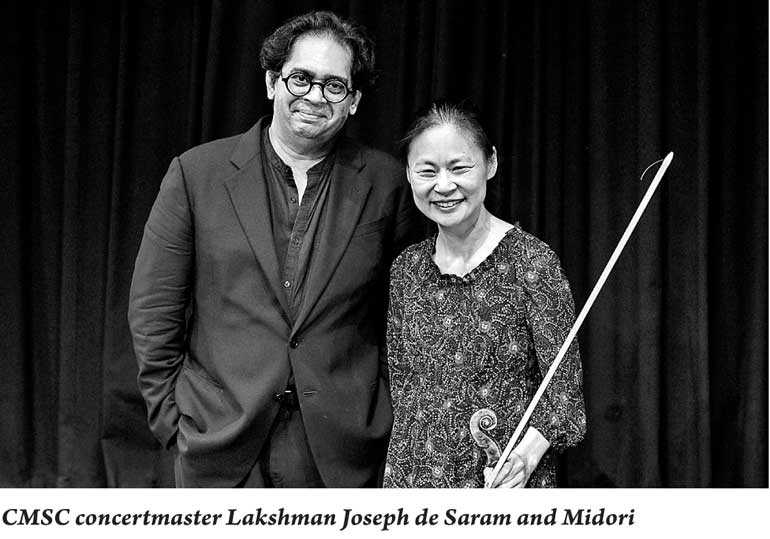 Historically connected with USC Thornton, Norman's piece is inspired by, among other things, the video game of the same name, and it is, indeed, a sort of musical car race in which the slightest misjudgement or hesitation can bring disaster. Gran Turismo was first performed in 2004, and I doubt that any audience member at the 'Wendt had heard it before, even on record. When it was over there was an audible release of breath before the applause began.

Another brief interval followed – so brief, in fact, that the audience weren't allowed to leave their seats. The programme had already run well over time. But there was one more work to be presented – a finale in which Midori and her group were joined by members of the CMSC on violins, violas and basses.

The piece was Vivaldi's Concerto in B Minor for Four Violins – an obvious bonbon to placate an audience whose patience had been tested, for well over two hours at that point, by some very challenging music. The four violinists were Huang, an award-winning Midori ex-student named Strauss Shi, the CMSC's own Ursula Nelius and Concertmaster de Saram. Midori herself took the stage as a supporting player.

The whole thing had the air of a family knees-up at Christmastime – an effect enhanced by the decision of the Society players (LJdeS and Nelius excepted) to dress down as Midori had done. I must confess to being rather displeased by the effect this created on stage; the contrast between the elegant formality of the soloists and the come-as-you-are motley of the Society players seemed to imply a social as well as a musical distinction between them and Midori's people. Whose idea this was I do not know – whether the Society members decided on their own, whether Midori requested it, or whether the dry cleaner simply failed to get to the theatre on time – but it definitely shouldn't have happened.

As for the Vivaldi itself, it was pretty good, and the Society players held their own well enough, but by now my ears were too saturated with music to pay close attention. We had been in our seats for nearly three hours.



Afterwards my friends and I retired to the home of one of us, where a coming-of-age birthday party was in progress. Isolating ourselves from the celebrations and their thumping soundtrack, we talked late into the night about what we had heard. Each of us had responded differently to particular pieces, but all were in agreement that we had just been to one of the best 'classical' concerts of our lives.

I must add that none of us are really regular concertgoers, so this isn't as momentous a verdict as it would be if it came from the music correspondent of the New York Times. All the same, we're a critical crew, and the fact that we were all equally impressed must be worth something.

As I said before, I'm no expert on this kind of music, so I shan't be indulging in any kind of artistic or critical reflection here. I wrote this review mainly to express how grateful I am – to Midori and the charity work that brought her to Sri Lanka, to the brilliant young musicians who performed for us, to Lakshman Joseph de Saram and the CMSC, and to the sponsors of the Society who met one-third of the costs of Midori's visit (the rest was funded by her charity) and made it possible for me, personally, to hear all this great music.

Of course, the most important beneficiaries of the initiative were not at the Lionel Wendt that evening; but then, they'd gotten to hear the music before we did. It was for them, not us, that Midori came to play, and they didn't even have to leave home to hear her. Lucky them. But lucky us, too.