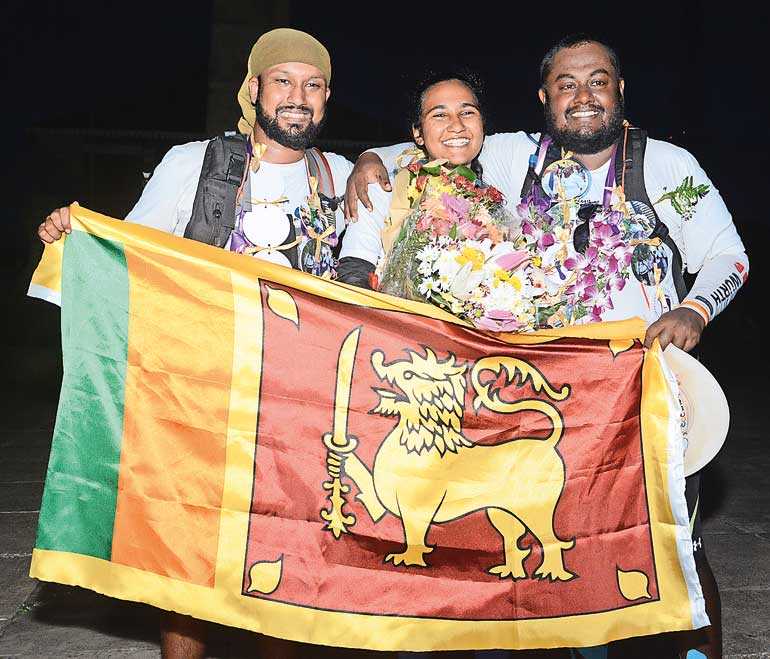 By Madushka Balasuriya
In Puttalam, an 18 year-old girl with a learning disability is three months pregnant. Unmarried and with an absentee father, her family have been desperately trying to keep the news from getting out.

In the years prior, the girl, who suffers from mental health issues and behavioural problems, has undergone Electro Compulsive Therapy, which has placed a severe financial burden on the family. The family matriarch is struggling to cope with the stress.

"The mother was having suicidal thoughts because of the social stigma," explains psychologist Nivendra Uduman as he relates the story. "We were doing a session at a district secretariat's office close to Puttalam, and a lady who works there told us about her plight.

"When I went to meet her, the social stigma was so great that she refused to come out of the three-wheeler when meeting me – I had to get in and speak to her. Eventually I managed to convince the mother to take her daughter to the doctor and be completely honest with him about the pregnancy – something they had been hiding for three months.

"And from there she was referred to Negombo to get treatment, and finally the good news is that she has since been admitted to a hospital in Colombo, where she will be until she gives birth."

A happy ending such as this is rare, with hundreds of similar ones going unheard and, more often than not, ending in tragedy. This is what Nivendra and his friends, Sara Nazoor, a trainee psychologist, and Ranil Thilakaratne, manager at toll free suicide prevention hotline CCCline (1333), are trying to change.


One step at a time
On 1 April the trio embarked on a two and a half month long trek along the entirety of the Sri Lankan coast, all on foot, to raise awareness on mental health and suicide prevention. The marathon walk dubbed 'Footsteps to Freedom' is the second of its kind, with Nivendra already having undertaken a similar 44-day journey in 2016 from Nuwara Eliya to Point Pedro, and will also look to raise funds for CCCline and Shanthi Maargam as well as finance a Youth Counselling Center for the latter.

The 73-day journey, which ended on 12 June, saw the trio and their team visit some of the most far flung regions of the country and conduct a series of workshops and talks.

"We spoke to over 500,000 people, did over 100 sessions on mental health, addiction, stress management, suicide prevention, sessions for children, etc. And we know we managed to save a few lives.

"Because we met people on the road, or at a shop on the side of the road, and when they found out what we were doing, they opened up immediately."

For a lot of Sri Lankans, even admitting to having a mental health issue is considered taboo, which results in many simply brushing off tell-tale signs and symptoms both in themselves and loved ones. This has led to a situation in which Sri Lanka has some of the highest suicide rates in the world, but very little being done to address the underlying causes.

"There is a huge stigma when it comes to mental issues and suicide in Sri Lanka. We want to shatter the stigma," Ranil told Daily FT shortly before embarking on the walk. "The reason for this walk is to create awareness on mental wellbeing and suicide prevention. To encourage people to come out and talk about their problems."

Services such as the CCCline (1333) and Sumithrayo (2696666) are already in place to help individuals who are suffering from depression, are having suicidal thoughts, or simply need someone to talk to about their problems. The lines at the moment do not operate 24/7 as it is on a volunteer basis, however funds raised during the walk are expected to go towards making this a reality. And the sooner that is the case the better, as by the end of the 1,400 km sojourn, the hotlines were reporting exponential increases in volume.

"We were just stunned by the number of calls we were getting on our hotlines," said founder of Shanthi Maargam Kamani Jinadasa, also speaking at the conclusion of the walk. "Our hotlines were basically silent until these three took to the roads and we're so happy that we've been able to help so many people over those 73 days."

As far as CCCline goes they have a total of around 70 counsellors able to answer in all three languages, though only six are available at any given time. CCCline Deputy Chairman Bill Deutrom paid homage to these volunteers who are known to sometimes spend hours on just a single call.

"Our suicide rate is one of the highest in the world, and one of the main causes is that there is simply no one to talk to," noted Deutrom. "I know our wonderful volunteers spend up to five hours at a time on a single call, and it makes a big difference. This incredible achievement is going to help a lot of people."

While the walk in total raised over $ 1,100 and created even more goodwill and awareness, Sara, the youngest of the group, is not content. Even at the end of this gruelling journey, she uses her platform to remind those at hand that there is more still to be done.

"There are patients who don't even know that they have issues, they don't know what to do, they don't know who to call. Some of them don't even have the basic necessities. It's not enough, there's more to do," she implores.

"There should be a day in the future where my children should be able to freely talk about mental health, without being judged, without being scared, without being cornered.

"We should be there, but we're not. And it's heart-breaking."


Role of Government and media
But while these brave individuals and volunteers are doing their part, the same cannot be said of either the Government or media. While countries such as South Korea have phones linked to suicide hotlines in areas where there are high suicide rates, such as bridges and train stations, Sri Lanka does not even have officially recorded statistics.

In fact the only statistics on record are courtesy of a study done by Dr. Duleeka Knipe in 2015, and before that a World Health Organisation (WHO) report in 2014. The former positions Sri Lanka as having the 22nd highest suicide rate in the world, while the latter – incorrectly – puts Sri Lanka fourth. Knipe's study crucially found that the WHO report had been using older data, while Knipe herself had found raw data from the Sri Lanka Police Department's statistics division.

"At the moment the stats show between 8 and 10 recorded suicides per day. But the health ministry and the mental health department don't have these stats, because nobody is keeping these stats. Even the WHO stats are old," says Ranil.

"I see most of the calls that come and I hear most of the calls that come, and I've realised that this kind of walk can bring attention to this situation. Last year self-harm was the second highest cause of death in Sri Lanka."

That said, even these statistics might not be painting the reality of the situation. With the stigma surrounding suicide and mental health problems still so high in Sri Lankan society, many go unreported or the police themselves rule it as an 'accidental' death so as to spare the family's shame. Getting people to talk about this, explains Ranil, is one area in which the Government can easily help.
"The government needs to understand that there are already established, credible services, and that they just need help. If they don't want to setup their own then at least support these services. Take away the red tape, advertise at least the number.
"And once they come to 1333, we will refer them to the correct services. And we know these services because we've been working with them for years."
Nivendra meanwhile believes that the government can also play a role in educating the media - who in turn can educate the public - on how suicides and mental health should be discussed and reported. This is something that even western society is guilty on, with shows like 'Thirteen Reasons Why' coming under severe criticism for their irresponsible portrayal of teen suicide. However in Sri Lanka, the lack of ethics in media reports on suicides is even more egregious.
"There is so much the government can do. In terms of lobbying for proper media reporting of suicide. In dramas they show people hanging, or jumping on front of trains. There's this thing called copycat suicide. People see that and someone who is at risk will get ideas," explains Nivendra.
"While news reports constantly detail the way in which someone might have killed themselves, or speculate on the reason why. This is something that should be avoided at all cost."
He also says there is a dire need for district psychological help centres, and a more robust government classification for clinical psychologists in the country. At present psychologists technically fall under the same category as ambulance drivers and are referred to as 'paramedics', which severely hinders the amount of help they are able to provide patients within hospitals.
"The government needs to understand that this is a multi-faceted thing. It can't only be solved through drugs or medication, they need to understand that a more holistic approach is needed. They need to have proper counselling services, they need to accept that Psychology is scientifically legitimate.
"In Colombo there are 30 registered clinical psychologists, and about 90-100 psychiatrists in the whole country, but that's mainly in Colombo. When you're outstation there's hardly any help. What would it take to set up a centre for each district?"
And even though he admits that a lot of the time people don't want to go to their area offices because of a lack of privacy, as it can lead to "everybody in the village knowing their problem," Nivendra believes that this stigma can be erased gradually over time. Something he says that needs to happen, as issues with regard mental health, he explains, do not discriminate between classes.
"We are all equally vulnerable to developing mental health problems. It's so important that we start talking about it."
Pix by Isuru Perera