A Shakti gift promises many things besides offering near perfect quality workmanship. It is also a unique product in that it innovatively combines Sri Lankan handloom with prints in an attractive combination providing something for everyone. Designs and colours range from classic and sophisticated to conservative and bold.

More interesting however is the story behind the brand Shakti. Shakti is part of the SHA Foundation which was set up with the sole idea of giving back to society. Shakti was started four years ago and reaches out to women in economical difficulties due to either family circumstances illnesses or other challenges. They are taught the skills to produce these Shakti handmade products and each product tag bears the name of the lady who made it.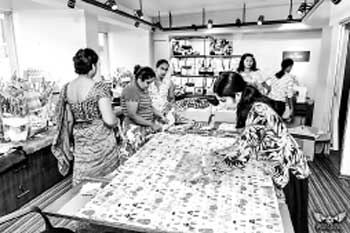 These Shakti women are happy because they can work from home within their own time schedules and at their own pace. They are given every incentive to come for classes once every one or two months to further develop their skills for which they are paid for their transport, lunch, and given an allowance for the day. Mostly they are assured of a regular income and are able to work from home, an opportunity which they did not have before. For a widow with young children, for someone battling an illness or a permanent disability this is rare privilege.

Each Shakti product is limited in quantity (in terms of that particular design and colour combination) to five pieces or less as it is hand made by using carefully selected fabric.

For those who pick a Shakti gift, not only are you gifting someone (or yourself) with a unique "Made in Sri Lanka" product – you also automatically become part of something rewarding and fulfilling.

Shakti will be showcasing their latest collection at the International Christmas Charity Bazaar at Hilton (Colombo Residence) on Sunday 26 November from 10 a.m. to 2 p.m. Shakthi is located at No. 11, Havelock Road (Sri Sambuddhatva Jayanti Mawatha) Thunmulla Junction, Colombo 5. Telephone (011)7276592 email – charity@teatang.com.