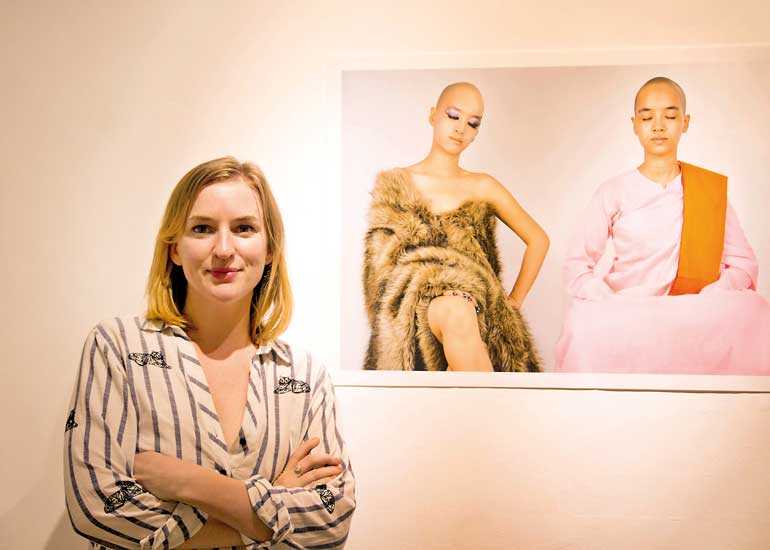 Nathalie Johnston poses with Portraits of a Nun by Mayco Naing. The photographer writes: "A woman's being is two sides – being glamorous on one hand and on the other, being truly religious"
A conversation on Myanmar's contemporary art scene
By Aysha Maryam Cassim

Nathalie Johnston is the Founder of Myanmar Art Resource Center and Archive (MARCA). Her gallery in Yangon has featured young and upcoming street artists whose paintings and installations have challenged audiences to see Buddhism through different lenses and scenes.

She developed an interest in Buddhism during her extended stay in Myanmar. Her deepened understandings of the philosophy mainly come from her research work, reviews, translations and mundane observations. She is greatly inspired by the acclaimed visionary artist called Po Po, who brought something truly new in concept and execution to an isolated country's latent art scene in the 1980s.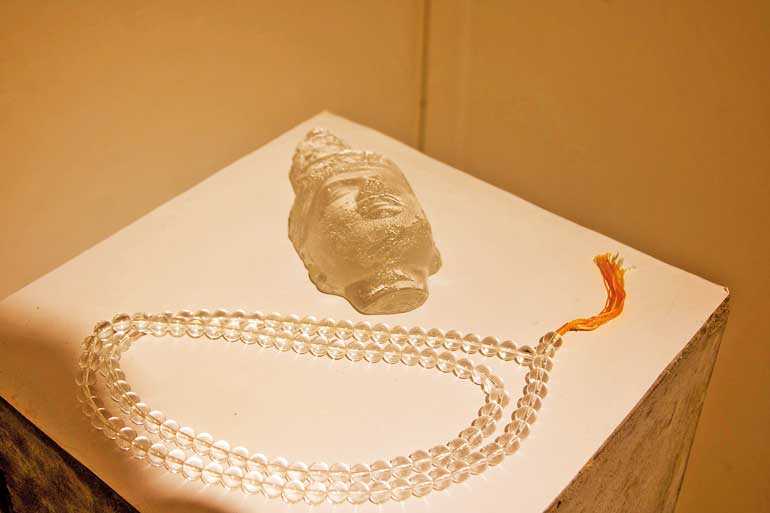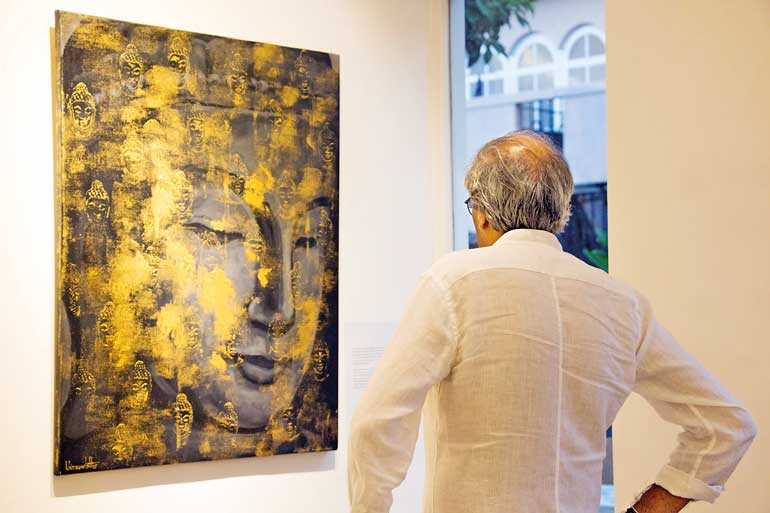 Buddha 2015 by Khin Zaw Latt reflects the painter's respectful yet creative rendition of Buddha's likeness. Khin is one of the youngest of painters who have taken the traditional conservative visual interpretation of Buddhism and incorporated the new technique such as stamping lines of the Pali Canon onto the canvas to create the face of the Buddha


Theertha Red Dot Gallery in Borella hosted an exhibition featuring Myanmar's contemporary art last week. The event was curated by a local independent artist and an art historian with the purpose of fostering artistic exchange between Myanmar and Sri Lanka. A conversation on Myanmar's contemporary art scene by Nathalie Johnston was held on 4 January at the gallery, bringing likeminded individuals to engage and explore the roots of Burmese art.

Myanmar's art is synonymous with Buddhism. Pagodas, Buddhist temples and monks are metaphors of what the country is today.

"Seeing hundreds and thousands of monks walking through the streets, collecting alms, is an everyday occurrence in Myanmar. Buddhism is deeply entrenched in their art as a devotional practice. The artists create art that honours the stories of Buddha and paint anything that channels this idea of Burma as a Buddhist country that represents a sense of belonging, peace and nationalism.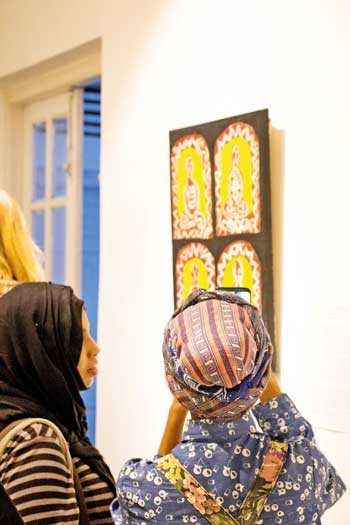 "Having lived in a predominantly Buddhist country for many years and read almost all the books on Myanmar art, I have become observant of the overpowering Buddhist symbolism in its art scene. It is interesting to explore the modernist take of it," said Nathalie, portraying the prevalence of Buddhism in Myanmar's everyday life in her presentation.

While exploring Yangon's burgeoning art scene, Nathalie went back in time, taking us through a transition of Myanmar's artistic community from the 1970s to the present. She delivered a pictorial account of how art changed with the revival of realism and the establishment of an independent government while having parallel lives – espousing socialism as a way forward.

When Buddhism was declared as the national religion, a distinct identity was determined as the essence of Myanmar. When Burmese artists were politically isolated over the last 50 years, art was used as an expression of their fight for liberation.

Burmese art went through a revival after 50 years of censorship and monks became a political symbol of democracy during the Saffron Revolution in 2007. Amidst a civil war, ethnic tensions and protests between the people, military and monks, art still continues to survive and thrive in Myanmar.

Speaking of the new wave of art in Myanmar, Nathalie mentioned how the younger generations of artists tend to address the contentious issues of the country with humour and sarcasm. Since the last decade, young artists have been forging new grounds with their art, going beyond the confines of their political, cultural and social milieu.

During her talk, Nathalie also acknowledged the long history of the shared Buddhist heritage between Sri Lanka and Myanmar.

Sandev Handy, who is one of the co-curators of the exhibition, facilitates dialogues on socio-political issues. He finds an uncanny similarity between Myanmar and Sri Lanka in its incredible forms of Buddhism that epitomise peace, giving and charity.

"Buddhism is about non-violence. But the recent overlaps of violent manifestations in both countries sparked an interest in me to explore the origins of it. I ask myself the questions: Where does that violence come from? How does that happen? All these questions resulted in a conversation that came together at this exhibition."

Tamara Fernando, an art historian and the co-curator of the exhibition, met Nathalie while she was doing her research in Yangon. "We both saw the contrasting light and dark sides of Buddhism that inhabits both countries. The exhibition is the first step towards our art exchange. We want people to see the art, be inspired and build a connection between the two countries through them. Hopefully, there will be bigger shows and greater conversations featuring Sri Lankan and Burmese artists in the near future."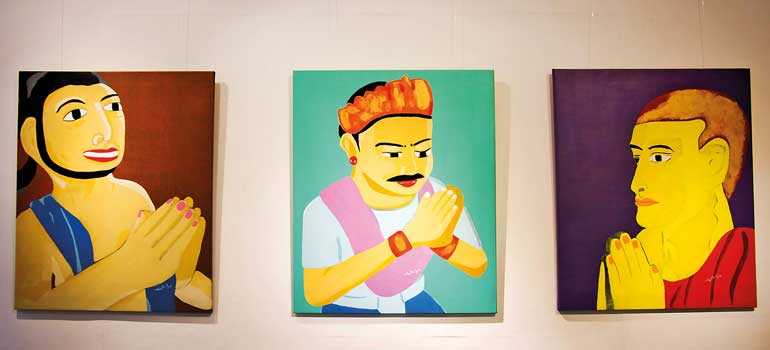 Lwin Oo Maung is an emerging artist in his mid-thirties who likes to play with the portraits of mythological creatures in Buddhism, reviving the meaning through colours and story on canvas. He focuses on the deep-rooted belief in the Nat spirits – an integral part of Buddhism which has its roots in Animist practice before the arrival of Buddhism in Myanmar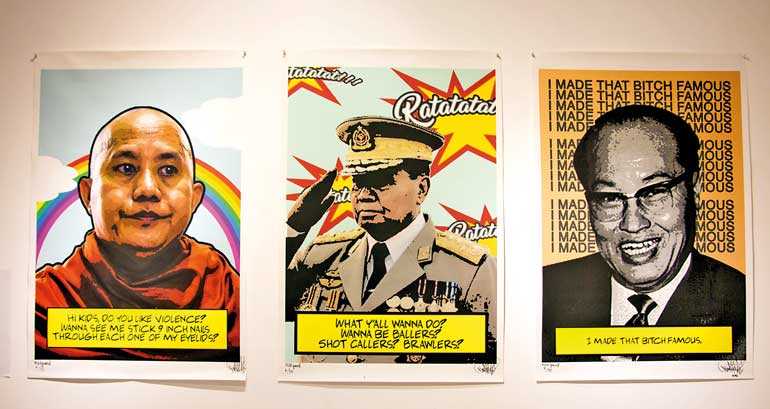 All these portraits are of men whose claim to power was or is channelled through their self-proclaimed devotion to Buddhist thought and practices. Bart is a Yangon-based graphics and street artist who was raised Muslim in the diverse but majority Buddhist city. He is influenced by pop and meme culture and often uses lyrics from popular songs with images of infamous political icons to rewrite the historical relevance of their characters