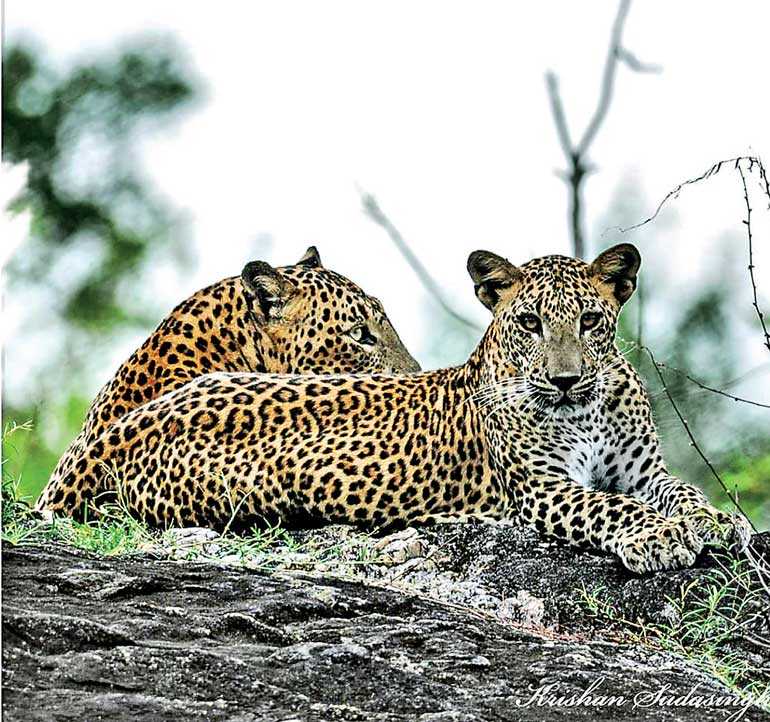 ---
By Madushka Balasuriya
---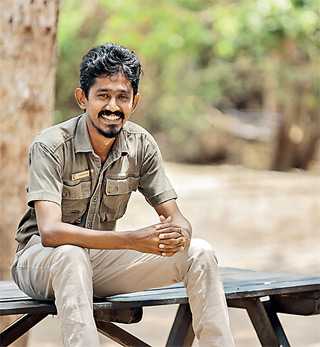 Dhanula Jayasingha
---
Amidst the soothing cries of the morning aviary choir, our guide picks up the leopard warning call of a deer.

Sure, early starts and morning workouts may reap long-term rewards, but in life there are a only a handful of times where waking up before the crack of dawn offers almost instant dividends; if you want to make the most of a trip to Yala, make the sacrifice.

But be warned, there is a lot of sitting and waiting. For instance, much of the early draft for this piece was written on my phone as we waited for a glimpse of a leopard that was said to be out on a morning stroll.

Eventually we spotted it, at its favourite watering hole, the morning sun casting a glow that only it can on the marshy surrounds. There, our guide Dhanula tells us about how he suspects there might be more leopards in the area. I ask him how he could possibly know that, and he explains to me how this is one of two siblings in a family of three.

"The mom and the brother have to be close by. The cubs are still too young to venture off too far alone."

Sure enough, a short while later the family reunites, spending another hour or so perched on a dried-out tree. My group's resident photographer has a veritable field day. For Dhanula though, this is just another day doing what he loves. Tracking leopards, immersing himself in wildlife, and sharing the fruits of his knowledge with those eager to learn.

"As a guide it's important for me to relate stories to my guests, so if I know the individual leopards, I know their family history," he says.

Needless to say, at the outset, the COVID-19 pandemic wasn't too kind to Dhanula and his colleagues. Year 2020 wasn't good for industry in general, but tourism in particular was badly impacted. And as a consequence, the wildlife safari business took a major hit. Yet from the depths of this seemingly never-ending gloom, there have been some remarkable tales of perseverance – and in some cases astonishing success.

Dhanula's story falls firmly into the latter category. Growing up in Galle, he had developed a passion for wildlife which led to him gaining, in 2015, a Bachelor's Degree in Zoology from the University of Peradeniya. The next year would see him gradually earn his stripes as a safari guide, before he joined Leopard Trails full-time in 2016.

Currently working as a guide at Leopard Trails, a company which provides guests with a bespoke luxury camping experience, Dhanula, having spent four years doing what he loved, suddenly found himself without much to do at all as Sri Lanka went into lockdown in March 2020.

Thriving through COVID

They say necessity is the mother of all innovation, and for a business that relies exclusively on tourists, a pandemic was bad for business, to say the least. But Dhanu and Leopard Trails saw an opportunity, nay, a need, where others might have simply given up. Recognising the impact this lockdown was having on people all over the world, stuck indoors for months on end, Dhanu partnered with AirBnB to set up an online one-of-a-kind leopard safari experience – a release that doubled as a tether to the outside world.

The idea itself was a simple one: Dhanu would host an online presentation via Zoom on "mastering the art of identifying individual leopards," interspersed with countless tales of leopards he had encountered over the years. This would be supplemented by Dhanu and Leopard Trails' carefully curated database of leopards in Yala.

"Over the discussion of one and a quarter hour, you will learn the accepted means of leopard identification and some thrilling stories around some of the names," reads the AirBnB page.

"While we learn how to ID leopards together, we will be able to reveal the secretive lives of these elusive big cats via photographs and videos. We are going to have a brief discussion about leopard distribution and behaviour, prior to getting to grips with identification techniques. You will also hear some funny stories regarding the leopard behaviour."
Within months Dhanu's online field trip experience had received several rave reviews. And not only was business good for him, but it was locking in future tourists to Leopard Trails – all of whom were eager to replace the virtual Dhanu with a real-life version and continue their leopard spotting adventures.

"That was the best thing that happened to me during that time – because I was so bored! It made me feel alive," recalls Dhanu of his first few presentations. "I had so many bookings I couldn't even sleep at night."

He also reserves special praise to the heads at Leopard Trails for being supportive of this endeavour.

"They encouraged me, they even had me rehearse in front of them. I got a lot of help from them. There was even a live review, where a few of the AirBnB people joined me for a Zoom call, and they loved it."

As of writing, Dhanu's 'Go on a Leopard Safari in Sri Lanka' AirBnB experience has a 4.97 rating after 253 reviews.
Pix courtesy Leopard Trails
---
---
Leopard Trails bespoke tented safaris provide a unique Sri Lankan safari experience in spectacular solitude and soothing comfort – with only the canvas walls of your tent separating you from the wonders of our remarkable biodiversity. At dusk, return from your evening safari and make your way to their jungle bar.

While you enjoy the luxurious air-conditioned canvas tents, the curated local dining experience and the authentic ambiance of a tented camp, what truly sets Leopard Trails apart is their team of internationally qualified and locally experienced safari guides – a team that is often described by returning guests as the best in the business.