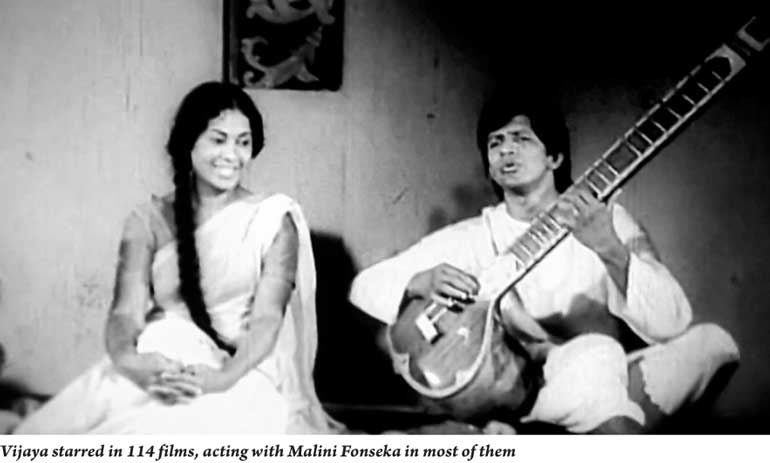 Glancing through the internet for Sinhala songs, repeatedly coming up was a film song dating back to 1980 – nearly 40 years ago. It was a song sung almost by accident by the lead actor in the film who, at the time, was not known as a singer. He was, however, the Most Popular Actor of the day.

Most readers may have guessed what the song is: 'Ganga Addara' sung by Vijaya Kumaranatunga in the award-winning Sumathi Production 'Ganga Addara' directed by Sumitra Peries. The song became an instant hit. The trio involved were music director/composer Nimal Mendis, lyrics writer Augustus Vinayagaratnam and singer Vijaya.

Today the song is sung by so many. It has become a 'must' song for musical groups. Many newcomers to the music scene sing it. I was quite surprised listening to Swiss dentist Juerg who has been visiting Sri Lanka and learnt Sinhala on top of a number of foreign languages he knows singing it at a TV chat show with no backing from any musical instruments. He pronounced the words well and knew the tune perfectly.

I also listened to beauty queen Jacqueline, who has put Sri Lanka on the map, singing it at a musical show. Dayasiri Jayasekera (possibly before he became a minister) also sang it before a crowded audience receiving a massive applause. (I remember DJ coming up to the finals at a reality show a few years back.)

I was very impressed with the Soul Sounds rendition with Soundarie David playing the piano. And when a young man named Oshan Kumaratunga sang the song with the group WAYO, I wondered whether he was a relation of Vijaya. Surendra Perera and Billy Fernando (the latter sang it with Nimal Mendis in the front row listening to him) were among others. The list goes on.

In the film, playing opposite the most wanted actor at the time was the 19-year-old Vasanthi Chaturani, who carried away the Best Actress Award for her role as Nirmala – the second film in her career after 'Gehenu Lamai' based on the popular teenager novel by Karunasena Jayalath. She was Sumitra's find. The scene where Vijaya sang the song was a very moving one.

During a recent commemorative TV discussion on Vijaya, seasoned journalist/specialist on Sinhala films A.D. Ranjit Kumara related how Vijaya became a singer: At a discussion about the film held at producer Sumathipala's home, the Sumathipala duo insisted that Vijaya should sing a song in the film. They had heard him singing leisurely at their place. Vijaya hesitated. Nimal Mendis who was there also agreed to try him out. Vijaya sang as Nimal played the organ. He was happy. A singer was born.

Just as much as filmmakers were looking for the handsome actor, Vijaya soon became an accomplished singer. At the time of his tragic and untimely death, he had sung 120 songs. Several audio cassettes were released which were bagged by the fans in no time. He wasn't always a playback singer but he was selected Best Singer twice at the Sarasaviya film awards.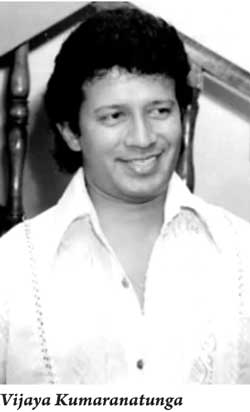 Great human being

During the ITN TV discussion commemorating his death anniversary (he died on 16 February 1987), all panel members highlighted what a wonderful human being he was. All spoke of Vijaya as a kind-hearted, compassionate person.

Speaking with much emotion, fellow actor Amarasiri Kalansuriya who has been a close friend for at least two decades, recalled how on some days Vijaya didn't have one rupee with him.

"Even on such days if anyone approached him for help he somehow saw to it that the person got what he or she was looking for. I know he never carried a wallet and he was not shy to ask a friend to buy him a cup of tea or a glass of beer," Kalan (as he is popularly known) said.

He knew for certain that Vijaya never asked for a fee for acting. "Not that he was not paid but he never demanded a fee. He was happy with whatever he was given."

Kalan stressed on how Vijaya always told others not to quarrel, not to get angry with anyone. "Let us live like relations," he would always say. "Hadawatahak ethi lassana manussayek" is how Kalan summed up Vijaya.

Vijaya began his acting career with Sugathapala Senerat Yapa's 'Hantane Kathawa' – based on Peradeniya campus life. He successfully proved that he was not second to Tony Ranasinghe playing opposite him.

Seeing the talented actor, Dharmasena Pathiraja picked him for his early films 'Ahas Gawwa' to 'Paara Dige'. And then every film director was after Vijaya. Soon he became a 'Supiri Tharuwa' – Superstar. He had starred in 114 films, acting with Malini Fonseka in most of them.

When Vijaya moved into politics, there were forces against him. Some were scared of his phenomenal rise, some were jealous of him. It didn't take long to 'teach him a lesson'. He was banned from State radio – the only broadcasting channel (there was no television then) – when none of his songs were aired. He was jailed for many months.

At the ITN discussion, his relation Ranjan Ramanayake (both were from Katana close to Negombo) spoke of how Tony Ranasinghe canvassed support from the artistes to call for Vijaya's release. "Sad to say, just six signed the petition. Some said he deserved to be in prison. Others found various excuses," Ranjan said in a disappointed tone.



The brutal assassination opposite his house at Polahengoda watched by his young son and daughter was not something anyone expected or dreamed of. Yet it happened. And when the TV presenter Indrasiri Suraweera read out from a newspaper cutting the assassin describing the way he did the brutal act, it brought back memories of how the whole country mourned for a leader to be – a man with a big heart, 'Hadawatahak ethi lassana manussayek'.