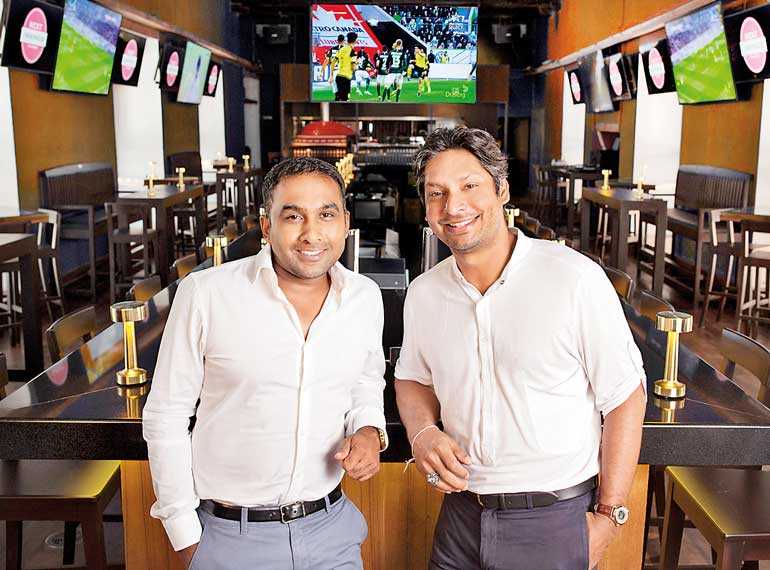 Mahela Jayawardena and Kumar Sangakkara at their latest venture, Next Innings
THE PLACE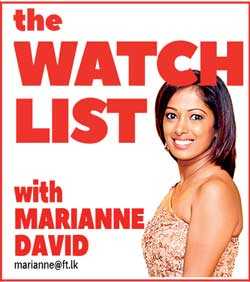 The latest addition to the ever-expanding list of eateries in Colombo, Next Innings is a sports lounge with its very own atmosphere. It serves up food that is quite different to what we've come to expect from such establishments and the pricing is just right! The menu also features some Ministry of Crab specialities, offering an extra special incentive.

Clean and minimalistic sports-themed décor greets you as you walk in through the doors. The menu is presented as a scorecard with drinks making up the First Innings and food the Second Innings. The lounge also boasts the only cricket ball-shaped oven and the cheapest beer in the area. There's dumbbell-shaped touch table lamps and carrom board tables and your orders are served by referees, in keeping with the theme.

The latest venture by culinary expert Dharshan Munidasa and cricketing stars Kumar Sangakkara and Mahela Jayawardena, together they've done an excellent job in converting the old Semondou restaurant space into a must-visit stop.

In terms of sports entertainment, the lounge screens all major games and also organises special events related to them. The two 14" video walls and six 75" screens ensure that you don't miss a single second of the action, while the 55" screens attached to the 75" screens are solely for advertising.

Open from 5 p.m. to 2 a.m. daily, there's live music from Wednesday to Saturday. Prices listed are all-inclusive, which is a very welcome move. There's a Ladies' Night on Wednesdays from 6 to 8 p.m. and monthly themed parties with DJs. Next Innings is also available for corporate functions and product launches.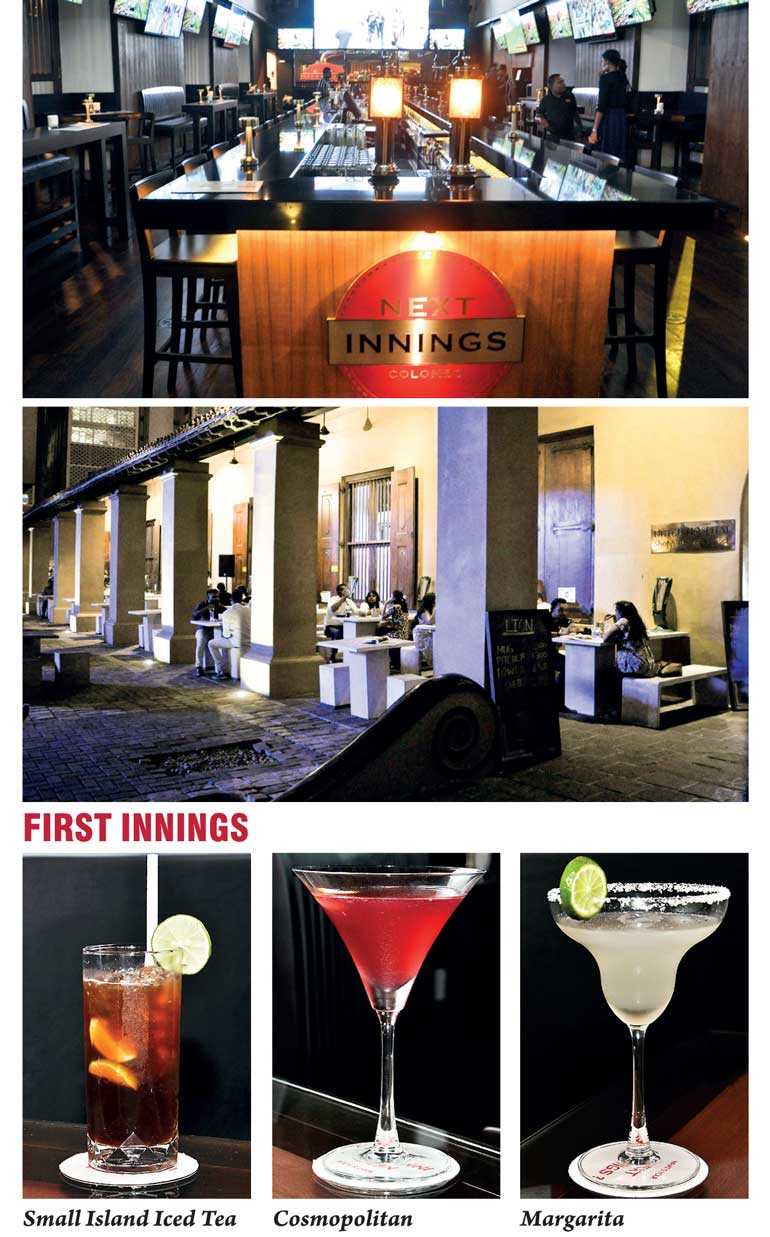 THE PEOPLE

When Dharshan Munidasa secured the space, he wanted to do something different with it. Given that Kumar and Mahela are already part of Ministry of Crab, he thought it best to name their next venture Next Innings.

"Sri Lanka doesn't have a proper sports bar – it's always a pub with screens. Our screens are state-of-the-art. From a business point of view, no one has done the exclusive advertising screens adjoining the sports screens, ensuring that we do not disrupt transmission of the matches. So far we've signed up BMW, Colombo Jewellery Stores and Access Group for advertising, with more top names in the pipeline."

Except for the Ladies' Night on Wednesday, Dharshan says he's trying to avoid doing happy hours because people normally mark-up menu prices and then mark them down for this. "In terms of pricing, every hour is happy hour here!" he explained.

As for the food and drinks, he says the cocktails and beer are very cheap and the cheese toast, pizzas and bone marrow curry are must-haves.

"It took six months to come up with the bone marrow curry, we cook it for three hours! It now has its own pull and people keep coming back for it since they had it when they were kids, back when beef was sold with bones. Overall I have kept the menu very simple – there aren't 18 ingredients on the plates or seven colours of the rainbow!"


FIRST INNINGS

Small Island Iced Tea: A wonderful and surprisingly refreshing cocktail with a distinct island feel, combining our very own arrack with peach tea extract and topped up with soda. The sweetness of the peach lends itself well to the arrack. One of the best original cocktails we've tasted in a while.

Margarita: A tried and tested cocktail, but notoriously difficult to get the balance of ingredients just right, but thankfully this was not the case at Next Innings. Alcohol strength just right, acidity not overpowering and sweetness perfect.

Cosmopolitan: Quite easily the star of any cocktail menu, a mainstay in bars all around the world, a perfect marriage of vodka, triple sec and cranberry. Simple to make but tough to master. Next Innings does a mean Cosmo.
Second Innings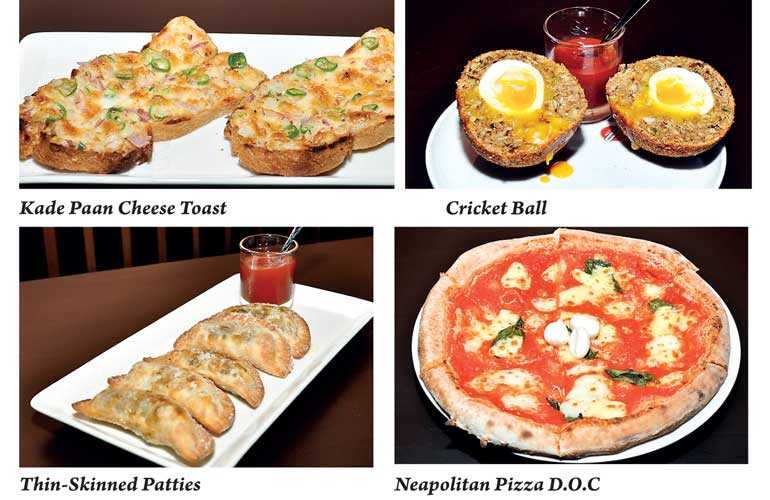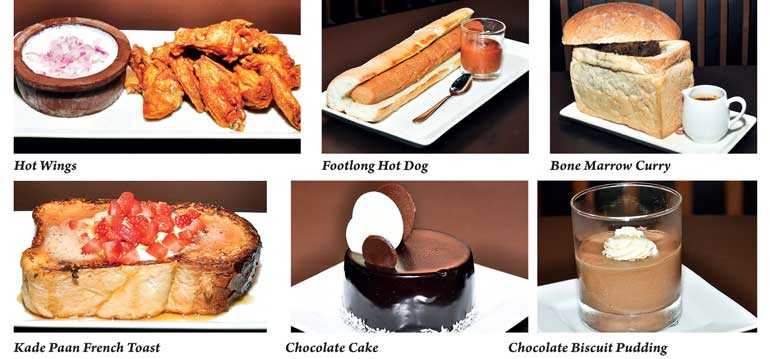 SECOND INNINGS

Thin-Skinned Patties: A Sri Lankan staple snack presented with the thinnest skin to reduce carbs. The dish is available in four options of beef, mutton, tuna, and potato and leek – True to the name of the dish, it was as thin and as crispy as we expected. Most patties either have too much dough or not enough filling, making it seem like you're biting into a hollow shell. At Next Innings, however, the dough-to-filling ratio is managed masterfully. We had the mutton version and it was excellent.

Kade Paan Cheese Toast: Inspired by the Colombo Golf Club, the cheese toast follows a traditional preparation using kade paan – Although people say 'it's just bread,' we beg to differ; 'kade paan' has its own almost cult like following, and when it's coupled with a bar staple like cheese toast, you can't go wrong. Served with a healthy topping of cheese with green chillies, it's the perfect way to kick-start your evening.

Hot Wings: A 12-piece bucket of hot chilli chicken wings with buffalo curd dip – The game is just getting started, and you sit down with a bunch of your friends to enjoy the action, fingers crossed your team will come out on top. Just about everything can be improved with the addition of Hot Wings! The Hot Wings here has the perfect balance between crispy and succulent; coupled with the unconventional but excellent curd dip, it becomes a must-try from the starters selection.

Neapolitan Pizza D.O.C: Italian tomatoes, fresh buffalo mozzarella, extra virgin olive oil and fresh basil – There are very few things that beat biting into a freshly-baked pizza. The classic Neapolitan, simple, fresh ingredients, artfully-crafted dough and most importantly to any pizza fanatic, made with love.

Cricket Ball: Whole egg and tuna cutlet – The mother of all cutlets, the size of an actual cricket ball with a whole egg added in for good measure. The egg yolk oozing out, mixing with the tuna filling coated perfectly with the bread crumb exterior. A cutlet worth your time. You will not be finishing this in one bite, that's for sure.

Footlong Hot Dog: Served on a toasted home-made bun with a drizzle of mustard ketchup and a drop of kithul treacle – Another game day classic; the sausage is cooked well, but the real stars of the dish are the freshly made bun and the mustard sauce.

Bone Marrow Curry: Rich and aromatic beef bone marrow curry served inside traditional Sri Lankan wood fired bread – A true masterpiece of local cuisine. The star attraction of the night, juicy and succulent marrow, slow-cooked beef falling off the bone. Expertly presented in a whole loaf of kade paan. The dish is meant to be shared, but from the first bite to the last, sharing will be the last thing on your mind. P.S., It gets messy, and that's part of the fun.

Kade Paan French Toast: Made with Sri Lanka's traditional kade paan, served with diced strawberries, whipped cream and a drizzle of treacle – This truly majestic version of French toast is bought to life by kade paan; soft and gooey, an excellent dessert.

Chocolate Cake: Sinfully rich layered chocolatey goodness: Made with precision and care, the layers are just right, and the coconut sponge at the bottom adds a nice island feel that one would not expect from the traditional version of this tried-and-tested dessert. A welcome addition to the meal.

Chocolate Biscuit Pudding: Made with Belgium dark chocolate and fresh cream, offering true decadence with every bite – Another main stay in any local gathering. Your team won? Treat yourself to this local favourite. Did they lose? Drown your sorrows in chocolate. There really is no reason not to have this dessert.

Pix by Ruwan Walpola