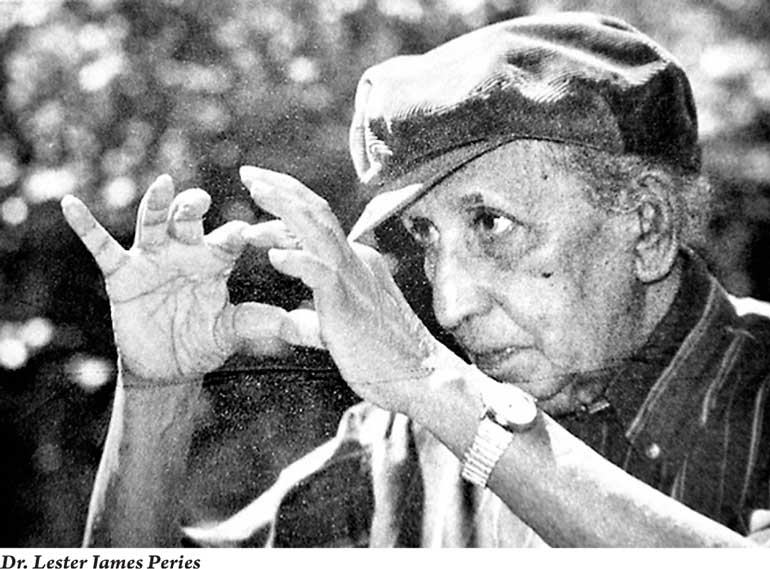 Filmgoers must be quite happy to hear that a digitalised version of Dr. Lester James Peries' momentous film 'Rekava' is now available for viewing.

The first screening will be at the Tarangani Auditorium at the National Film Corporation next Wednesday evening. The screening will be at the end of a discussion on 'Saving Sri Lanka's Film Heritage' when three eminent foreign experts will speak.

It was 62 years ago that 'Rekava' was screened at a time when we were waiting impatiently to see what we could proudly call a Sinhala film. In LJP's own words, "Sinhala cinema had a false start. Forty-two films had been made by the time we started 'Rekava', but they were neither films nor Sri Lankan." Quite true.

As youngsters we went to see English films but for several reasons we preferred Hindi films. We could follow the story even though we didn't understand the language. There was a closeness to our style of living.

We liked the handsome male actors. Dilip Kumar, Raj Kapoor, Bharat Bhooshan, Dev Anand and Ashok Kumar were the most popular ones. Among the pretty female actresses were Nargis, Madhubala, Nutan and Meena Kumari. Both males and females acted well. The music was pleasing.

Naushad and S.D. Burman were the most popular music directors. Playback singers Mohamad Rafi, Lata Mangeshkar, Talat Mahmud and Asha Bhonsle became household names. We read the paper 'Screen' and waited for the handy, colourful 'Filmfare' magazine.

After B.A.W. Jayamanne gave the lead by taking the players to an Indian studio to produce the then popular Minerva stage play, 'Kadawunnu Poronduwa' in 1947, many tried their hand at making Sinhala films. They were all made in India since there were no studios in Sri Lanka.

Some like 'Asokamala' and Sirisena Wimalaweera's had a Sri Lankan touch. Others were copies of Indian films. All these had a non-Sri Lankan touch. The actors imitated Indian actors. Most of the directors were Indian.

The BAW films were popular because filmgoers liked Rukmani Devi's singing and had a good laugh watching Eddie Jayamanne's 'comit'. All were Minerva plays which had been seen on stage.

Not plain sailing

Journalist turned filmmaker LJP quit the Government Film Unit (GFU) when he got the urge to do a feature films, having done documentary films. Amidst sarcastic remarks like "Documentary karayo koheda ova hadanne," he proceeded with the support from two of his GFU colleagues, Cameraman Willie Blake and Film Editor Titus Totawatte, who had also had left the GFU.

LJP was keen to produce the film in Sri Lanka. He was not going to use a studio. All the filming was to be outdoor. But it was not plain sailing. I remember him relating the hazards faced in filming 'Rekava' at a gathering at the Indian Cultural Centre some years back.

"Bandarawela was selected as the prime location to begin work. We studied the weather patterns over many years and the statistics indicated that our timing was perfect. The weather would be fine. Once we got there it was a different story. For 20 days it just poured. All our schedules went for a six."

That was only a part of the story. He related more: "We had a monkey who was the companion of the stilt-walker (played by Shesha Palihakkara). The monkey had to be given half a bottle of arrack every day. Production Manager Premnath Moraes (a popular personality in the local film world then) picked up the monkey and the master every morning and brought them to the location in his Bug Fiat station wagon and invariably the monkey used the vehicle as a toilet!"

Then there was a chicken pox epidemic which halted production work for two months, thus pushing back the schedule further. Looking for a new site, a village close to Alawwa was selected and though facilities for the actors and the crew to stay were pretty poor, they somehow managed. There crows became a problem with their noises. As they had decided to do the recordings outdoors, keeping crows away to stop their noise was a menace.

"We put in a great effort and finished the work. The end result of all the hard work put in was that the film was a box office flop. That meant I had no work for four years," Lester quipped.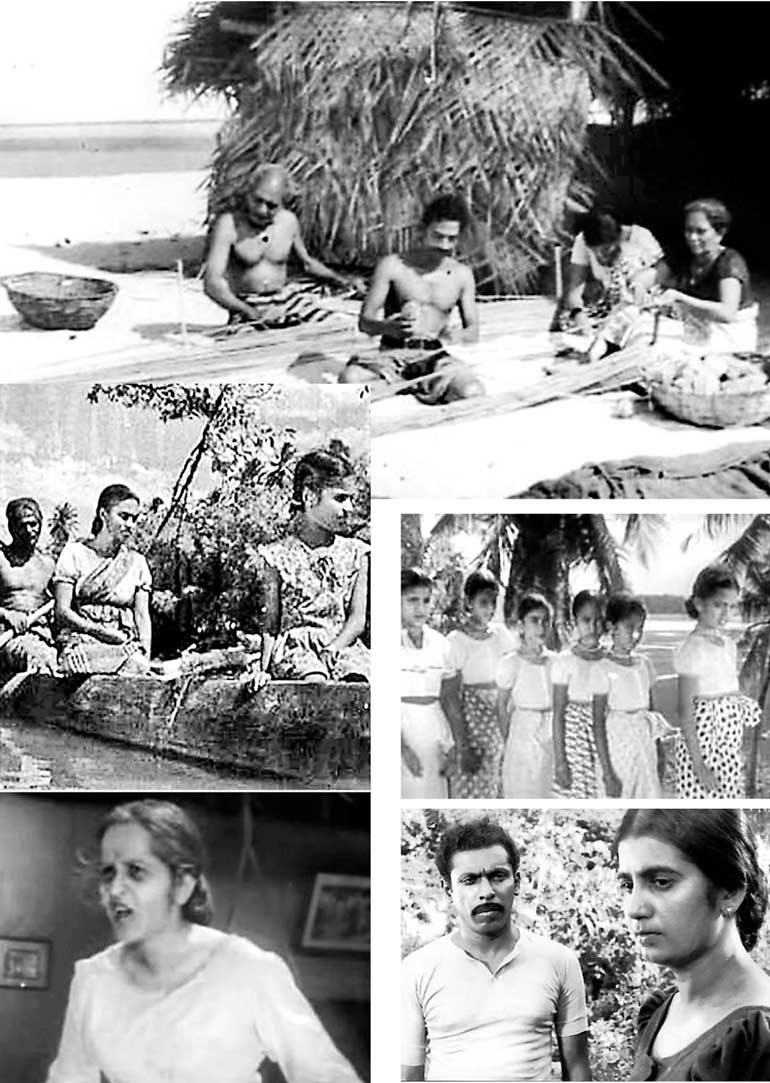 'Documentary karaya' delivers

When 'Rekava' arrived in December 1956, it took everyone by surprise. The 'documentary karaya' had delivered. He related a simple story revolving round village life and mythical beliefs. He wrote the script himself with K.A.W. Perera (turned film director later) doing the dialogues.

The cast included a mix of Tower Hall actors – D.R. Nanayakkara, N.R. Dias and Romulus de Silva – and two from the English theatre – Winston Serasinghe and Iranganie Meedeniya playing major roles. It was Iranganie's maiden effort at film acting and as usual, she played the role to perfection.

Playing the village lovers were Ananda Weerakoon and Mallika Pilapitiya. LJP was fortunate in getting two talented children – Somapala Dharmapriya and Myrtle Fernando – who did the key roles.

Songs had by then become a 'must' in Sinhala films. LJP didn't want to take a chance in not having songs (he did in his later classic 'Gamperaliya') but made sure they were sung meaningfully.

Having heard 'Olu Pipila' when he was in London he had made a metal note that any day he was doing a feature film, he would get Sunil Santha to compose the music. He tried hard but Sunil Santha had his own reservations about Sinhala film music and flatly refused. It was after LJP got Father Marcelline Jayakody (he wrote the lyrics) to plead with Sunil Santha that he agreed.

The boatman's song, 'Olu nelum neriya rangala' (Sisira Senaratne), school children's dancing song 'Sudu sanda eliye' (Indrani Wijebandara – later Senaratne), 'viridu' ('Anura pura') by Ivor Dennis and Thilakasiri Fernando's 'Mini muthu' (fate of drought-stricken village) are being sung to this day after six decades. Sunil Santha picked K.D. Dayaratne to look after the musical arrangements and B.S. Perera to direct music.



Rave reviews

It was ironical that the Sinhala press did not give the film the expected support unlike the English newspapers which carried rave reviews. To me the best was by veteran Editor/Journalist D.B. Dhanapala (Janus).

He wrote: "It was such a great relief from the usual run of Sinhalese films in which we see the same old sets of the Madras Vahini and Gemini Studios with a young man and a woman bellowing out their passion in thundering tones as they run round and round a tree or a male servant trying his tricks with the master's ayah in the back verandah and the inevitable hero in ill-fitting Madras trousers. For my past sins I have seen a number of such films that pass off as Sinhalese movies. If you see one, you have seen them all."

Writing to the 'Times of Ceylon – Sunday Edition', he described how neatly Lester had created a Sinhalese village and observed that "Lester Peries has shown these bogus cinema moghuls that what they said cannot be done can be done."