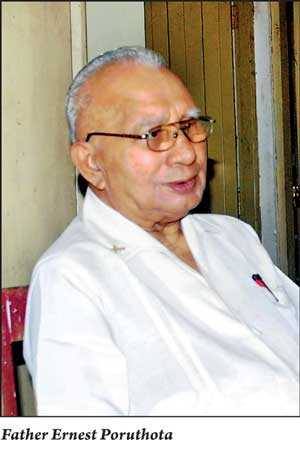 By D.C. Ranatunga

Reading about the departure of the Catholic priest, Most Reverend Father Ernest Poruthota, I recall the days he used to walk into Lake House whenever he wrote an article, to meet the 'Dinamina' Editor to personally hand over the article. On his way to meet Editor M.A. de Silva, he would stop by to have a word with us on the staff. He was so friendly and always with a broad smile.

With his interest in Sinhala films he made it a point to look for Jayawilal Wilegoda who wrote a weekly column on films. (Wilegoda was quite critical of the productions but irrespective of the earnings to Lake House from the cinema advertisements in the newspapers, he was allowed to have his say).

Father Poruthota built a close relationship with the Dinamina and he was invited to contribute relevant articles to the Monday supplement that discussed topics of timely interest. We could always rely on him to write the article in time.

We were quite disturbed when during a carol procession while he was in the church premises a stone hit his eye. Yet he continued his activities once he received treatment and felt better.

Poruthotage Raymond Ernest Alexander Fernando (31 August 1931-16 June 2020) born in Marawila was ordained by Most Reverend Thomas Cardinal Cooray, Archbishop of Colombo on 2 February 1957 at St. Lucia's Cathedral, Kotahena.

The eldest son of Poruthotage Jokinu Fernando, a teacher at the Government Training College, first in Maggona and later in Marawila, Father Poruthota attended St. Aloysius Junior Church in Borella and St. Pernard's Church in Borella in 1942. That was prior to being inducted into the National Diocese of Our Lady of Ampitiya, Kandy.

His keen interest in cinema saw him pioneering the setting up of the Sri Lanka branch of the International Catholic Organization (OCIC). He was appointed as the first National Director of OCIC – later known as Signis.

He was one of the few Catholic priests who was quite interested in cinema. "It so happened that at the beginning there were not many priests involved in cinema," he said. "I had Lester James Peries, Dharmasena Pathiraja and other young, new creators come up and I happened to meet them often in various meetings and seminars," he once said. "I came to know Lester as a parishioner at Dehiwela and made friends in cinema whenever we attended cinema festivals and seminars."

At the early stages of the film industry, Father Poruthota felt the Sri Lankan productions were very poor, technically and theme-wise, and insisted that more young people should get involved to change the then current trend. Of course, things gradually changed and he was quite happy with the progress.