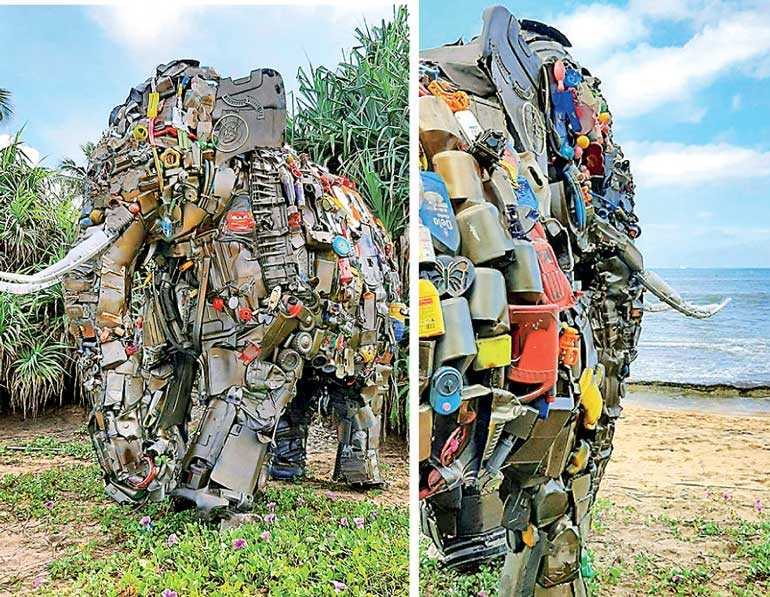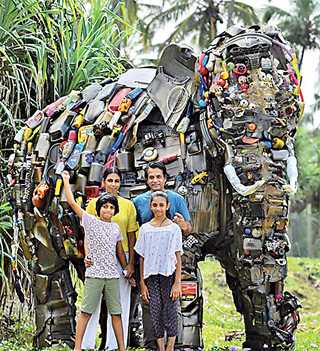 Lalith and his family
---
A magnificent creation by Lalith Senanayake, an elephant made out of plastic waste, was his valuable Christmas gift to Uswetakeiyawa.

"Sri Lanka is one of the highly exposed countries among countries that pollute the ocean with plastic waste. We dispose of more than two tons of plastic waste into the Indian Ocean each year. If we go to the beach today we can effortlessly collect a heap of a plastic waste," said Lalith.

Not happy to stand by watching waste accumulate on the Uswetakeiyawa beach, Lalith and his family members started to collect the waste plastic there and built a creation that made the whole area proud.

Lalith is an exceptional Sri Lankan artist who has made a mark in many numerous countries with his massive sculptures.

"Let's say no to inappropriate plastic waste disposal. We hardly think that even a very small drinking straw or a very small piece of plastic will end up as a deposit in the middle of the ocean," said Lalith, who with this sculpture reminds all of us of that pathetic reality.

The sponsorship for this creation was provided by the American Embassy in Sri Lanka with the collaboration of the Sarvodaya Shramadana Organisation.