Although MILK RICE 1 was geared to children between the ages of 6 to 10, Ameena received feedback from numerous children and their parents that the reading level was too high – a comment she found surprising, but one she took on board when sending out a new call for manuscripts for MILK RICE 2.

As before, it was to be a culturally relevant collection of stories with a free theme. She received stories from established and emerging authors and once again, she gave preference to stories that would impart a socially uplifting message, however vague it may seem.
MILK RICE 2 – Stories for Children Collected and Edited by Ameena Hussein Published by Popsicle Books Rs. 400 in all bookshops and www.pererahussein.com
Anthropomorphism is the attribution of human characteristics or behaviour to animals, and has become a favourite tool of our children's authors to convey their message. In this collection termed MILK RICE 2, almost all of the stories seem to be about animals that are all too human in their behavioural patterns. Across the board, this batch of stories is endearing, easy to access and with a readily understood though not immediately obvious message.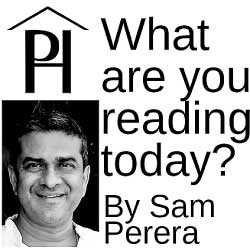 As an added bonus, Ameena found an illustrator who could include simple, custom drawn images to enhance the stories. These line drawings proved a good idea, as kids began to entertain themselves by colouring in the artwork!

The stories themselves carry varied messages. In the only 'human' story, Malinthi quietly rescues her classmate Dulika from economic embarrassment; and on the animal level, Boo the bear will show that despite appearances, it is ok to be different; Ugly the elephant is shunned by the herd until the day he rescues Lakshmi, the playful baby elephant from drowning and then becomes elevated to favourite temple elephant status; in a dog-eat-dog world, Milly the Mynah uses her skills at imitation to drive off a hungry leopard from making a meal of Spotty the deer; Drippy, a water droplet swims through the ocean, metamorphoses into a cloud and finds his way home through rivers and streams; Hitler the cat is so named because he is a lovable tyrant, who gets his comeuppance in the end; in the jungle, the animals put on a rumble for visitors. The collection wraps up with a long rhymed verse story that reads as effectively as a funny poem.

All told, both MILK RICE stories (1 and 2) reached their intended audience so successfully that Ameena collected and edited stories at a similar level for a third book, this time titled VAMPIRE UMPIRE rather than MILK RICE.

Every year in September at the Colombo Book fair, parents who make an annual pilgrimage to stock up on school books visit our stall to buy at least one book that is outside the school curriculum. These 'once a year friends' make it a point to tell us that they actively seek us out and are quick to pick up a copy of this series that relates stories in a context that is culturally appropriate to us. The highest compliment of course, is when they say their child enjoyed the book so much that they were waiting all year to buy the next one!
(Sam Perera is a partner of the Perera-Hussein Publishing House which publishes culturally relevant stories by emerging and established Lankan and regional authors – for a primarily Lankan audience. Ph books are available everywhere books are sold and through www.pererahussein.com.)