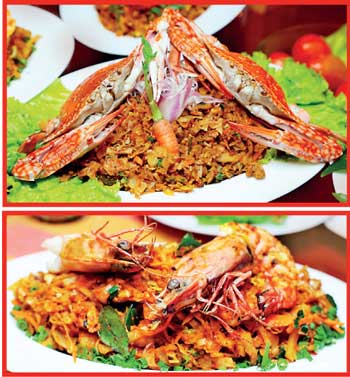 It's nothing less than a treat for everyone out there! Kottu in various forms prepared by Sous Chefs Amila (winner of the Hilton CEO Light & Warmth of Hospitality Award) and Sabah at the Curry Leaf restaurant from 7 to 17 March.

The Kottu menu consists of exotic flavours and combinations such as Nai Miris Kottu, Batticaloa Mutton Kottu, Tandoori Chicken Kottu, Rendang Chicken Kottu, Green Curry Chicken Kottu, Cheese Kottu, Mixed Seafood Kottu, Jumbo Prawn Kottu, Crab Meat Kottu and Karapincha and Vegetable Kottu. In addition to this, Chef Amila will be dishing out a special "Kurakkan Kottu" for the health conscious as well!

The rate is Rs. 3,583 nett per person which includes the entire dinner buffet which consists of ocean fresh seafood! There will be a supplementary charge for the jumbo prawn and crab meat kottus.

For reservations please call the F&B Reservations Desk on 2492492 and log into www.hiltoncolombo1.com for more details.