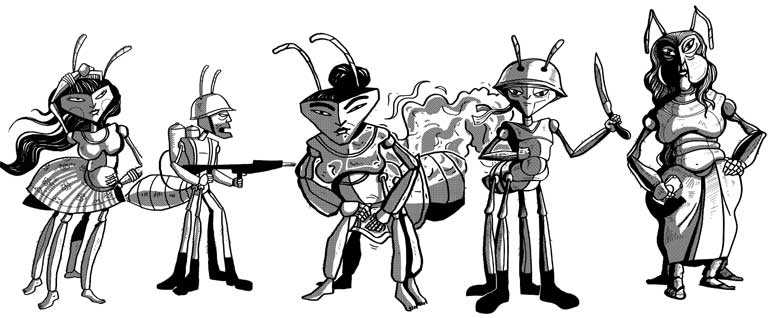 Kanchana Amilani, best known thus far for her poetry, recently published her first novel, 'Guha Satana' or 'Cave Encounter' – a black comedy featuring ants at war. Following are excerpts of an interview with the author:
---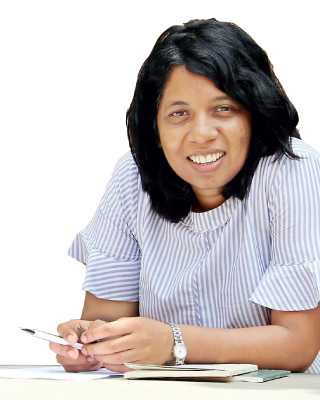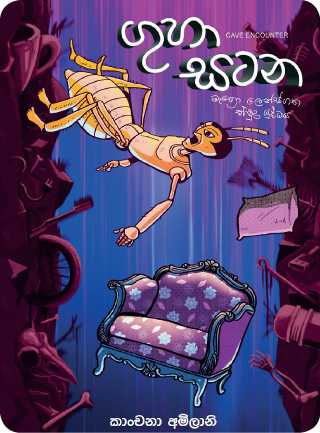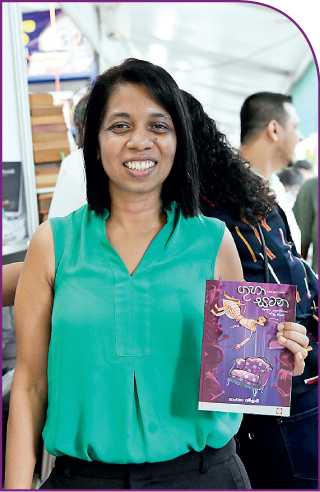 Kanchana wrote 'Guha Satana,' which comes to some 350 pages, entirely on her mobile
---
Q: You wrote this book during the lockdown, amidst a global pandemic. What inspired you?
I didn't have any responsibilities the whole time we were in lockdown. I even managed to complete the work from my office very quickly. I started to spend my time taking pictures of small animals and insects using a macro lens clipped to my mobile phone's camera. Through that macro lens, I saw weird and wonderful trouble brewing on the clothesline behind our house. I saw light orange wood ants carrying away other wood ants with broken limbs and other serious injuries. This kept happening over and over again. I kept taking pictures over and over again too. I ultimately decided that they were in the middle of a great war. When I mentioned this to a friend of mine, she said, "If there is a war like that happening, you can't just stand there doing nothing. You have to write a story."

That was the small incident that became the inspiration for 'Guha Satana' (Cave Encounter). While writing the story I started watching movies and TV serials like 'Band of Brothers,' '1917,' 'Letters from Iwo Jima,' 'The Pacific'. I especially watched a lot of documentaries about the First World War and the Vietnam War. I read about weapons, trenches, mobile artillery, smoke bombs and more. All of this inspired me to write 'Guha Satana'.


Q: The book is no small feat at some 350 pages, yet you wrote the whole thing on your mobile. What was that like and why did you choose to write it that way?
Writing things on my mobile has become a habit for me. The mobile has even become my chosen, easy-to-use method to write my articles for the paper. I'm anyway not a person who likes to use pen and paper. It's also much easier to go back and edit something on digital. That ease and my love for gadgets is perhaps the reason I chose my mobile to write.

However, I didn't expect 'Guha Satana' to go this far. I was publishing it online, chapter by chapter, on my Medium account and it amassed an unexpected amount of regular readers. The story I intended to complete with around 20 chapters became 66 chapters in the end. This wasn't an easy writing exercise either. I wrote four initial chapters in one go, to shape the overall story. Then I started publishing chapters one by one on Medium. Finally, I started getting into the habit of writing a chapter a day. There was another reason for that. Readers started sending me messages asking when the next chapter would be published. So, I couldn't escape from writing every day.

I think it doesn't matter what and where you use to write. What matters is that you have a story to tell. I had a story to tell called 'Guha Satana' and I couldn't rest until I finished writing that story.

When publishing it as a book, I edited the version I published on Medium multiple times. I reduced the number of characters, cut out unnecessary scenes and so on. If you look at it that way, the version on Medium is quantitatively longer than the printed publication. Writing on mobile isn't a game, but I think I managed to turn it into one.


Q: Though it is about ants on the surface, the book is essentially political, a book that speaks to the conscience of the world, one that condemns war and highlights its futility. Could you expand on this?
'Guha Satana' is written with the war of an ant colony atop a different layer. I would like readers to approach the book with a political lens. I would also like readers to approach it as a war between ants. I think that a lot of things we look at as very serious are farcical underneath. Even politically, we've been trapped in this serious comedy. We laugh at it with ease. Even if we want to cry, we say, "Never mind, let's try laughing instead." I think this is a sentiment that is common to all times, to all countries that have found themselves in the middle of a war. Different people understand this tragedy, rewrite tragedy, in different ways. 'Guha Satana' is my way of rewriting war.


Q: The war is turned on its head with the seemingly unassuming act of a female walking through it and as it turns out she's no ordinary female, she fights fire with fire. What is the message you want to give readers through this powerful character?
Very small things change very big, very serious things. As well as very unexpected things. The female character that crashes into this war is like that. This character always wants an eye for an eye. What was fun for me was never revealing why this character wants an eye for an eye.

I like to open a window, a door, through the story rather than have a message. The readers can go as far as they want through that door or window, or not at all if they don't want to. In any case, what I expect from writing is to persuade someone to think from a different perspective. I wanted to take my readers on a merry-go-round inside a chain of events without ever telling them why it happened. If you felt dizzy at the end, that is the fun of writing for me.


Q: The book has been all the rage on social media since it was launched, especially on Twitter. Post-launch, how has the reception been and what kind of reactions have you received from readers?
I did the social media campaign for the book myself, I published flyers introducing the characters from the book. I also animated the book's cover and used it as a Facebook cover. Sandakelum Wewita animated the cover for me. Thisan Nayanaka made the cover and also drew the characters. The campaign for the book was made so much easier with their help. We also distributed 200 badges with the first 200 copies of 'Guha Satana'. We made a WhatsApp sticker pack too. But I never expected this much hype, especially the huge popularity on Twitter.

Earlier, I tweeted the link to the Medium publication daily. Many people read that. So, I think it was easy for them to make 'Guha Satana' into something they knew, something that was close to them with that previous connection. Something special happened here as well. My audience changed. All of a sudden, a young audience was exposed to 'Guha Satana'. It's been a great joy as well as a great victory to be able to win over these young people because they were immersed in a completely different genre.

'Guha Satana' was received very well on social media. There were many short posts published on the language and dialogue of the story, as well as special attention given to specific characters. These reactions weren't the reaction I usually receive. But I feel that they are very honest reactions. Because none of these people knew me or my work before now.


Q: On a personal note, when did you first start writing, how many books have you published, and what made you try a full-length novel?
I have been writing since I was 10-12 years old. More than knowing what I wanted to write, I was always trying to write something even from those days. I think my father was a big influence on that. Since childhood, all I saw was my father's library and his relentless reading. I also saw my father always scribbling something down. Even though my father was not connected to writing or publishing, his habit of always writing something went to my head and I thought that I have to write as well. That is the biggest reason for my writing that I can remember. But I only started writing systematically when I was 16-18 years old. After that writing became a serious thing when I started working as a journalist.

So far, I've published a collection of short stories and two collections of poetry; 'Premaye Kaarthu' (2015), 'Gammiris Kurulla' (2015), 'Boomarangaya Obe As Deka' (2017). 'Guha Satana' is my first novel.

I had no grand intention of writing a novel. Neither did I start writing Guha Satana intending it to be a novel. It just happened on its own. Maybe if I had started with that intention it never would have ended. I already have many half-written tales with me. I like that this happened on its own. 'Guha Satana' is my unexpected lockdown homework


Q: Where can people purchase this book and your other books?
You can buy 'Guha Satana' from Sarasavi Bookshop. For online orders, you can visit sayurabooks.lk, bookhunter.lk, and grantha.lk.


Q: What can we expect from you next?

I haven't thought of what I would write next, but whatever it is I'd like it to be as unexpected as this.

(Interview translated by Dilina Amaruwan)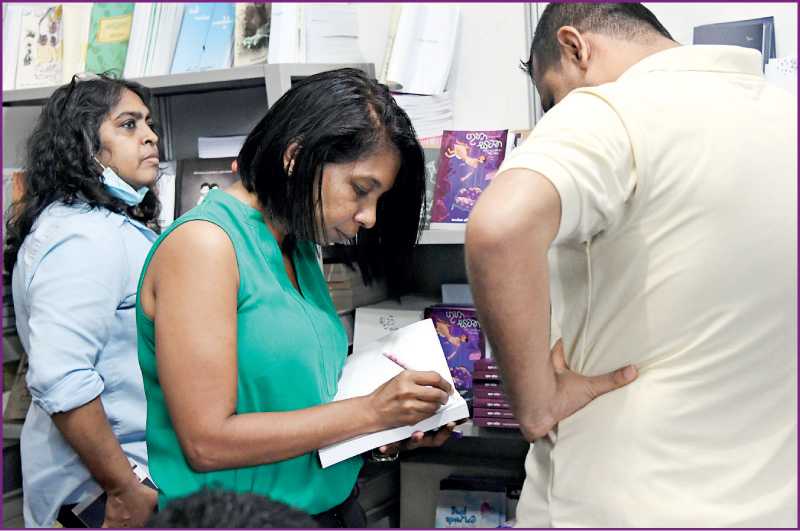 Kanchana signing copies of her book at the launch
---
Pix by Shehan Gunasekara
---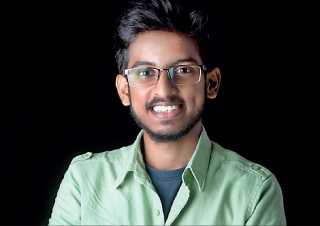 Ravindu Thimantha Gamage
---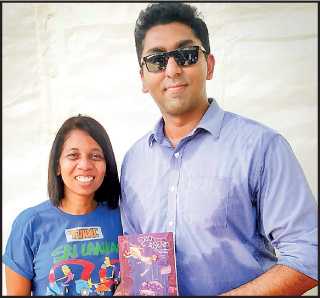 Dr. Arshath Zameek and Kanchana
---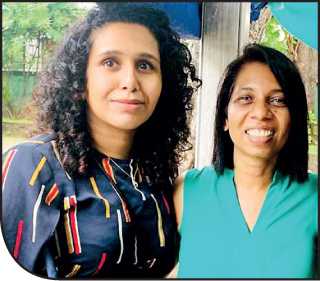 Ishana Wijesuriya and Kanchana
---
Sachini Perera: "I could hardly put down 'Guha Satana' as Kanchana weaves together the separate but interconnected stories of Sudu Hamine Achchi, Meenakshi, Tariq, Manu Singh, and countless others. She effortlessly reconfigures binaries like good vs. bad or friend vs. foe or war vs. peace, and makes the reader engage with messy and grey areas that are within and beyond those binaries. I did wish the world-building was more consistent but maybe Kanchana was deliberately trying to get a reaction out of readers who may have become complacent about war, disappearances and bloodshed, by taking us through a world that felt as contemporary as it did post-human."
Ravindu Thimantha Gamage: "'The Hitchhiker's Guide to the Galaxy,' but with a thrilling 'Black Hawk Down'-like war, and taking place in an ant colony instead of space, and with a uniquely South Asian flavour. An absolutely marvellous page-turner. The book has two layers; the innately funny top layer of a story about the war between two ant groups and how another ant colony gets mixed up in this mess that they didn't ask for, and the satirical and subtle social commentary underneath that, very much like 'The Hitchhikers Guide to the Galaxy,' talks about society and humans in a humorous manner. Marvellous world-building and suspense, extremely well written in a way that keeps the readers wanting more. Absolutely brilliantly written!"

Ishana Wijesuriya: "An ant colony has never been this fascinating. An escape from reality in our COVID-19 days, it was no surprise that I relied heavily on this book. Kanchana has woven an intricate web which oscillates between two intertwining layers from a war zone to a village in uproar. The Sri Lankan flavour is brought in by sprinkling rich characters with their usage of dialects. Quite the addictive page turner and an easy read. It was interesting to see the continuous additions and removals of characters without affecting the main story line. The humour resonates with the rib-tickling works of P.G. Wodehouse and Ruskin Bond. The character names caught my eye as they range from Aurangzeb to Hacks. Kanchana is known for taking simple things and cooking them up with satire and subtle social aspects along with her vivid imagination in her short stories, but to carry it throughout 350+ pages without the plot or comic timings wavering one bit is truly commendable."

Dr. Arshath Zameek: "'Guha Satana' is a fascinating, captivating, thrilling, emotional roller coaster ride filled with memorable characters. Kanchana's style of writing makes the journey relatable and grounded to the Sri Lankan context. The book was the perfect escape for me where I spent hours living through the complex world of ants and ultimately reflecting upon myself and our own human race."