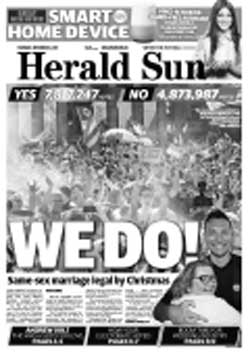 The long-drawn-out debate is over. Australia has said YES to same sex-marriages. Analysts feel the decision will lead to an economic boom by way of weddings and other celebrations. That would, of course, be after Parliament passes legislation legally allowing gay marriages.

"The people of Australia have spoken and I intend to make their wish the law of the land by Christmas. This is an overwhelming call for marriage equality," was Prime Minister Malcom Turnbull's response no sooner the results of the postal survey were announced.

The opposition will support the move. Labour Party and Opposition Leader Bill Shorten's immediate reaction was: "Today we celebrate, tomorrow we legislate!"

There was jubilation all over when the official results were announced by the Australian Bureau of Statistics (ABS), the State institution which conducted the survey.

"We have been together for 44 years. Now we can get married," was a reply by a fairly elderly couple. Parks and other big spaces were full of males and females waiting to celebrate. And they did.

In the postal ballot, the Australian voters were asked a simple question – Should the law be changed to allow same-sex couples to marry?

Nearly eight million (7,817,247) making up 61.6% of the responses cast said 'Yes'. Close upon 5 million (4,873,987) or 38.4% responded 'No'. Nearly eight out of 10 eligible Australians (79.5%) expressed their view.

All states and territories recorded a majority 'Yes' response. 133 of the 150 Federal Electoral Divisions recorded a majority 'Yes' response while 17 recorded a majority 'No' response.

The participation rate was slightly higher among older age groups, but the results showed a strong interest among first time voters, with 78% of 18-19-year-olds responding.

Apart from parliamentarians and support groups who were solidly behind the 'Yes' agitators was Australian airline Qantas CEO Alan Joyce, who championed the yes vote and donated $1 million personally towards the campaign After the results were announced he said it was "a proud moment for Australia", adding "It's the epitome of a 'fair go' and shows that as a nation we want to be more inclusive, not less."

Freedom of religion and speech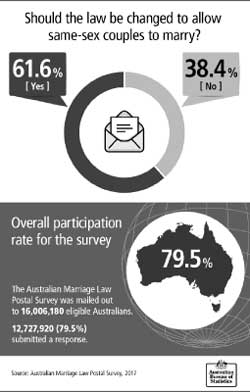 There was wide coverage by the electronic media no sooner the results were announced. It was headline news in all the newspapers the following day with space being devoted to record views and opinions from all quarters.

Quoting responses from two previous prime ministers, the national daily, 'The Australian' reported:

Former prime minister, John Howard called for stronger safeguards in the final reform bill, including freedom of religion, freedom of speech and parental rights - and he added that the debate should not get "hung up" on whether bakers would be forced to provide cakes for gay weddings.

Former Prime Minister Tony Abbot who saw 75% of his electorate vote 'yes', declared he would not seek to "frustrate" the will of the people but wanted safeguards for religious freedom. (Abbot supported the 'No' campaign.)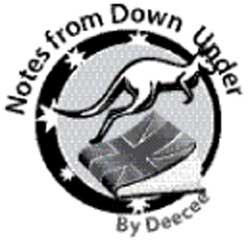 Meanwhile, the No campaign against same-sex marriage warned it won't go "quietly into the night " and has pledged to escalate its defence of freedom of speech and religion at future elections.

It was reported that religious leaders, many of whom publicly petitioned for a No vote, expressed dismay at the survey results but said they have turned their attention to ensuring religious freedoms are protected in the next stage of the legislative process.

Melbourne Archbishop Denis Hart, the Australian Catholic Bishop's Conference was quoted as saying the church would continue to preach that marriage was "a special union between a woman and a man" as reflected in the existing definition of marriage. "A change in civil law does not change the Catholic understanding of marriage," he said.

Sydney Anglican Archbishop Glenn Davies, who had previously described radical same-sex marriage campaigners as "a barge of bullies" who were swamping the public debate with an "introspective, authoritarian denial of free speech", also warned against unwinding religious freedoms.