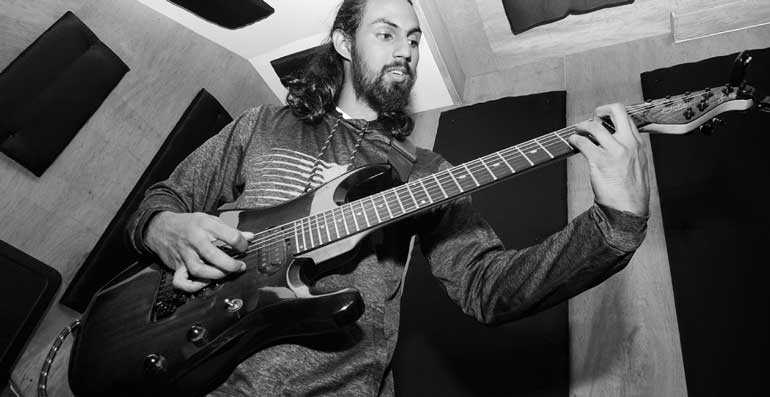 Dush and Malin are two young English rap artists who are new to the rap music scene in Sri Lanka. Young and talented, they have surprised everyone and have challenged the norms to pursue their passions.

They were friends from school who had a similar passion for hip hop, who had started off with school events, which eventually led to them performing at gigs, open mics and eventually at TNL Onstage 2018. Bagging the title 'The Best Band' at onstage, their band 'The D N M Crew' is creating a buzz in the music scene in Colombo.

With a passion to be meaningful and leave a message through their songs, the duo likes to be innovative and entertaining through the music they create.

Weekend FT met with the duo and spoke about their success story and about their upcoming projects as rap artists. The following are the excerpts:
By Ruwandi Gamage

Q: Would you tell us what D N M crew is all about?

Malin: It's a rap and rock band; a rock band that incorporates rap or a rap band that incorporates rock. We made the band for the competition purposes but then it led to us continuing.

Dush: Just before that we were Dush and Malin, just both of us with a passion for hip hop. We started off like that. We performed at open mics and jammed here and there, which eventually led to TNL onstage. That's when we had to create a band.

We had a few friends who already had a band, Nathan with the lead guitar, Shane with bass and Joshua with the drums and keyboard.

They are a rock/heavy metal band, therefore we combined that with rap and ended up creating something unique and experimental. That's how the band was formed.

Q: How would you explain your individual entry into the music field and what were you inspired by?

Dush: We're always inspired by hip hop. The moment I heard hip hop rap I was hooked. I would've been like 12-years-old then.

Malin: We went to the same school. We got to perform together at school events such as the Annual Prize-giving. I never knew Dush was also a rapper. I found out that he was also into hip hop rap and one day I called him up and we decided to perform together for the first time. We did a small skit together and then we both were hooked on.

Dush: He used to rap way before I did on a stage in public. I used to be the spectator and admire him beat boxing and rapping at prize-givings and talent shows at school.

There was a time I just used to come and show this guy and his bunch of friends that I can rap. That's how he got to know about my skill. Malin randomly called me one day to perform together at this English talent show at school.

We did a skit where we did a rap battle where we both performed side by side. This was when Eminem had released 'Rap God'. I had practiced the fast rap in that song and back then it was a major hype. Malin knew the fast rap for Busta Rhymes 'Look at me now'. We battled on stage using rap.

Eventually I got over my stage fright to perform.

Malin: So, our first performance together was a rap battle.

Dush: After this everyone motivated us to perform together and that's when we made an original song. Straight up we didn't do any covers, we made an original song. We weren't that good, meaning we didn't know much about production.

Malin: This was right after that rap battle and we named it 'Success'. We wrote it, performed and recorded it. Then Dush edited it on a basic software and released it. The response was really good.

Dush: Nobody knew we could perform like that apart from school friends, so, everyone loved it, the feedback was really good.

Malin: After this we kind of lost touch with each other. We didn't perform or practice together for over a year because of studies. I was doing O/L's and he was doing A/L's. Then again after exams we did another original song called 'Comeback'.

Dush: It was our own perception of believing that whoever who likes what we create will love it. We loved doing our own thing, writing the lyrics and performing it together.

Malin: After the second original, that's when we started performing at Nathan's, our lead guitarist, cafe every Friday night. We hosted gigs at this cafe. That's where we met the rest of our band-mates.

Dush: Nathan was in our school and he was a few years junior to us and when we finished school we lost touch with him. When we got into the music scene, we figured that we might as well kickback with them and go back to our roots.

My inspiration to get into music was obviously Eminem. From the moment I heard his song called 'When I'm Gone' I was hooked. The lyrics were so meaningful.

I'm more into conscious rap, so when I heard that song, with how the words gave meaning and how they were used with the metaphors, the punch-lines, I was fascinated.

Malin: The first rap song I ever heard was from Eminem. I didn't start to rap until I heard Busta Rhymes. There was this crazy fast rap that he did, and I wanted to learn it and that's how I started rapping.

Dush: We had a massive break when we performed for the first time after a long silence. We weren't working together. We were working on content on our own and just passing time writing lyrics and never performing.

The break was from 2016 to 2018. We didn't even talk to each other about rap. Even the times we met during this time, we never spoke about music. When we saw the open mic event hosted by the ToAlways duo at ME Colombo, we decided to come and perform for the first time there.

We didn't even prepare, we were so eager to perform. I just called him up and told him about the event and what I was hoping would be good to perform and we just winged it. We had a really good performance and the response was amazing.

Malin: We didn't expect the audience to sing with us. That was a different experience. We must mention our friends who were always supportive and cheering us on. We are also thankful for the support from our parents.

Q: Tell us about the TNL onstage experience.

Dush: The story is a great one. We auditioned at 'The Re.Pub.Lk' and it was also a sudden decision.

Malin: Dush calls me up one day and says that there's an open mic night at The Re.Pub.Lk and something about how we can also audition for the TNL onstage. I didn't know what that was, but I agreed, and we went. So many talented artists came that day.

The TNL crew recorded our performance and later came to us and asked if they can use that recording as our audition tape. We didn't think much about it at all, so we agreed. However, after about two weeks Dush called me again and tells me that we have been selected to perform for TNL Onstage. I was having exams at college and I just refused, and I said I can't come.

Dush: I received the call from TNL that we were selected; but when I called Malin up he refused because of his exams. And it was confusing because we were selected from the band category and we didn't even have a band.

Malin: We called them and voiced our concern and they told us that we could use a pre-recorded instrumental. We were throwing ideas around thinking we could maybe do a rap battle or go solo with backup. We were confused how we both got into band category.

Dush: We were the only people who used a USB drive with a pre-recorded instrumental track at that audition. Everyone else played live with instruments. It was confusing how we got the band category. We were struggling trying to figure out how we're going to perform without a band and live music. Neither of us can play any instruments; Malin can beat box and that is it.

The first day when we were asked to come for the briefing we were honesty scared, because everyone else had bands.

Malin: There were at least four people in each band, and we were just the two of us. Then the TNL crew briefed everyone that pre-recordings cannot be used. We were really confused so when we questioned them, they wanted to talk to us separately.

Dush: We stayed until the end of the briefing and then the crew talked with us. They told us how they like what we are doing, that they like the concept, us being the only rappers there.

Malin: They told us that we can use a recorded instrumental, but then they said that it would be better if we can have at least a drummer and a guitarist playing for us. That's when we called our friends to see that they had an already formed band. We asked them if they would help us with drums, bass and guitar and they agreed and so we created our band.

Dush: The moment we got into the studio it was like magic. We had good chemistry because we had performed with them a few times long ago. The band was suddenly assembled, and we had only two weeks to practice before we performed.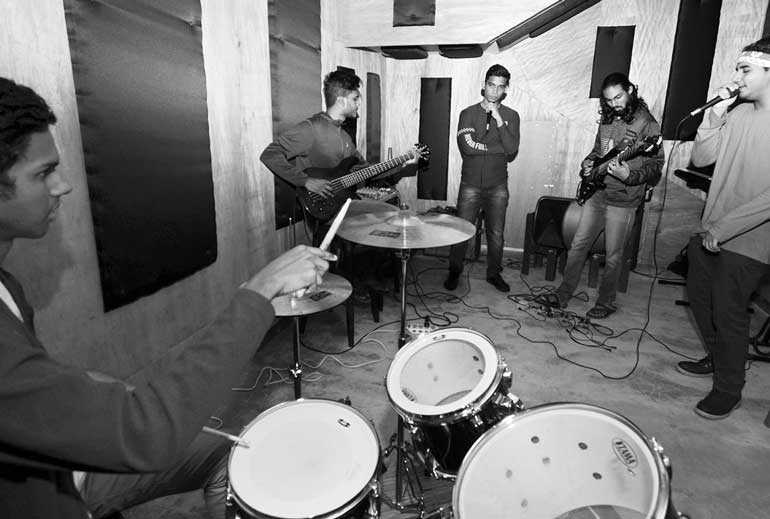 Malin: We only had five practices before we performed as a band for the first time at the competition.

Dush: It was a lot of pressure because we had to also practice one of our originals and we didn't have much time. We used songs that we are thorough with and tried our best doing what we were good at.

We practiced really hard, sometimes late nights. We told ourselves that we don't have to win. The both of us personally were just proud to be the only competitors representing rap.

We didn't expect to win at all. I was the least confident from the band that we would win.

Malin: Dush was the least confident that we would win. He was actually aiming for runners-up. When they announced the winners and when the band 'Odyssey' came runners-up, Dush walked away because he thought that we couldn't have won, as they were a really good band. I had hopes that we would win. And then we did. Dush was in tears when we did, and it was so unbelievable.

Q: What are the upcoming projects you are working on at the moment? Individually and together?

Both: At the moment we are busy and focused on completing our first album. This is the record deal we received as the winning band in the competition. We were hoping to release it during this month, but we postponed it because we felt that it is not right given what happened recently.

We are getting back to recording within the coming weeks. We are almost at completion. It is all original songs in the album. We haven't named the album as of yet, but we are almost done.

We also have two upcoming music videos done for two of the songs in the album.

Dush: I have worked on a song given the circumstances in the country. It's called Balance and it is about unity and peace. I'm hoping to collaborate with two other artists and hoping to debut it soon.

Malin: I am also working on a project, it's a rap song that I'm singing with a female artist. We are yet to record. It's a song dedicated to people in the entertainment industry, because I felt like they aren't much talked about. That project will probably be completed by the end of this year.

Q: What are the key challenges faced by rap artists in Sri Lanka? What changes do you think will help them move forward?

Dush: The platform to perform is our biggest challenge. The Sinhala community of rap has an audience and a following in Sri Lanka and people listen to what they say in their lyrics. In terms of English, I believe that people do listen, but they always prefer international artists no matter how good the lyricism and the wordplay is.

Malin: Another problem is that people don't listen to the lyrics anymore. You can write the best lyrics, but if the beat isn't banging then people won't be interested enough to listen.

Dush: There's not enough platforms given by the media to artists like us. There's only a couple of media platforms that do support. And then only through gigs and open-mic events we get to perform our content. Apart from that I believe that if there's a proper platform like YouTube, it could be a support system.

Malin: There's so many talented artists who are unrecognised here. They don't know how to break out and show their talent.

Dush: When we entered the competition, we weren't the only rappers at the auditions. There were rappers who were really good, who weren't selected to perform.

Malin: When we perform, we don't try to be mainstream. We are trying to get a message out there. It's not easy to sound good and give a message out at the same time. People were inspired to show their talents.

Dush: In terms of English rappers, the competition we had was really good, but we pulled through. There was another rap artist who performed for the solo category and he had a proper skit even. We are glad that they gave us an opportunity to prove ourselves; however, English rap as a genre in Sri Lanka, you might as well pursue a career abroad.

People are demotivated to put their content out because of the limited audience.

What we do isn't for money, we do this because we have a passion. Every weekend we were somewhere, maybe at an open mic performing because we loved doing what we do.

Malin: I mean you can't make a career out of solely by English rap here in Sri Lanka. It's difficult.

Dush: The main challenge is the audience and a platform for people to listen to English rap, and a platform that supports English rap. It's not very popular here because there's not a big audience.

International music is what is mainstream. They don't care to listen to us. They wouldn't care about any song released by us, but they would wait for release of songs by international rap artists. That's the mindset we have here and that's why you can't really do well here unless you go abroad to pursue your passion.

Malin: Open mic hosts has been our best marketing strategy. They have always provided us with a platform to show our talent. You need to also need to know how to market yourself.

Dush: One of the faults we had in terms of production was that we never did really focus on it. When we do a song, the only focus is to release it, thus we don't focus our energy on the production. We are more eager to put our lyrics out.

Talent in terms of lyrics and vocals are there. If support is given to produce these songs, then more talent would come forth and pursue their passions.

Malin: We love telling a story through our songs, not just use a catchy beat to put out a song. We are more focused on lyrical rap.

Dush: I'm more focused on conscious rap, which is talking about something people can relate to. One of the mistakes we did earlier was that we never did any catchy songs with a good beat and a good chorus, something which people can enjoy.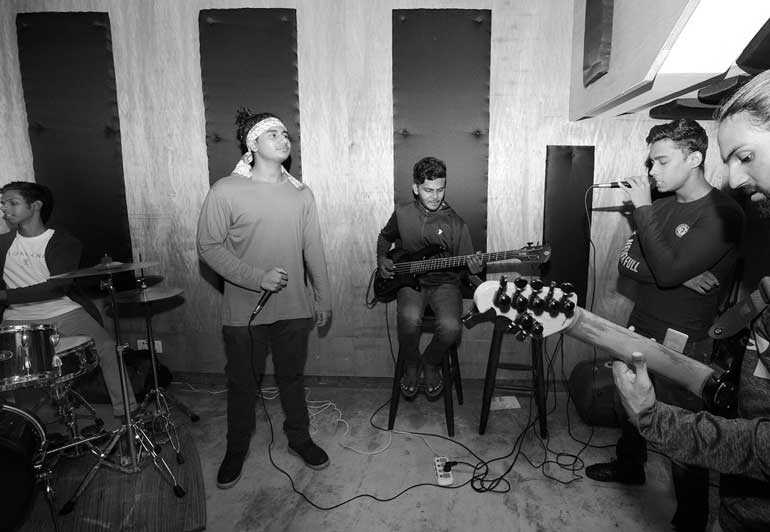 Malin: Maybe that was a good choice we made not to do that because that would not be who we are. However, now we do have hopes to collaborate with other artists and put out more mainstream song choices. There's also so much politics in the music industry, and you can't get ahead if you don't have a lot of connections. Unless you have some work you've done, to prove your worth, no one is willing to help or even collaborate.

Dush: After the win and because we have a band, there's many who have come up saying they want to work with us. We receive a lot of requests and have even been asked to work together with artists we never thought would be interested to work with us.

Malin: We were planning to include a collaboration in our first album, but then we decided against it because we thought it's best we prove ourselves first.

Q: Any words of advice for musicians aspiring to get into the rap music scene in Sri Lanka?

Malin: If you have an idea and you want to do a song, don't listen to others, just do it. Don't hesitate. It will help you because it is a learning process. Whatever the feedback might be before or after the song, produce it regardless. There's nothing you will lose.

After you complete a song, you will listen to it years later and learn how you could've done it better. You will learn a lot and others will even help you understanding what needs more work. This will help you when you do your next song.

Dush: You are hindered by not putting out content thinking it might not be good enough. Don't hold yourself back thinking you might not have a breakthrough unless you're abroad. Even to be successful somewhere else, you need content to show for yourself, of what you can do and what you have done already.

Just go ahead and make your idea a reality.

Pix by Shehan Gunasekaraw