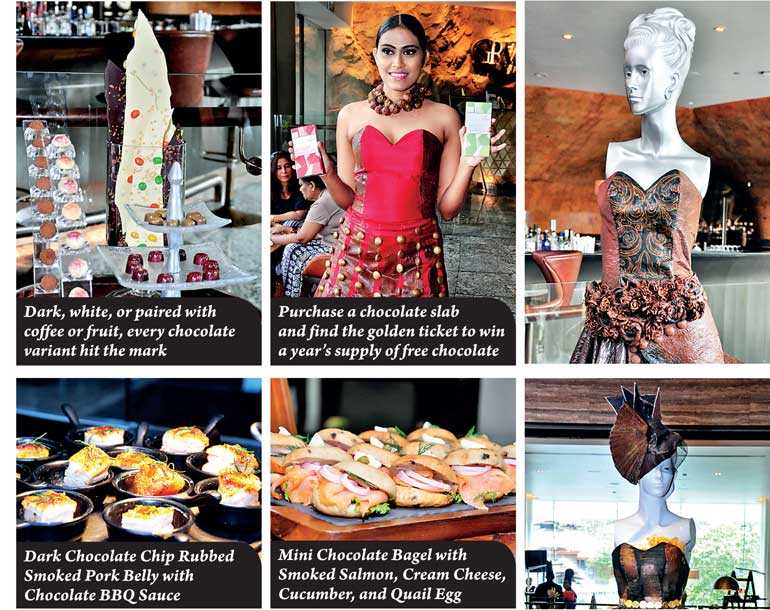 ---
The Colombo Hilton's #EatDrinkHilton promotion is back and this time for the entire month of August, it is celebrating that most glorious of delicacies, chocolate.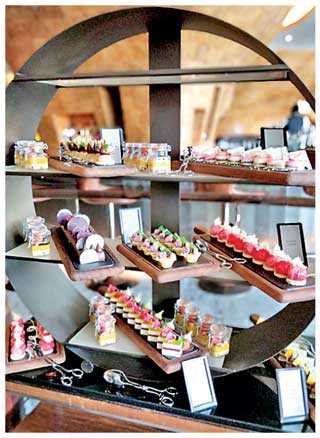 Hilton's expertise in

chocolate preparation shone through at the High Tea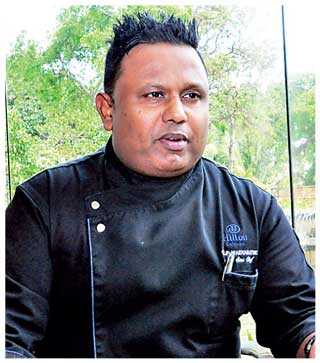 Executive Sous Chef

Chamlie Waidyaratne


Kicking off the celebration in style, the Hilton L.A.B. hosted a special one-day only High Tea buffet on 7 August, and Weekend FT was privy to some of the treats that await guests over the course of the month.

Priced at Rs. 2,500 nett per person, the line-up of goodies comprised eight sweet and seven savoury items. While the Hilton is undoubtedly known for their chocolate, infusing it into savoury dishes definitely piqued our curiosity.

"It's not an easy thing to work on. There's a lot of trial and error to get the balance right," Executive Sous Chef Chamlie Waidyaratne told Daily FT. "Sometimes we even eat by our mind, where we imagine what flavours would go together. Then we make and it we try it out."

And at the end of that tireless process, one which began some three months ago, the end result was finally on a table for guests to enjoy. While admittedly there were a few flavour combinations that while delicious, didn't necessarily scream chocolate, this was to be expected as chocolate and savoury are tricky bedfellows. But where it worked, the combination truly shone.

Among our favourites was the Dark Chocolate Chip Rubbed Smoked Pork Belly with Chocolate BBQ Sauce, which was still a quintessentially soft pork delight but with an unmistakable chocolate infusion.

"Normally pork belly we rub with honey to bring out the flavour, but this one we've rubbed with chocolate sauce," explained Chef Chamlie matter-of-factly.

Another was the Mini Chocolate Bagel with Smoked Salmon, Cream Cheese, Cucumber, and Quail Egg, as the bits of chocolate in the bagel ensured there was no doubt as to the core element in this dish.

Among the sweets, meanwhile, it was what we've come to expect with Hilton, as their expertise in chocolate preparation shone through. Be it dark, white, or paired with coffee or fruit, every variant of their spread of bite-sized treats hit the mark.

The Hazelnut with Chocolate Kulfi, Mascarpone Coffee Cremeaux, and Mango Carmalito were particular highlights of the evening, though as a fan of Panna Cotta, the Lemon White Sensation with its blend of gelatinous fruit and white chocolate was the one dish that left this writer craving for more.

To round out the experience, guests were not only treated to their fill of chocolate edibles, but a selection of chocolate-infused scrubs courtesy Scrubs.lk as well.
August festivities
While the High Tea was just for that one day, the Colombo Hilton's chocolate treats can be enjoyed over the rest of the month at its various other in-house establishments. A range of chocolate infused cocktails and mocktails will also be available at L.A.B throughout August, while a chocolate inspired three-course menu will be available at Graze Kitchen, with appetisers such as Wilted Arugula and Blue Cheese Salad, Chocolate Hawaiian Salad, Chocolate Tempura Prawns; Lamb Shank Osso Buco, Stuffed Quail on Beans Casserole, Chocolate and Chilli Crusted Sea Bass for mains; and for dessert a Chocolate Cardamom Ice Parfait.

A variety of delicious chocolate cakes, bars, bakery items and beverages will also be available at Café Kai, where you may stand a chance to win a year's supply of free chocolate. All you have to do is purchase a slab from Hilton's special range of chocolates available at Café Kai and locate the Golden Ticket hidden inside.

Sticking with the theme, the lobby is hosting a series of chocolate inspired dresses, designed by students of Mod' Art Int. using 40 kg of real chocolate.
Pix by Sameera Wijesinghe