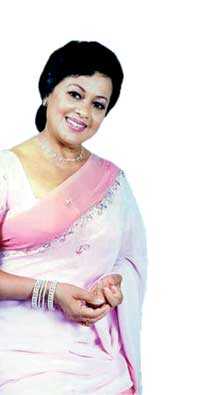 On stage at 17. On the screen at 20. Completes 50 years in cinema. Over 150 films. At a quick glance that is the record of the 'Queen of Sri Lankan Cinema', Malini Fonseka.

I remember watching her in the stage drama, 'Akal Vessa' in 1965. She was adjudged the Best Actress at the finals of the annual Drama competition. I had just moved over to the Observer from the Dinamina.

We had decided to create an interest in Sinhala plays and films among English readers. Her achievement was reported in the following day's Evening Observer. Arguably that's the first time that an English newspaper wrote about her.

Having got a grounding in her school, Gurukula Vidyalaya at her birth-place Kelaniya, she acted in a few plays and it didn't take long for her to be picked to act in films. Tissa Liyanasuriya was the first to give her a chance in 'Punchi Baba' just three years after her award-winning performance on stage.

Doyen of Sri Lankan cinema, Lester James Peries was quick to realise her potential and offered her the lead role in 'Akkara Paha', a rural story written by Madawela S. Ratnayake adapted to the screen by Tissa Abeysekera. She played opposite the relatively junior actor Milton Jayawardena. That was in 1970.

The big challenge for Malini came when LJP pitched her opposite Gamini Fonseka, who was by then clearly the 'king of Sinhala cinema', in 'Nidhanaya' based on a short story by G.B. Senanayake with the script, dialogue and screenplay written by Tissa Abeysekera. Malini convincingly portrayed the difficult role of Irene, wife of Willie Abeynayake looking for a female to be given as a sacrifice to obtain a treasure.

"Malini Fonseka's memorable performance as the guileless sacrificial lamb in Lester James Peries' masterpiece 'Nidhanaya' – acclaimed as one of the best 100 motion pictures of all time – immortalised her," Dr Carlo Fonseka once wrote. 'Nidhanaya' was also selected as the best film in the first 50 years of Sri Lankan cinema. From 'Punchi Baba' Malini has had a long journey through Dharmasena Pathiraja's 'Eya Dhan Loku Lamayek', passing youth and adult characters culminating in her role as Mother Superior in Somaratne Balasuriya's 'Sarigama' – Sinhala adaptation of the highly popular English movie, 'Sound of Music'.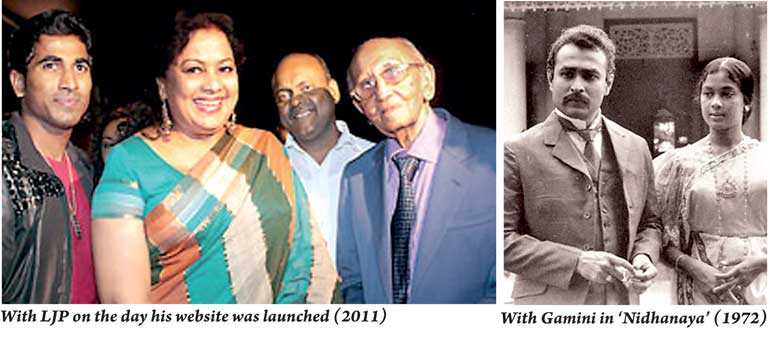 In the five decades she had been active in cinema, she was seen in varying roles in films ranging from copies of Indian films to what is ranked as cheap, meaningless productions, to the high quality films. It's difficult to locate a director who had not taken her for at least one of their productions.

Among the directors Pathiraja invariably picked her for his early creations – 'Ahas Gauwa' (1974), 'Eya Dhan Loku Lamayek (1975), 'Bambaru Avith' (1978) and 'Soldadu Unnahe' (1981) – when she turned out unforgettable performances. In the first three we saw her opposite Vijaya Kumaratunga (with whom she appeared in many films) and in the last with Henry Jayasena and Joe Abeywickrema.

From among the directors who made quality films, Vasantha Obesysekera's 'Diyamanthi', Parakrama Niriella's 'Sirimedura' and Prasanna Vithanage's 'Akasa Kusum' (2009) will be long remembered for Malini's contribution. She won several awards at international film festivals when the latter was screened.

Malini was fortunate to blossom out at a time when Sinhala films were being turned out in numbers. Along with her there were many other talented actresses. Punya Heendeniya, Swarna Mallawarachchi, Sabitha Perera, Suvineetha Weerasinghe, Geeta Kumarasinghe and Anoja Weerasinghe are some of the names that come to my mind. They were also sought-after players. To have fared so well amongst all of them was indeed most creditable.

The advent of television in the 1980s paved the way for producers to move over to teledramas which, at the initial stages, provided space for talented players to act. As they began following the soap opera style, newcomers who could spend time where most of the dramas drag on for several months (and years) have replaced the more talented actors. Among them some have proved to be very talented.



The late 1990s saw Malini playing in the epic teledrama, 'Pitagamkarayo' by Tissa Abeysekera. It created history by winning almost all the top awards – nine in all – at the Sumathi Tele Awards in 1997. Malini (Ema Nona) was best actress and Jackson Anthony who played her son was best actor. Tissa was adjudged the best scriptwriter and best director.

While Malini has been rewarded with numerous awards locally, she has still not been forgotten by filmmakers. She is always available for the right roles.