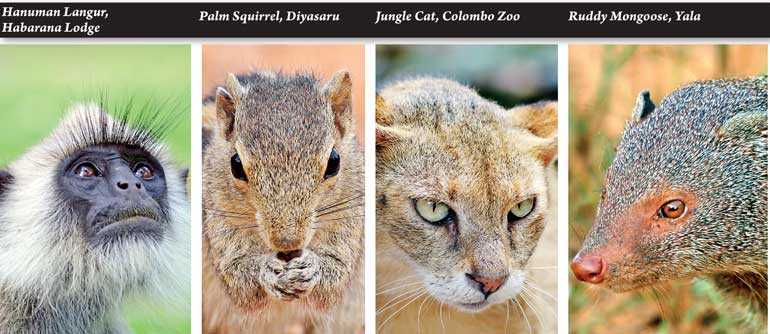 A portable and photographic field guide to mammals providing wide coverage
Features 96% of all land and marine mammals recorded in Sri Lanka
Comprehensive, portable and affordable guide will boost appreciation of country's biodiversity
---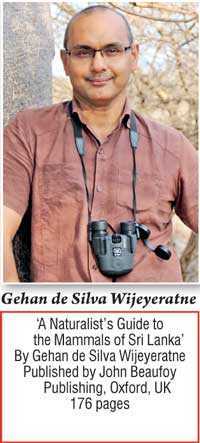 This new book on the mammals of Sri Lanka is a landmark publication as it is the first portable and affordable photographic field guide with near comprehensive coverage with 96% of all the land and marine mammals recorded in Sri Lanka.

'A Naturalist's Guide to the Mammals of Sri Lanka' covers 122 of the 127 land and marine mammals recorded in Sri Lanka. The book is published by John Beaufoy Publishing and is the seventh Sri Lankan title by this British publisher who has a long association with Sri Lanka and other countries in the Asian region.

The lightweight book with a page length of 176 pages follows the standard format for the Naturalist's Guide series and is in a pocket-sized shape of 130 mm wide and 180 mm high. The size and shape help the book to being a permanent addition in the 'field bag' for keen naturalists. The book uses multiple images with identification focussed text to provide a compact field guide which will be useful for resident naturalists and visitors.


A portable photographic field guide

Only a handful of countries in the world have a portable photographic field guide to mammals with such wide coverage as this book does. The author and principal photographer of the book is well-known natural history populariser Gehan de Silva Wijeyeratne who has over 20 books and 380 articles published.

Despite being a moderate sized island, Sri Lanka has a good mammalian diversity and the book covers all 36 families found in Sri Lanka. As is the case in many parts of the world, many of the mammals are shy small mammals, or are nocturnal, or both. As a result the book uses many images taken by full-time researchers who have taken images under capture and release methods under research permits. This book is probably the best photographic catalogue of Sri Lankan mammals to be published.

The author was instrumental in publicising and branding the Elephant Gathering and Leopard Safaris. Although the wildlife highlights are mentioned, he has taken particular care with species such as bats whose identification is difficult. Most of the species have multiple images with close crops of key features to help with identification.

The author draws attention to the fact that this book was a collective effort drawing upon the contributions of 41 photographers from nine countries resulting in over 250 images being used.




Marine mammals

The section on marine mammals is probably the best so far from a book for the Asian region. This is not surprising given the author's role in the development of commercial whale watching in Sri Lanka.

Starting in May 2008, he began a publicity blitz that Sri Lanka was 'Best for Blue Whales'. He also publicised Kalpitiya as a whale watching hotspot and a key location for pelagic seabirds. The whale watching publicity campaign he led with the tourism industry drew the attention of film crews and photographers worldwide. This in turn led to local marine biologists being featured in international documentaries.

In addition to his own photographs, the author has used images from both local and overseas marine biologists. An especially strong contribution is from US marine biologist Paula Olson. The introduction came through British marine biologist Susannah Calderan who has worked in Sri Lanka with colleagues in the University of Ruhuna.

The introduction proved to be very useful as Olson had photographed many of the species seen but never photographed in Sri Lankan waters. As a result, all but one of the cetaceans (whales and dolphins) recorded from Sri Lanka are covered in the book, often with multiple images of the animal at the surface with identification oriented text and image crops to help observers on whale watching boats.


Sri Lanka's mammals

Sri Lanka's mammals have been the subject of two comprehensive books in the past. In 1952, W.W.A. Phillips authored the 'Manual of the Mammals of Sri Lanka'. In 2013, Asoka Yapa & Gamini Ratnavira were the author and artist respectively of the 'Mammals of Sri Lanka' published by the Field Ornithology Group of Sri Lanka', a large format book with a whopping 1,012 pages.

The first photographic field guide to Sri Lankan mammals was published in 2008 by New Holland (now a Bloomsbury title) authored by Gehan de Silva Wijeyeratne and with the images largely by him, with the emphasis on the more easily encountered land mammals with a generous word count per species.

For this new, near-comprehensive photographic guide, to source images the author received help from a number of people including biodiversity explorer Rohan Pethiyagoda who through the Wildlife Heritage Trust has published and facilitated research on Sri Lankan mammals.

Sourcing images for the 33 species of bats in eight families found in Sri Lanka was especially challenging. Asoka Yapa and Rohit Chakravarty resident in Canada and Germany respectively, made a number of important introductions to researchers in Sri Lanka and elsewhere in the world, illustrating that the book required an internationally collaborative effort.

Throughout the book, Gehan mentions the names of several researchers who have undertaken work and draws attention to academics including Professor Wipula Yapa who has studied bats and supervised a number of PhD studies on bats. Two of his students have contributed images, with an especially strong contribution from Tharaka Kusuminda. Other Sri Lankan researchers who have contributed images include Suyama Meegaskumbura and Ranil Nanayakkara.


Feedback on the book

"Given that Sri Lanka is one of the best all-round wildlife destinations in the world, the island needed a comprehensive, portable and affordable field guide to mammals," says Charmarie Maelge, a former Managing Director of the Sri Lanka Tourism Promotion Bureau.

She adds: "Gehan's line of thought is to create livelihoods through wildlife tourism to provide an economic and a sustainable agenda for conservation. He has a long track record of enlisting the support of researchers, corporates and also conservationists in his work."

According to Gavin Thomas, author of the Rough Guide to Sri Lanka, "Interestingly, leaving aside foreign visitors, a lot of Sri Lankans will be surprised at the range of mammals to be found in Sri Lanka. In this book readers will find 33 species of bats, golden palm civets, chevrotains (also known as mouse-deer but not a deer) that swim under water to escape predators, shrews which look like mice but are not related to mice and rats, and a host of other mammals that even professional tourism guides know little about."

Rosemary Wilkinson from the UK who oversaw the production adds: "Gehan has a distinctive style of combining his field work and interest in science to produce something that is accessible to a popular audience. He also has a keen eye for a big story and writes and photographs in a way that meets the needs of wildlife enthusiasts and publishers."

According to John Beaufoy, Managing Director of the eponymous John Beaufoy Publishing, Gehan is amongst a small handful of field naturalists in the world who have written and photographed field guides spanning land and marine mammals, birds, butterflies, dragonflies, flowers and trees. He believes his activities in Britain as a council member of the London Natural History Society, Chair of the London Bird Club and a Trustee of the British Ornithologists' Club London offers him a strategic advantage. "Gehan's ideas on what a book should be and his ability to source material are helped enormously by his strong networks and active participation with British wildlife organisations."

Breakdown of the book

The front section of the book covers details such as climate and weather, monsoons and topography, key places to visit for watching mammals and other wildlife, classification of mammals, whale watching and topography diagrams for bats and cetaceans. It also includes a photographic checklist of the 22 endemic mammals.

The inside cover has a map with the key terrestrial and marine wildlife sites. The end sections include a checklist of the mammals of Sri Lanka, a bibliography and useful information for visitors, covering topics such as internet resources and a list of wildlife tour operators.

The bulk of the book (pages 16-163) is on the species accounts. Each family is demarcated by a text box that provides a thumbnail summary. Here you learn about the key characters of false vampire bats and discover that the bats found in Sri Lanka are from several families and that gerbils which look like mice are in a different family.

All of the marine mammals are grouped together and the different types of whales, baleen and tooth are explained. "The text is the real deal," says Gavin Thomas, "written by an author who does a lot of field work and is constantly preoccupied with how to help the reader identify what they see."

The real power of the new mammal guide

Nalin Perera who managed the Sri Lanka Tourism Promotion Bureau office in the UK and Ireland recollects Gehan preparing briefing sheets derived from his book 'Wild Sri Lanka' which were distributed by Nalin and his team in the thousands across several years at various consumer and business travel fairs.

According to him, "The real power of the new mammal guide is that because it is not expensive, it will be gifted by both local and foreign tourists to local guides, building capacity and increasing appreciation of the country's biodiversity."

The publisher John Beaufoy Publishing has several international titles in the Naturalist's Guide series. The other titles to Sri Lanka in the Naturalist's Guide series include Birds, Butterflies and Dragonflies, Flowers, Trees and Reptiles. John Beaufoy Publishing also published 'A Photographic Field Guide to the Birds of Sri Lanka' (the first complete photographic guide) and 'Wild Sri Lanka'.

(All wildlife pictures featured on this page are by Gehan de Silva Wijeyeratne.)