It's not tulips in Amsterdam – it's about tulips in Bowral in the Southern Highlands in New South Wales. September is 'Tulip Time' in Bowral. It is a springtime festival with tulips in bloom along with a host of other colourful flowers. It is ranked as one of Australia's premier floral festivals.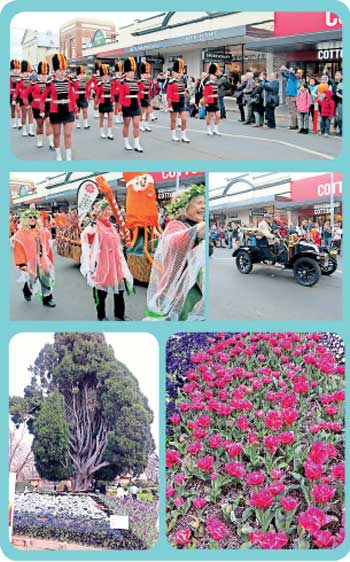 Last Saturday was Festival Day in the two-week long annual Tulip Time. A full-day program had been arranged and coaches carrying visitors from various regions thronged to Bowral. The centre of attraction was the Corbett Gardens, a private not-for-profit botanic garden in the heart of the town. A mix of exotic, native and endemic species are grown there – with the accent on tulips, of course.

As we walked in we realised the great effort put in to maintain the Gardens as a soothing eye-catching spot where one can walk round leisurely enjoying the colourful display of greenery coupled with multi-coloured blooms.

The weather gods had not been too kind this year and the beds of tulips were not up to the expectations of the organisers. Though we saw most of the beds still full of green tulip plants, we were quite happy with what we saw. Starting with just 500 tulips, after 57 years the number of tulip bulbs planted at the Gardens and public spaces around the region number 110,000.

Glancing through a brochure given at the entrance I found the origins of tulips being traced to Persia and Turkey. The name 'tulip' is from the Persian word 'dutband' meaning turban. There are over 150 species with over 3,000 different varieties. Belonging to the tily family, tulip flower buds are almost perfectly symmetrical. The brochure also noted that tulip petals are edible and can be used in place of onions in many recipes.

There was a carnival atmosphere at the Gardens. Festival stalls selling numerous things from plants to homemade jams, homeware, clothing, jewellery and to soaps and candles were being sold. There was music with bands playing and choirs singing. Light refreshments were available.

In addition to the flower beds, old trees are being well looked after. I was fascinated by a huge tree which would have been there for several decades.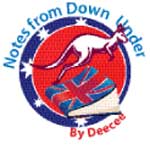 Tulip Time street parade started in the afternoon. Just before the parade the Tulip Time Mile was held when professional and amateur athletes of all ages competed to be Tulip Time's quickest runner over a mile racing up and down Bowral's Main Street. Large crowds gathered on either side of the road gave them a loud cheer.

The parade was a treat. Marching bands, floats, fire engines, classic cars, community groups, performers wearing fancy dresses participated.

A good time was had by all.
Symbolism of tulip colours
Orange – happiness, fascination, energy
Red – perfect love, true
White – innocence, 'I'm sorry'
Cream – eternal love, a sincere pledge
Yellow – sunshine, friendship
Purple – royalty and nobility
Pink – happiness and goodness