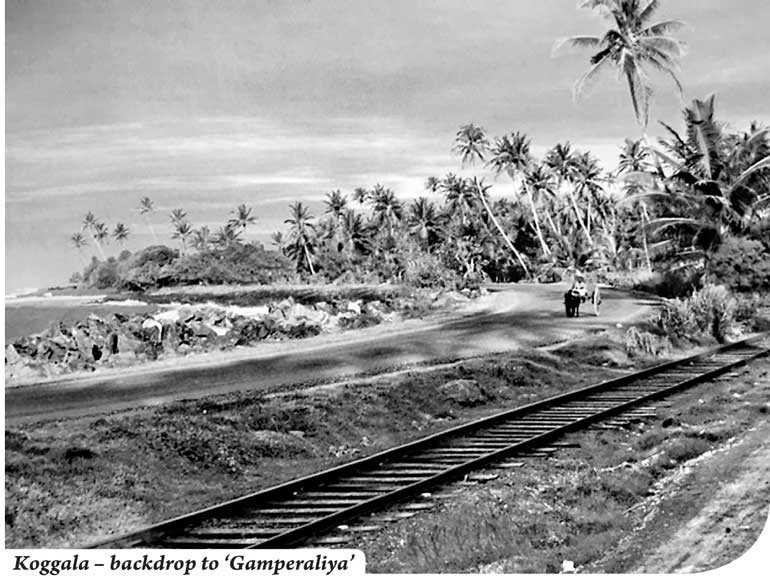 From 'Gamperaliya,' the novel in Sinhala, to 'Gamperaliya' the film, to the teledrama, to the English translation of the book, and now to rapid rural development. The launch of the Gamperaliya development work took place with a little over a week to the 42nd death anniversary of the doyen of Sinhala literature, Martin Wickramasinghe, author of the novel, falling on Monday, 23 July.

It was Finance Minister Mangala Samaraweera who first mentioned Gamperaliya in introducing what was described as the Government's largest investment program designed to uplift the rural economy. Prime Minister Ranil Wickremasinghe inaugurated the scheme at Nikaweratiya by starting reconstruction work of the Kanuketiya Madaththawa tank. Through Gamperaliya it is proposed to provide Rs. 200 million to each divisional secretariat to implement development programmes.

It is interesting that two Wickramasinghes – first Martin W and now Ranil W – have been involved in creating two different types of changing the rural scenario.

Martin W wrote the novel "to give serene joy to the people by presenting a microcosm of the life of the Sinhala people of our times". It was based on the life in south Sri Lanka around 1904.



To go back to the original 'Gamperaliya', the novel was written in 1944. It was a text book at the time we did our Senior School Certificate (SSC) exam – equivalent to today's GCE O level, at the end of the 1940s. The highly-acclaimed novel was based on the decline of the conservative, traditional life due to the growing urban economy with entrepreneurs beginning to emerge from among those who had the initiative.

We had no choice as students – at least the ones who did Sinhalese Literature – but to read the book being a textbook. Soon we found it to be quite interesting and enjoyed reading it.

Two decades later when 'Gamperaliya' hit the big screen, there was revived interest. Those who had read the book wanted to see how Lester James Peries had used Regi Siriwardena's script in cinematic form. There may have been many who had either forgotten the story or not read the book. The response for the film was great. It won accolades both locally and globally.

Teledrama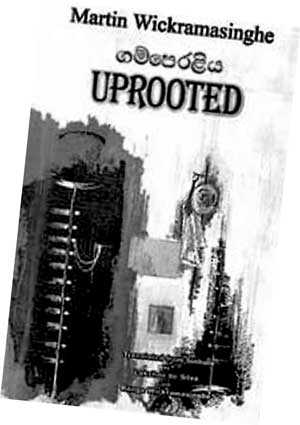 It was several years after the film that the teledrama was telecast over Rupavahini. While much has been written about the film, 'Gamperliya' teledrama did not get the same response. (That has been the pattern between films and teledramas). It was certainly very popular and many were keen to see how it was, compared with the film. It was the time when each episode was screened once a week and teledramas didn't run for years. 'Gamperaliya' was over in 20 episodes.

Tissa Abeysekera's script was directed by Bertram Nihal with a cast that included many seasoned artistes led by Joe Abeywickrema (Muhandiram Kaisaruwatte) and Irangani Srerasinghe (Matara Hamine). In place of Henry Jayasena in the film, Vasantha Kotuwella played Piyal and Punya Heendeniya's role as Nanda by Maureen Charuni. Chandani Seneviratne was Nanda's sister. (Trillicia Giunawardena in the film). Jinadasa was portrayed by Gamini Fonseka in the film and Jayalath Manoratne in the teledrama.

While Pandit Amaradeva provided an award-winning music score in the film, another renowned musician, Sarath Fernando handled the score in the teledrama.

I cannot remember teledramas being considered for awards at the time. It deserved recognition.

'Uprooted'

The book, translated into English by one-time university don Lakshmi de Silva and Dr. Ranga Wickramasinghe is titled 'Uprooted'. It has been argued whether the title should have been simpler. The preferred one was 'Changing Village'.

Irrespective of what the title should have been, the English translation brought in a new clientele of English readers to enjoy one of the most interesting and absorbing Sinhala novels.

Here is the description of Koggala, the birthplace of the writer and the backdrop to the story:

"The village of Koggala occupies a long stretch of land bounded on one side by the sea and on the other by the wide river of enchanting beauty, the Koggala Oya. A smooth black ribbon of road linking the Southern towns of Galle and Matara separates the village from the sea. The verandas of houses bordering the road face the seafront, which itself is a long veranda running the length of the village. The railroad extends as far as the eye can reach, like an endless stepladder with no beginning and no end. The rail track is on the embankment, a few feet above ground. The scooping of earth to raise the embankment many years ago left long ditches on either side. Some of the ditches, fed with water from nearby culverts, have become little ponds, abounding in water lilies, lotuses and little fish."