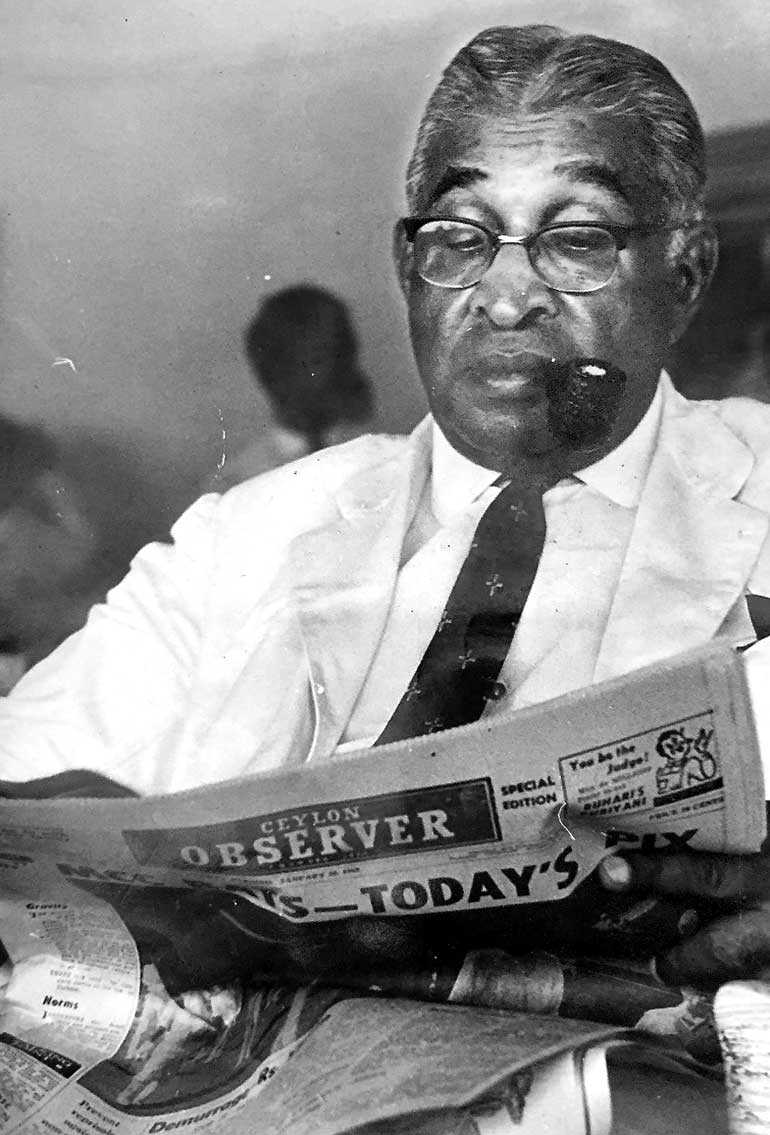 Prime Minister Dudley Senanayake relaxing at the Parliament lobby caught by Observer photographer Hector Sumathipala
When handling features for a newspaper, the features editor and the staff have to be very much on the alert of what's going on. News stories have to be closely followed and features related to interesting happenings should be planned to follow up news stories.

In 1964 the United Left Front was formed between the SLFP and the Trotskyite Lanka Sama Samaja Party (LSSP). The rightist group was not entirely happy about the relationship and on 3 December 1964 – the final day of the debate on the Throne Speech, C.P. de Silva, Leader of the House of Reps crossed over to the opposition with 13 MPs and voted against the Throne Speech which outlined the Government's programme in the coming year. The Government lost by 34 votes to 73. Parliament was dissolved soon after and the general election was fixed for 2 March 1965.

Having served as Leader of the Opposition for five years (July 1960-July 1965), Dudley Senanayake became Prime Minister. This was the fourth time that he became Prime Minister. The first occasion was in March 1952 after the death of his father, Rt. Hon. D.S. Senanayake, then in May 1952 winning the general election, followed by 1960 (March-July) and then in July 1965 when a united national front was formed.

After I moved to be in charge of features, Observer editor Denzil Peiris was keen to introduce the English readers to the local arts. He wanted a page in the Sunday Observer devoted to the Arts. Possibly he was aware of my interest in art and culture.

Eustace Rulach, a fine sub editor handling the features-page layouts, was also writing features related to Western films and music (he used to get new records from Lewis Browns and introduce them to music fans). That was the time the daily Evening Observer was published in addition to the Sunday Observer, and we could balance feature articles to suit the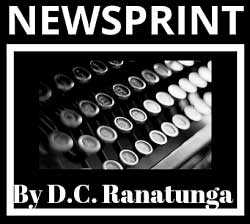 readership. Naturally there was a wider readership on Sunday.

When the Arts page was started with emphasis on Sinhala theatre, films and music, the producers and directors found a new avenue to get publicity. The English readers found they were being introduced to a new field of which they were not very much familiar with.

Not many knew much about music maestros Pandith Amaradeva or Premasiri Khemadasa. Most of them had heard about Dr. Sarachchandra (because of 'Maname' nadagama) and Lester James Peries (for moving away from the hackneyed themes with 'Rekawa') but not many knew about filmmaker K.A.W. Perera or dramatist Dayananda Gunawardena.

The Arts column started with a full page on Sunil Santha, the great musician who had virtually been forgotten by everyone. He had moved out of the scene. Topmost feature writer E.C.T. Candappa photographer Chandra Wijewardena and myself met him at his Dehiyagathe home on the Colombo-Negombo road and had a friendly chat. ECT wrote a full page story for the Sunday Observer and I wrote for the Silumina.

ECT was quite keen to see Sinhala theatre and films and review them. He did an excellent job.

Editor Denzil P. was quite happy that the Observer had paved the way to boost Sinhala arts through the English press. Nihal Ratnaike, a fellow Anandian started an arts column in the Daily News under the pen-name, Viranga. Several knowledgeable writers contributed to the Observer in addition to a regular column I wrote under the pen-name, Ranga.