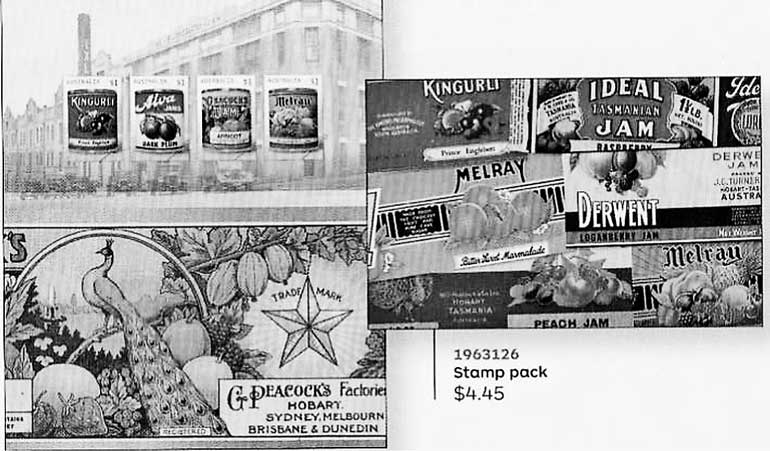 Peacock as a brand name for jam!

It was quite intriguing to see a peacock's picture on the cover of the current edition of the Australia Post Stamp Bulletin. Looking closer, there was a picture of a label on an Apricot jam tin at the top left hand corner.

The Peacock jam label is one of four 'Vintage Jam Labels' featured on a new set of stamps. Australia Post has made a name for their search for 'out-of-the-box' themes for stamps. This is yet another of those themes.

A notable feature of the labels was their bright colours which easily caught the eye. Jams that used a particular fruit like apricot and dark plum had their names prominently displayed with at least two fruits of the particular variety. Those that displayed several varieties fell into the 'Mixed Fruit' category.

'Peacock' is the name of the pioneer jam manufacturer, George Peacock (1824-1900) who had set up a small factory in Hobart, capital of Tasmania in 1861. Born in Bath, England, he arrived in Hobart in 1850 and set up a grocery and fruit shop. He is considered to be the first to make jam commercially from Tasmanian berry fruits. The fruit was boiled with sugar in steam-jacketed copper kettles.

His effort is considered the start of commercial jam production in Australia on a factory scale.

Peacock's cannery manufactured its own cans from imported Welsh tinplate and each was hand-soldered and hand-washed before boiling.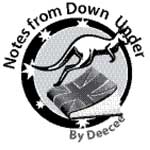 A youngster by the name of Henry Jones (1862-1926) had got a job in George Peacock's factory when he was just 12 years old. He worked on the factory floor. The energetic young man – "Jam Tin Jones", as he was known – developed his own brand in later years. His brand 'IXL' became very popular and is on the shelves to this day in many countries.

Two years after George Peacock opened his factory, in 1863, another George – George McEwin (1815-85) – started a jam factory in Houghton, South Australia. A feature of his project was the use of his own orchard's excess fruit and much of the fruit of the region. He produced several brands. The most popular of them were 'Gwen Ewin' and 'Kingurli'.

Peacock and three other manufacturers started exporting jam to the other parts of Australia in less than five years after the first factory was opened.

Obviously a product that was in much demand, grocers, buyers groups and co-operatives also started producing jam. Smaller scale jam manufacturers were aplenty in the food-producing states.

It didn't take long for the Australian jams to be exported to other countries.

The 1970s saw a period of industry-wide decline, resulting in factories being taken over by others or closing down. One example was the popular brand, Alwa Jams, manufactured in Melbourne being eventually taken over by Henry Jones IXL.

Along with the new stamps, colourful stamp packs, maxi-cards and booklets will also be released.