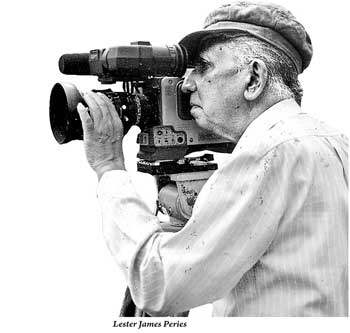 By D.C. Ranatunga

Sri Lanka's doyen of cinema, Dr. Lester James Peries (LJP) reached 99 two days back. Wife Sumitra gave him a big birthday gift – her newly-directed film 'Vaishnamvee,' based on a story created by him and scripted by Tony Ranasinghe, classy actor turned script-writer.

I felt it is fitting to recap what other filmmakers and notable writers have written about his contribution to cinema over the years and what some of them felt of him as a human being. It's just a random selection. There are many more who have written about him.

"A man so deeply cultured, so completely free of arrogance despite all his achievements – he almost belongs to a different era." This is how India's leading documentary film director Bikram Singh summed up his impressions of Lester after an hour-long interview with him.

Singh, who identified Lester as one of the three filmmakers who have put Asia on the world map (other two were Japan's Akira Kurosowa and India's Satyajit Ray) had come to Sri Lanka to make a documentary on LJP, 'The World of Peries'.

Bikram Singh first wanted to make a film on LJP when he won the Lifetime Achievement Award (2000) at the International Film Festival in New Delhi. "When I met him, what strengthened the idea was that one immediately fell in love with the man. I make no bones about it," he said.

As Singh was thinking about the film, the Indian Government came on the scene and commissioned him to do the documentary. It was a rare honour for a foreign government to produce a film on a filmmaker of another country.

LJP received the Lifetime Achievement Award from the Government of India for "the outstanding contribution to the field of cinema and for enriching the art of filmmaking". He was introduced as "Sri Lanka's most prolific and celebrated movie director whose films have given Sinhala cinema a distinct identity".

In 2000 – the year he received the Award – it was publicly acknowledged that Lester's creative work over half a century had "catapulted cinema from this tiny island nation into sharp international focus".

In 1997, 21 years after he made his first feature film 'Rekava', the Government of Sri Lanka recognised LJP by awarding him the 'Kala Keerthi' – the highest national honour for 'enriching the artistic life of the country'.

When Sri Lankan cinema celebrated 50 years in 1997, LJP was the recipient of the 'Golden Lion' – the Presidential Award for his outstanding contribution to cinema. In the same year, the Government of France conferred the 'Legion D'Honeur' – Commandeur Dans L'Ordre Des Arts Et Des Letters'.

With the dawn of the millennium LJP started being widely recognised.

In 2001 he was the recipient of 'The Lotus Life Achievement Award' at the Pan Asia Festival held at the seaside resort and festival city, Deauville, north of France. It was significant that both LJP and wife Sumitra were chosen for the Award, the first time ever that a husband-wife duo were chosen for the identical award together. They were recognised in the section titled 'Homage', the first of three sections, when directors who have made a vital contribution to Asian cinema were selected.

In the following year, the Asian Foundation in Mumbai selected LJP as the first recipient of the 'Asian Culture Award' given to "a distinguished director from Asia whose contribution to cinema has been very significant".

At the 2003 Cannes Festival, LJP was the recipient of yet another celebrated award – the UNESCO Fellini Gold Medal as "a tribute to his film career, which has inspired a whole generation of Sri Lankan filmmakers, and in recognition of his exceptional contribution for an authentic national film culture". Along with LJP the well-known American actor/filmmaker Clint Eastwood also received the award in recognition for his exceptional career in cinema.

In 2007 he was conferred the 'Sri Lankabhimanaya', the highest national honour awarded by the President of Sri Lanka to those "who have rendered exceptionally outstanding and most distinguished service to the nation".

He has won recognition by at least two Sri Lankan universities with the award of Honorary DLitt.

Several of his films have received awards at both local and foreign film festivals.

He has had his day in film-making but his presence is a great strength for anyone to drop in and have a word with him at his home in Lester James Peries Mawatha (earlier Dickman's Road).

Let me repeat my usual blessing: 'Chirang Jayatu'!