Text and Pix by Aysha Maryam Cassim
Nigella Lawson is in Sri Lanka. As a part of the series of exclusive events hosted by Cinnamon Life, Nigella made her public appearance at a cocktail evening which was held on the 22 June at the Atrium, Cinnamon Grand.

While narrating her adventures around the island, Nigella spoke enthusiastically about her encounters with a leopard, cubs and monkeys as she made her way to the wilderness in Yala and Kaudulla National Parks. Nigella mentioned that everything that she had experienced in Sri Lanka, exceeded her expectations, adding, "The food has been so sensational."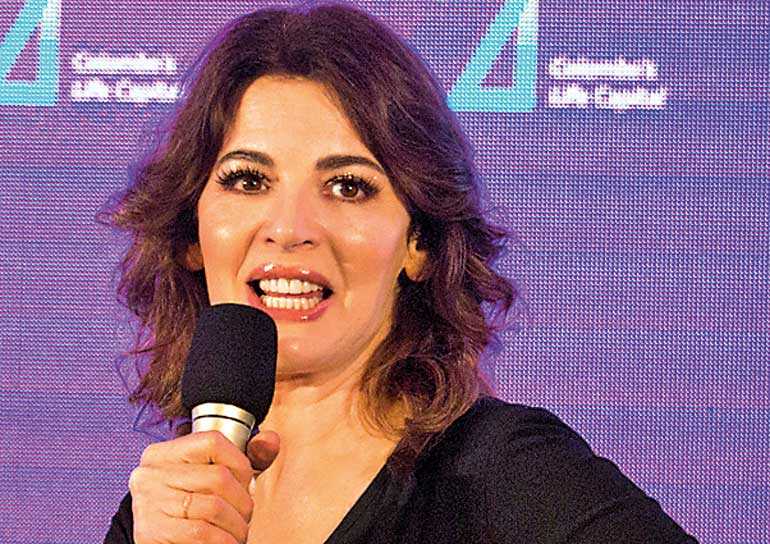 Nigella, who relishes all the elements of cooking, claimed that she loved the fiery flavours and vibrant colours of Sri Lankan dishes, especially the "umbalakada sambolaya" and hoppers. Sharing her affinity to Sri Lankan cuisine, Nigella claimed that she was intrigued by the jackfruit – which she said she'd love to experiment with in her future culinary adventures.

Nigella takes a soulful approach to cooking food. Her simple yet sublime ways of preparing everyday food have won her worldwide fame and popularity. Since the publication of her first book in 1998, the award-winning British food writer and much-loved television personality has inspired many home cooks around the world with her charm and culinary magic.

The soirée was as resplendent as she was. Minister of Tourism John Amaratunga gifted a cookery book of Sri Lankan recipes to Nigella as a welcoming gesture. The signature cocktail, curated especially for the occasion, was accompanied by a tea-infused martini, appetisers and desserts from Nigella's collection of recipes. The martini was made from an Earl Grey tea brew that had been left to cool for a sophisticated taste.

Nigella later joined her ardent fans for a photo booth and book-signing session. The attendees who were waiting to meet and greet Nigella got the opportunity to share a brief moment with the culinary queen in an intimate setting.