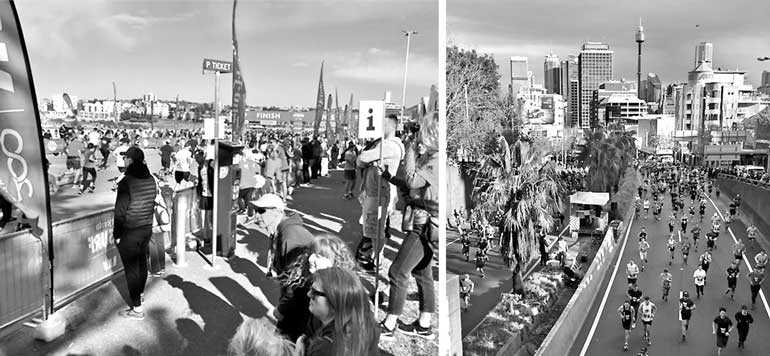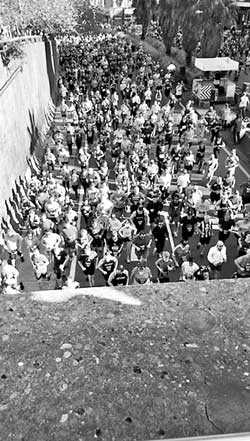 Imagine close upon 80,000 competitors taking part in a road race! It was great fun. Men and women of all ages, youths, groups, families – they all took part. Thousands lined up the streets to watch and cheer.

Sydney's annual 'City2Surf' is undoubtedly very popular. The race from the Hyde Park to Bondi Beach is a 14km route.

Having first watched the runners from a vantage point on the route, we moved to Bondi Beach. No sooner we got down from the train at Bondi, there were buses one after the other to take the huge crowds to the beach where it was one big carnival.

It was the 47th year that the race was held. When the race was started 47 years ago there were just over 1,500 competitors. Not only has the numbers increased but it has become a big fund-raising event too. Many charities are benefitted.

It was a great day for 86-year old Charles Rochester, one of the City2Surf 'Legends' who has run the race every year since it first started in 1971. "The race is part of my life after taking part in every one since 1971," he said. He had suffered a stroke in 2015 but recovered in time to compete in that year's run. Last year, he was diagnosed with prostate cancer, and was told by specialists to start treatment.

"I said I mightn't make next year so I'll do this one and we'll start the radiation after the City2Surf," he had said.

Last Sunday was a sunny day with light winds – the competitors liked it. Elite wheelchair athletes were the first to begin the race, at 7:50 a.m., and the winner crossed the line first in a time of 33 minutes and 20 seconds.

Seeded runners followed with a race record of 40 minutes and three seconds in their sights.

The male winner clocked in on a time of 42 minutes flat. The first of the women to reach the finish line, completed the race in 47 minutes and 29 seconds.

Most had finished the race by 10am but the crowds were in no hurry to get home. There were plenty of food and beverage stalls and the day was nice and sunny – ideal for an outing.