EatDrinkHilton is all about fresh produce, seasonal offerings and local tastes. This month the focus is chocolate! Not only will you find this in the special dishes at the dining outlets, you will find it in every aspect of the Hilton hospitality experience throughout the guests' stay.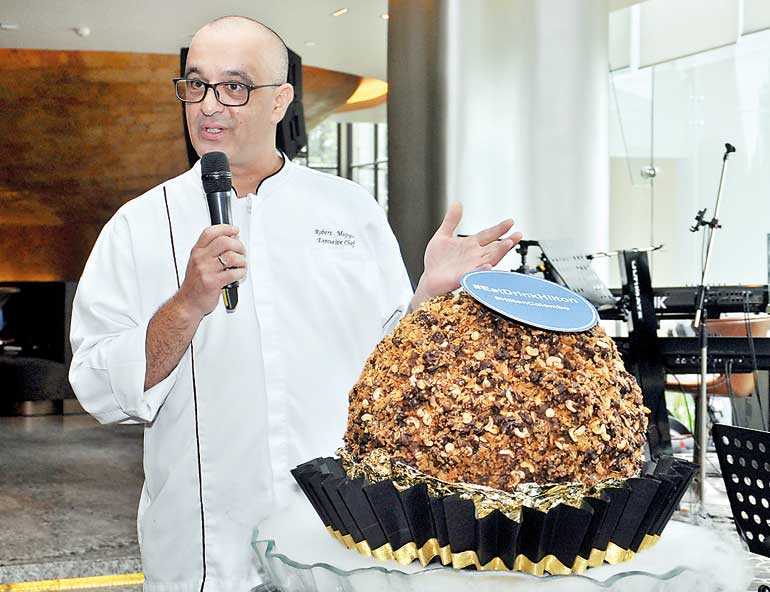 Hilton Colombo Executive Chef Robert Mujagic presenting the 30kg Fererro Rocher


The chocolate round up!
A Chocolate High Tea Buffet took place on 8 August at LAB from 3 p.m. to 6 p.m. with a delectable array of chocolate-infused dishes, priced at Rs. 2,500 nett per person. That's not all, the day also featured free chocolate tastings!
Café Kai – A variety of chocolate cakes, local and imported chocolates, chocolate beverages namely, Haut Chocolat, Chocolate Blackout and Choco Mushy. A must-have would be the exquisite Chocolate Cardamom Parfait dessert! On 16 and 17 August, there will be a chocolate and praline making action station at Café Kai from 11 a.m. to 6 p.m.
At Graze Kitchen you can try out the Noisette Manjari Praline or the White Chocolate Raspberry Summer desserts.
LAB – If you are looking to relax and enjoy a cocktail or mocktail, head over to the LAB and ask them about the special chocolate infused beverages that are out this month. On the menu will be the Mudslide or Coca Mock-Tini, Burbon Choco Spot or the Chocolatini! Whilst you are at it, check out the gigantic chocolate box in the centre of the Lobby!
Yes, it's a chocoholics dream this month at the Hilton Colombo. Don't forget, when you order the one-month special, be sure to take a photo and upload it to your Facebook and Instagram and tag the Hilton in your photos with the hashtag #EatDrinkHilton.
Pix by Ruwan Walpola

The Hilton team at the Chocolate High Tea launch