A series of critically acclaimed French films will be screened as part of the year-long line up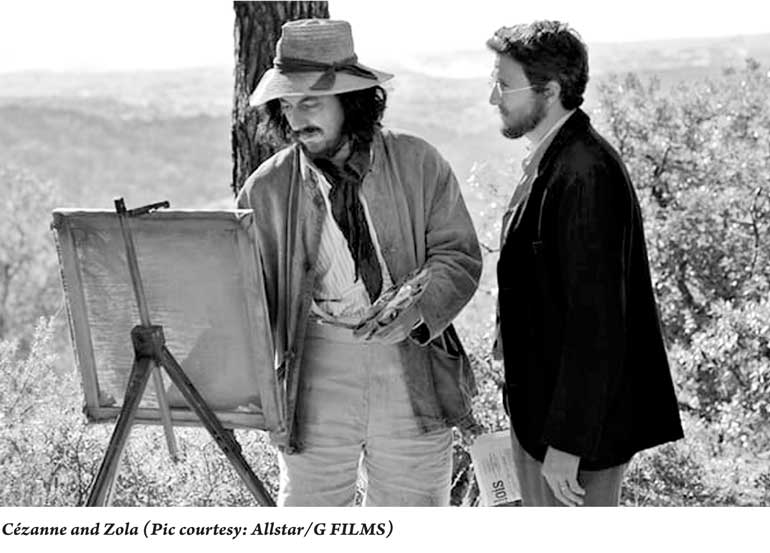 By Himal Kotelawala

Cézanne et Moi (Cezanne and I), the first film of the French film line up Bonjour Cinema 2018, was screened on Wednesday, 21 February, at the Empire Cineplex, Colombo. The sufficiently well received French art house film will be screened once again on 28 February at the same venue at 7 p.m. As it will be a non-ticketed public screening with limited seating, moviegoers are advised to arrive with at least 20 minutes to spare to avoid any disappointment.

Bonjour Cinema 2018 is presented by the French Embassy in Sri Lanka in partnership with Ceylon Theatres and ARTRA Magazine. According to a statement released by the French Embassy, a series of critically acclaimed French films will be screened as part of the year-long line up at the Empire Cineplex, Majestic Cinema and Alliance Française de Kotte till December.

The full list of movies is as follows:

Speaking at a ceremony held to mark the event, French Ambassador to Sri Lanka and the Maldives H. Jean-Marin Schuh said: "We believe that French cinema can offer an interesting alternative for those who like cinema in Sri Lanka. Indeed, French cinema is very dynamic and creative and offers a huge variety of movies with classical, world renowned directors as well as blockbusters and animated movies popular worldwide."

A selection of children's movies will also be screened every month at 4.30 p.m. at Alliance Françiase de Kotte.

All films of Bonjour Cinema 2018 will be screened with English subtitles.

Cézanne et Moi

The first film of the series should be a treat for anyone with an appetite for post-impressionist art. Cézanne et Moi (Cezanne and I) is a beautiful portrait of two of the greatest minds that ever lived: the titular Paul Cézanne, the now universally-loved pioneering painter whose genius was only recognised long after his death, and Émile Zola, the Nobel Prize-winning French novelist.

Writer-Director Danièle Thompson skilfully paints their tumultuous, life-long friendship marred by profoundly tragic misunderstandings on a celluloid canvass not unlike that of the real-life Cézanne. That the breathtaking backdrops of Aix-en-Provence where Cézanne painted a lot of his works – the turquoise blues, the lush greens which were a prominent feature in the troubled artist's work – only adds to the feeling of watching a painting come to life. It's immersive without being uncanny.

Cézanne et Moi is unusual for a film of its nature in that it's not presented in chronological order. Some viewers may find the time jumps somewhat jarring, especially towards the beginning of the film, but as the narrative becomes clearer, this ceases to be an issue. The script also appears assume a lot about the audience – especially problematic if you're not French and are unfamiliar with the two protagonists or their work – but if you're the type of filmgoer that dislikes being spoon-fed exposition, it's hardly a complaint.

One of the film's biggest strengths lies is in its refusal to venerate the characters, as biographical films often tend to do. Thompson doesn't shy away from laying bare the eccentricities and crippling insecurities of the two geniuses: Guillaume Canet as Zola does a commendable job in his portrayal of a brilliant naturalist author with a reputation for batting for the underdog while secretly craving the company of the creative elite of 19th Century France whom he claims to despise (watch out for delightful cameos from the likes of Guy de Maupassant), Guillaume Gallienne as Cezanne occasionally shines, as a talented, powerhouse of an artist who is overcome by bitterness and contempt and succumbs to his own self-loathing.

While the two leads are certainly competent and convincing enough in their roles, there is something missing that might bother anyone expecting fireworks. However, Thompson's writing and direction is so excellent that, where it lacks in phenomenal performance, the film delivers as a realistic portrayal of a rare, larger than life friendship that is simultaneously a feast for the senses and a poignant deconstruction of what it means to be human. Seven out of 10 stars.