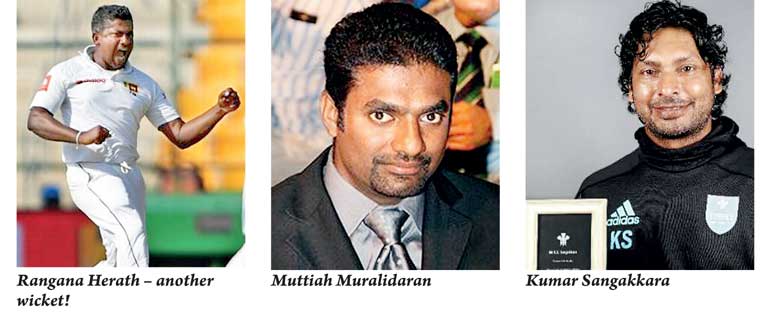 Whether they win or lose, Sri Lankan cricketers have the knack of getting talked about all the time. At least three of them – two former national players and one still going strong – were in the news over the past few days.

The 'man (or cricketer) of the moment' is, of course, Rangana Herath who created history a few days back at Abu Dhabi when Sri Lanka beat Pakistan, becoming the first left arm off-spinner to collect 400 Test wickets. In the process he also beat Kapil Dev by becoming the first bowler to collect 100 Pakistan wickets in Test matches. As expected, he was Man of the Match having grabbed 11 wickets.

'Ragana-aiya,' as the 'boys' start inspiring him when he starts to bowl, is certainly the elder brother to all of them. At 39 it's so refreshing to see him grabbing wickets one after another in every game he plays. In a way he was a late starter because of Murali who dominated the scene for many years and Herath couldn't find a place in the team.

Osman Samiuddin wrote in espncricinfo from Abu Dhabi: "For years – pretty much his entire career – Rangana Herath has been made out to be this cuddly, pudgy little teddy bear. No piece on him goes by without reference to his belly. And look, he works in a bank except he's not a banker like JP Morgan was a banker. Cricket's normcore legend. Drops his kids to school and runs errands himself. He's happy to be normal, shed off the celebrity psychosis of subcontinent cricketers. He's the not-Murali Sri Lanka spinner. Doesn't really do much with the ball either. Keeps it simple. What can he do? He's SLA, the dad joke of bowling."

Talking about being a banker, he works for Sampath Bank. When I was commissioned to do a coffee table book on the completion of the bank's 25 years, I could never catch for a chit chat nor to take a group picture with other sportsmen and sportswomen at Sampath. 2011/12 was such a busy year for Herath either practising or playing cricket in the national team.

Right now, Rangana Herath has become indispensable for Sri Lanka cricket.

Icon of the Year

Just a couple of days before Herath hit the headlines, Muttiah Muralidaran was named 'Icon of the Year' at the 'Ada Derana Sri Lankan of the Year 2017'awards presentation.

True he retired from cricket in 2011 after his record-breaking career but silently he had been doing a great deal of humanitarian and charitable work through the Foundation of Goodness he started with Kushil Gunasekera over 15 years ago. Cricket being his forte and his lifetime interest, the accent has been on using cricket to promote harmony and reconciliation among the communities.

"We started the Murali Cup with the intention of improving the relationship between the South and the North, and to

help reconciliation. The best medium for that is sports, and cricket is the most popular sport in the country. We've been conducting the Murali Cup for the last five years, funded through various donors, and the main aim is to give opportunities and bring awareness through these public figures," he recently said.

Stressing that the aim of the Murali Cup is not to produce national cricketers ("that's not our job") Murali said that what he wants to do is to give the upcoming players the foundation to enjoy themselves, regardless of ethnicity, to play together like brothers and not have any differences among the younger generations.

As he often says, accepting the top award at Ada Derana presentation he said: "I'm proud to be Sri Lankan."

Incidentally, this is the second occasion this year that Murali won recognition. Just a few months back he was inducted to the ICC Hall of Fame becoming the first Sri Lankan players to be so recognised.

Sanga moves out

Kumar Sangakkara was the third cricketer in the news. As he formally announced that he was bidding good-bye to first class cricket, Surrey CCC presented him with honorary membership in the Club.

He was overjoyed at the gesture and in his reply speech, he described the three years he spent playing County Cricket as a unique journey coming over from international cricket.

Thanking the players of Surrey, he said: "We're all torchbearers of a great legacy and I think everyone at Surrey must remember that. It is our responsibility to make sure that when you walk away, you have left that legacy that much more enhanced for having been a part of it.

"I hope I've done my bit but I think the future is going to be glorious. Some of the most amazing cricketers that I have seen and met are sitting here tonight and I hope that all the fans will embrace them and keep them very close and dear to your hearts because they are going to make all of you very, very proud."

Reaching 40 later this month, Sanga carried away five trophies at the Surrey end of season awards presentation for his exceptional performance this season being the highest run-getter with five centuries including a double-hundred.