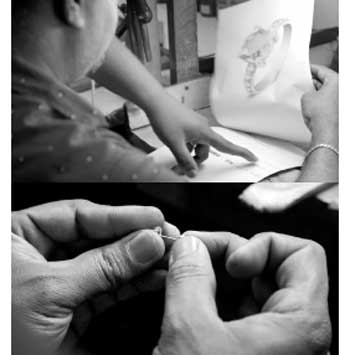 In recognition of Sri Lanka's strategic importance, Glitteray has made a long-term commitment to play a major role in the development of the cottage crafts industry.

The Artisan Hub is an example of this ongoing commitment. Glitteray set up its own manufacturing facility in October housing nine craftsmen from various parts of Sri Lanka. The Artisan Hub operates as a lively and stimulating hub environment, providing a fresh approach to production and creative design creation. Glitteray wants its craftsmen to focus on their creativity and improving quality.

It has recruited them from various areas such as Matara, Galle and Kandy, given the importance of creating more job opportunities in the traditional skill set industry.

New systems are in place to allow collecting and analysing manufacturing data to enable continuous process feedback, enabling improved 'end-to-end' process control and greater output, and reduce waste. Further monitoring of supply chain in real time will enable improving output and reducing any losses that can take place during scale.

Continuous improvement methods driven by technology innovation will create more floor space for future expansion. Glitteray hopes to create more jobs and training for those who are engaged in the creative pursuit of community.

Glitteray has created an in house design team that curates all its designs and collections and believes that the future to retail is design and experience. Aspiring designer can send their CVs to rayhana@glitteray.com.