Exploring the strip of paradise known as Kalpitiya

By Aysha Maryam Cassim
One hundred and sixty km north west from Colombo, passing dried fish 'wadiyas' and salterns, you will find an oasis among sand dunes. Once an arid strip of land, the Calpentyn Peninsula today is lined with resorts and lodges where you'd find kite surfers and whale watchers enjoying the sun-kissed shores of Puttalam Lagoon and Dutch Bay.

Eleven years ago when I first visited Kalpitiya, there was nothing much to see or explore in the region except for the Dutch Fort, the church and a few remote fishing villages where wild donkeys aka Puttalam Booruwo would languidly wander around the bazaar. I still recall my excitement upon seeing a jellyfish in the Kalpitiya lagoon for the first time in my life. The peninsula back then was hardly fertile, untouched and undisturbed by tourists.

Vegetation

Bordered by the Indian Ocean from one side and Puttalam lagoon inland, Kalpitiya is considered one of the hotspots of biodiversity in Sri Lanka. Owing to its rich aquatic ecosystems, consisting of saltwater marshes and mangrove swamps, Kalpitiya is transforming into a lush orchard.

A decade ago, Puttalam and Kalpitiya were largely dependent on fisheries resources of the Lagoon. But today, agriculture is flourishing around the year, generating alternative livelihoods and improving socio-economic standards of human settlement in Kalpitiya.

Thousands of hectares are cultivated with a variety of vegetables and fruits such as onions, green chili, cauliflower, butternut pumpkins, papaya, cassava (tapioca) and pomegranates. Around 8,000 families belonging to all ethnicities who live in the regions extending from Mampuri to Thalawila via Ethalai, Norochcholai, Kalkudah, and Senapola, are actively involved in vegetable cultivation in the district on a commercial basis.

Apart from coconut plantations, sand dunes and scrublands occupy about 50% of the land area in Kalpitiya peninsula. The Kalpitiya peninsula receives an annual rainfall of 950 to 1050 mm and the average temperature range between 28 and 33 degrees Celsius.

The semiarid lands in Kalpitiya have a very coarse in texture with low water holding capacity. Farmers mostly rely on the freshwater lens floating on saline groundwater for irrigation. Despite constraints like low and erratic rainfall, humidity, high wind velocity, poor soil structure, the salinity of soil and groundwater, farmers struggle to win the battle between life and earth.

In the recent years, innovative agronomic practices have increased the potential growth in farming. But due to poor infrastructure, primitive transport methods and limited access to equipment, subsidies, and market, farmers fail to harvest a reliable crop.

Twenty per cent of the country's vegetables comes from Kalpitiya. The Dedicated Economic Centre (DEC) in Norochcholai serves as the main selling point in the district, but it looked deserted the day we went and seems like locals did not frequent the place.

Guava gardens

Kalpitiya is known for its famous karawala and kilo pera. When pilgrims head north west for the annual St. Anne's Church festival in Thalawila, the roads are dotted with dried fish stalls and vendors selling ginormous green tinged guavas, juicy melons, and locally grown pomegranates.

As we were traversing through the by-lanes in Thalawila, our eyes caught the sight of a well-tended pomegranate estate, filled with bright orange fruits that shone like jewels in the blazing sunshine. I was surprised that these trees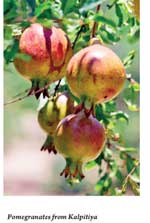 thrived on the sandy soils of Kalpitiya, yielding succulent fruits from May to September.

The owner of the estate was kind enough to take us a tour around his backyard. He sold us two kilograms of garden-fresh pomegranates for only Rs. 1,000. I loved the sourness and sweetness of the fruit. The zesty flavour of the fruit was unlike any other taste I have experienced. There was a huge dang tree facing his house, another rare local berry tree that is in danger of extinction.

Aquatic adventure

at Alankuda Beach

The north west coast of the island offers great opportunities for travellers who seek adrenaline driven aquatic adventures. Kalpitiya has a bar reef marine sanctuary which houses a diversity of habitats ranging from whales, dolphins, sea turtles, sea cucumbers, mangrove swamps and salt marshes.

Head to Alankuda beach to for kite surfing, snorkelling or whale watching. (When you are heading towards Puttalam from Kalpitiya, pass Palakuda junction and drive towards Kappal Adi. Proceed along the Alankuda beach strip.)

Whales and large spinner dolphins are regularly seen in Kalpitiya. If it's your lucky day, you might spot a humpback dolphin, an occasional blue whale or a sperm whale – the largest toothed whale in the world. The season to observe the sightings of these fascinating marine creatures is between December and mid-April.