By D.C. Ranatunga

She was once Princess Yashodhara married to Prince Siddhartha. In spite of the luxurious life that Siddhartha was provided with, he sees the other side of life. He begins to think. "There is getting born and growing old, dying and being re-born. From this suffering, an escape is not known, even from old age and death. Surely there must be a way out of this?"

Not many days after she bore him a son, Siddhartha leaves the palace accompanied by his assistant Channa and the horse, Kanthaka. He bids goodbye to lay life and becomes an ascetic.

Yashodhara hears that he had relinquished his fine clothing and had taken to wearing simple yellow robes. She too dons simple clothes and gives up wearing jewellery. When she hears that he was taking only one meal a day, she also restricts her meals to once a day. When she hears he sleeps on low, hard beds or on the floor, she gives up the luxurious palace beds and sleeps as he does.

Five years after Siddhartha attains Enlightenment, she gets a glimpse of him. On a visit to the City of Kapialvastu, where King Suddhodhana is the ruler, Buddha through compassion decides to meet her. He visits the palace and walks into her bedroom. Holding his feet, she sheds tears until she feels free from her loneliness. But she soon becomes sad when son Rahula is taken away by the Buddha and ordained. Yashodhara decides to leave lay life. She gets ordained as one in the first batch of nuns when the Buddha acceded to the request of his foster-mother Mahaprajapathi Gotami, sister of Mahamaya Devi, Prince Siddharta's mother. She looked after the prince due to the early demise of the mother.

Two months later Bhikkhuni Yashodhara becomes an Arahant.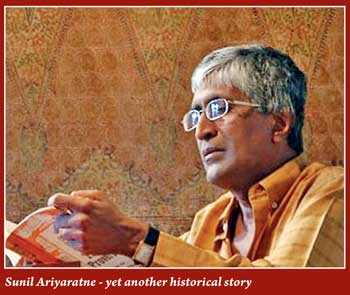 One day she makes her way to meet the Buddha to seek permission to leave this world. She recalls her past on the way.

This is the gist of the story written by veteran filmmaker, Emeritus Professor Sunil Ariyaratne, for his latest attempt at yet another historical movie. Titled 'Yashodhara', the film has just been released. He has also written the story, screen-play and dialogues. Among other historical stories he has directed are 'Pattini', 'Kusa Paba' and 'Upplavanna'. After retirement from the University of Sri Jayawardenapura where he served as Senior Professor of Sinhala, he has devoted his time to film-making in a big way.

It's rarely that we hear of another university don who has done so much of research into the Sinhala literary and music scene as Sunil A. With the publication of most of his research studies – if not all – the average reader has got a chance of enjoying his findings written in beautiful poetic language. Equally, listening to his talks particularly at book launches, he is a pleasure to listen to, just as much as Tissa Abeysekera was.

As source material for 'Yashodrara', Sunil A had relied mianly on the 13th century Sinhala classic, 'Pujavaliya' attributed to Buddhaputrasthavira, by Professor Senerat Paravitana. According to him the book relates about honours and offerings received by the Buddha to justify the epithet of 'Arahat' by which the Buddha is referred to. Sunil A had also studied a host of other Sinhala material.

Sunil A had also mentioned that he had been inspired by the 'Lady of the Lotus' (1975) by American author William Edmund Barette which has been described as a book that takes the reader to another time, another place: India, centuries before Christ.

"It is the story of a woman who discovers that the man she loves is destined for a path which will ultimately lead him away from her, toward a great destiny...the story of a woman who courageously seeks – and finds – a path of her own. It is a novel of love, a passionate saga of spiritual quest, a beautifully detailed portrait of an ancient civilisation, and a novel which reveals the unsung human dimension of a legendary figure: Yasodhara, wife of Siddhartha, Gautama Buddha," it is stated.

Two Indian players are playing the key roles. Playing Yashodhara is Pallavi Subhash,a Maharashtrian who had moved into acting from modelling. She has acted in over a dozen Marathi films and several teledramas. She had gained a name for her role as Dharma in the historical series Chakravarti Asoka Samarat based on the life of Emperor Asoka.

Prince Siddhartha is played by Arpit Chowdri, a well-known actor and model in India. He has studied at several institutions of Performing Arts. (Many will want to see how he does the role that Gagan Malik played in 'Sri Siddhartha Gautama' – the Light of Asia Foundation production which won international acclaim.)

Other roles in 'Yashodhara' are played by Sri Lankans.

A Sarasavi Cineru production, Chairman of Sarasavi Bookshop/Publishers H.D. Premasiri is the Producer of the film. Music direction is by Dr. Rohana Weerasinghe with Channa Deshapriya (Cinematography), Bimal Dushmantha (Production/Art Director) and Chandana Wickremasinghe (Choreography) handling the other key areas.

Filmgoers are bound to appreciate the Sarasavi Cineru effort in providing a film with a meaningful theme for the Vesak season.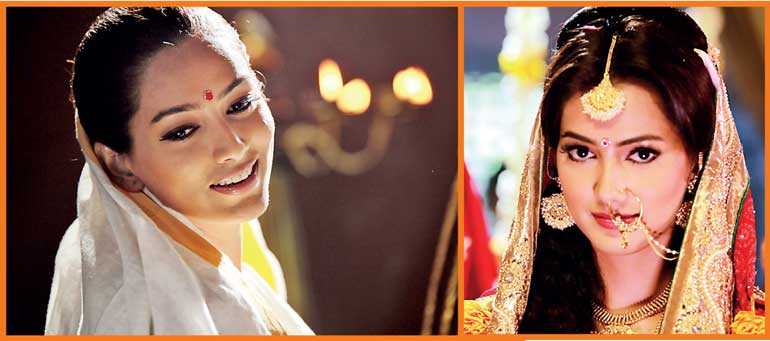 ---
Pallavi Subhash

Pallvi Subhashi is a Maharashtrian born Indian actress who first started her career as a model. She has acted in many TV dramas. She has made a significant contribution as an actress to more than 12 Marathi films. She is very famous for her role as Dharma in the historical series 'Chakrawarthi Asoka Samarat'. She obtained her higher education as a B.com graduate.
---
Story/Script/Direction: Emeritus Professor Sunil Ariyaratne

Music: Dr. Rohana Weerasinghe

Camera: Channa Deshapriya

Producer: H.D. Premasiri