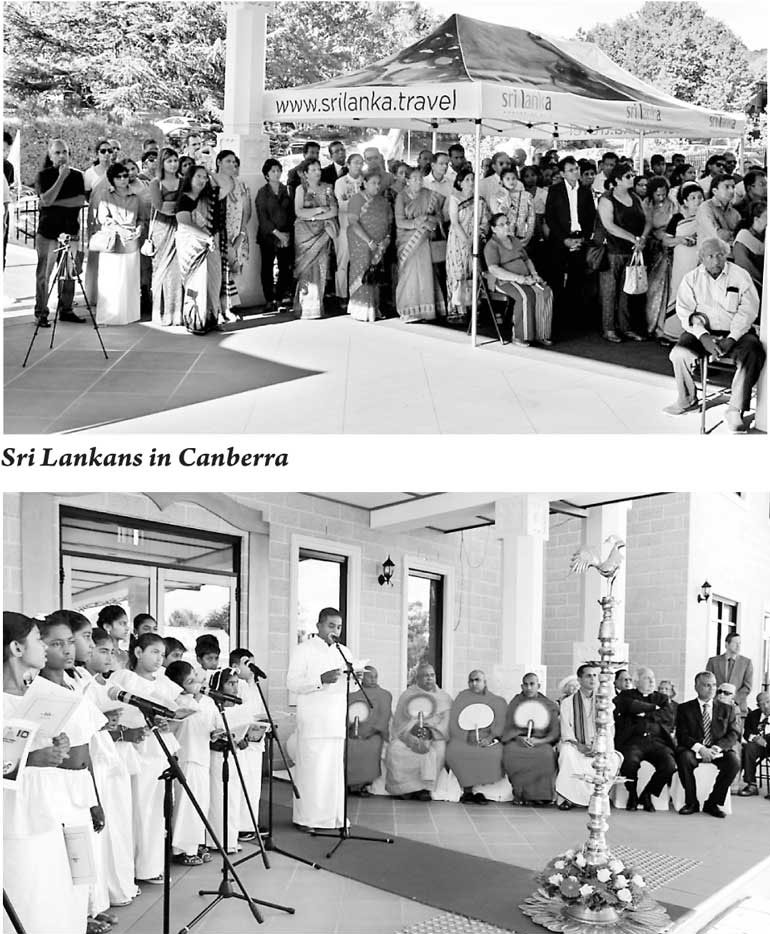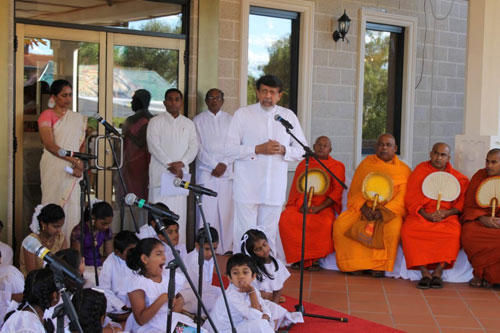 High Commissioner speaks
It was a 'White Independence Day' on 4 February at the Sri Lanka High Commission in Canberra. The entire staff of the High Commission and the bevy of boys and girls who sang the National Anthem and Jayamangala Gathas being dressed in white was a most pleasing sight.

A few days later, diplomatic envoys in Canberra and government officials were invited to a tea party where the guests were welcomed with a refreshing glass of iced tea on arrival to quench their thirst on a hot February afternoon. A photographic exhibition depicting landmark events of Sri Lanka-Australia relations spanning over 70 years was appreciated by the visitors.

The guests were also invited to explore the aroma and taste of pure Ceylon Tea from the seven tea growing regions in Sri Lanka that were displayed.

At the 4 February celebrations, the clergy representing Buddhism, Hinduism, Islam, and Christianity gave their blessings. The Sri Lankan community in Canberra were well represented with over 300 participating in the celebrations.

Venerable Medauyangoda Dhammawimala Thero of the Sri Lanka Buddhist Vihara, Canberra in a short sermon, highlighted the need for national unity, reminding us that the teachings of religious leaders are based on compassion, love, and equality. "Countries, religions, and nationalities are divisions created by man, but we are all human beings," he said.

Pointing out that it was through the commitment of national leaders from all ethnic communities that Sri Lanka regained independence, he said that using religion or ethnicity to cause division is a great disservice to our country.

Opening his address, welcoming the participants in Sinhala, Tamil, and English, High Commissioner Somasundaram Skandakumar said that the messages from the President, Prime Minister, and the Minister of Foreign Affairs (read out earlier) reiterated the commitment of the National Unity Government to an era of prosperity based on mutual respect, human dignity, and equality.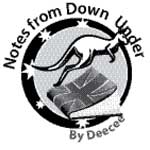 The High Commissioner said: "If I was asked what the most significant lesson we learnt from the 70 years was, I would unhesitatingly say that no country can ever hope to achieve the true potential of its independence if that independence does not embrace each of its citizens equally".

He recalled that when Sri Lanka gained independence in 1948, the country was on the threshold of becoming a showpiece in Asia. Pointing out that the promise was huge and so was the potential, he stated that the signing of an agreement between the Australian Foreign Minister Percy Spender and Sri Lanka's Finance Minister J. R. Jayewardene two years later to launch the Colombo Plan, was a very prestigious decision.

"There was a beautiful horizon ahead of us and a highway that was laid. All we had to do was to traverse that highway and follow the rules. Unfortunately we showed exits on that highway which were unnecessary and we completely lost our way with devastating consequences. But thankfully we have come back to that highway and that horizon is still there," he said.

He saw the need for everyone to contribute towards peace and reconciliation initiated by the Government, due to what had happened over the past thirty years.

Recalling the blood donation program in April, 2017, when almost one hundred Sri Lankans came forward to donate blood and plasma to commemorate 70 years of diplomatic ties with Australia, the High Commissioner noted that it was "a gesture of unconditional love and demonstrated who we really are".

Referring to his own upbringing, he recalled the education at the leading government school Royal College, and the University of Colombo, which provided a strong foundation for his future: "I remind myself that it was an investment my country made in my education and a debt I must repay."