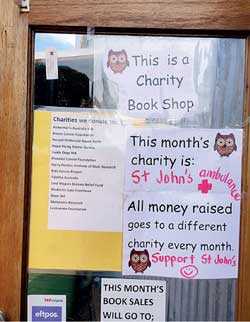 Fund raising for worthy causes is a regular feature all over Australia. Funds are raised through numerous activities, ranging from food fairs to relays.
In York, a fairly quiet old-style city off Perth, I noticed a somewhat different form of raising funds. Funds are raised through a Charity Bookshop. People are invited to donate books which are sold at reasonable prices to collect money. The money raised is donated to a different charity each month.

I walked into the spacious bookshop and noticed heaps of books neatly displayed in book racks. Some books, mainly fiction, are arranged according to the alphabetical order of the titles. Some are displayed on tables so that anyone can easily glance through the pages. There were more books in boxes stacked under the tables. This meant that donations are aplenty.

As I glanced around I was fascinated by the 'book arch' at the doorway to the adjoining room. Something novel which I had not seen anywhere else, it has been designed using books with multi-coloured hard covers. It was also an attractive display of books. Of course, taking a book out would be a little tricky. Possibly there is an art of doing it. It was rather unusual to see a red ladies' cycle hanging below the arch adding more colour.

Walking through the doorway there was another room with book racks and adjoining it was a reading room for the kids. It was attractively laid out with a few children's paintings hanging on the wall and low level racks full of books for the kids to browse through. A few toys were also lying around. The room was extremely kids-friendly with even the chairs painted in different colours.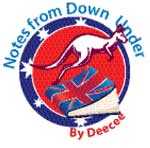 I looked round to see whether there was anyone I could talk to and get more information on how the place is run. But there was no one to be seen. I came out and looked around with no success. Being a solitary area there was nobody I could see. Obviously no one was going to rob the books.

I was keen to know why the books were not price-marked. Possibly those who were interested in buying books paid a decent amount knowing it's for charity.

I came back and looked at the notice on one of the two entrances. I could only see a long list with the names of 14 charities to which donations are made.

There must be tremendous support from the local population for the project both from the point of view of donating books and buying them. Otherwise, how can they assure the payment of a monthly donation to a selected charity?

A superb idea for anyone to follow, I thought.