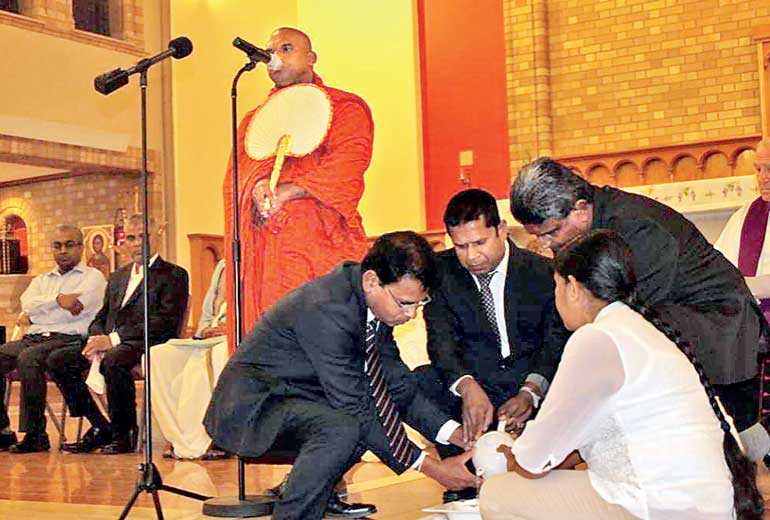 Remembering the dead
Sri Lanka news rarely make headlines in the Australian media. This week was different. Explosions provided ample material to be the lead story on all media. The ABC – Australian Broadcasting Corporation – in fact, continued to give updates on the situation in Sri Lanka.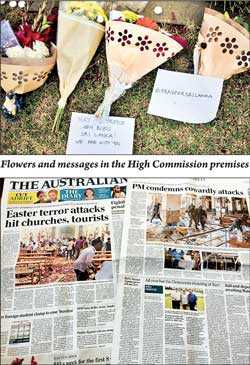 The ABC interviewed the High Commissioner, S. Skandakumar who, while conveying his condolences on the tragic happenings which he referred to as "brutal and barbaric," recognised the huge show of solidarity by the Sri Lankan diaspora in Australia. A service followed by a vigil at St. Cathedral Church in Canberra had a capacity crowd of nearly 500, he said. "We were honoured by the presence of the Governor-General, Sir Peter Cosgrove who participated in the service."

Stressing that the community is wholly behind the people of Sri Lanka who have been affected by the conflicts, the High Commissioner said he has been greatly encouraged by the manner they have come together in all the states. "There is a national unity movement that is showing feeling, love and compassion."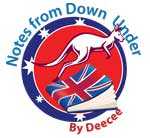 The Sri Lankans also held a candlelit vigil outside the High Commission to mourn the dead in the terrorist bombings, Canberra Times reported. As the rain fell, they laid wreathes and placed home-made posters calling for peace in the wake of the attacks which claimed a few hundreds of lives.

One message said: "Terrorism has no religion! Stand together."

Another said: "May all souls rest in peace."
PM's reaction

The day after the attack, the lead story on both the first page and the world news page in the national daily, 'The Australian' was on the explosions. Large pictures were also used.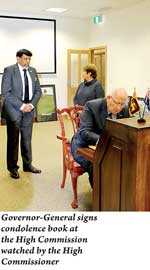 While on his campaign trail with federal elections fixed for mid-May, Prime Minister Scott Morrison who was at a Buddhist temple in Victoria when the story broke out, condemned the "horrific terrorist attack" and said: "At this time, as Easter Sunday draws to a close here in Australia, our hearts go out to those Christians and all the other innocents who have been slaughtered today in this horrific terrorist attack.

"We still don't know who was responsible for this or what their motivation was, but we do know that innocent lives have been stolen once again and our heartfelt sympathies go out to all those who are bereaved tonight, us included, as we share their sorrow," he said.

Opposition and Labour Leader Bill Shorten and Labour Foreign Affairs Spokeswoman Penny Wong condemned the "despicable targeted attacks" which they described as an "assault on our common humanity". "It is a particularly despicable act to target worshippers at one of the holiest times of the year for Christians, Easter Sunday," they said.