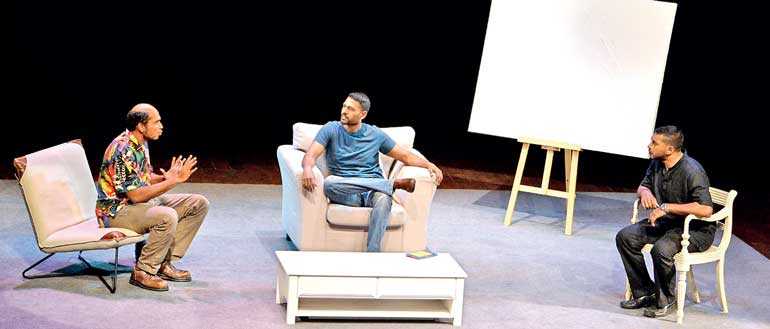 ART
Written by Yasmina Reza;
Directed by Steve de la Zilwa Featuring Chamat Arambewela, Shanaka marasinghe, Lihin Mendis
25-28 March: The Lionel Wendt Auditorium
---
By Wart de Hel-Wozdat
---
Art, like culture, began badly. Which is to say, late! That is par for the course in a country where courtesy, like coronavirus protocols, is more honoured in the breach than the observance.

Of course, it was these same COVID protocols – observed honourably at this much-anticipated theatre event – that was the culprit. But despite how welcome this thirst-slaying offering was in a wasteland parched of theatre, one wishes the admirable front of house crew had followed through on the producers' threat to seat latecomers in the balcony.
I – desperate to signal virtue and bowing before OCD – was half an hour early and loitered angrily outside (the familiar foyer being out of bounds for fear of lurking coronavirus on the loose). To see the usual suspects, those habitually late islander theatre-goers, saunter in at three minutes to starting time… despite Broken Leg Theatre Co.'s broken entreaties to initially 'be there at least half an hour before the show commences'; and subsequently 'be there at least fifteen minutes before the third bell'.

Hell is to be punctual and find that the few latecomers hold up the proceedings for a full six minutes. Heavens! What drama…

With that being said, once the show got underway, all was forgiven. For once, and after a long time at that, one was able to lean back, well, as much as possible in the uprights (this night out has ruined me, not expecting to be paid for my witty repartee and responsible review), relax, and enjoy a consummately professional performance.

And why ever not? After all, it was Steve de la Zilwa – the director of over 500 television commercials (info courtesy the publicity material), to say nothing of "the widely-acclaimed Equus" (opinion expressed by a fan, friend of the family, or theatre aficionado, it hardly matters, dear) – at the helm… and we're grateful, believe you me – for an apt choice.

First, that it was put on at all. Then, that it was mercifully brief, running to only six minutes over the estimated 75. And last not least, that it was so cleverly crafted, professionally presented and entertainingly interpreted. Oh for more of the same, and soon at that… crisp direction, clear diction, coherent production values.

But was it art? Well, yes and no. Also, who cares! Which, by the way, was a major point being made by the playwright as far as I could tell… I know what I like, but it may not be art. ART is evasive, that way: simple, yet subversive.

Be that as it may, ART – at the Wendt four nights with two matinees over the weekend – was a welcome breath of theatre for catharsis-starved thespians under the cruel thumb of SARS-Cov-2. So above and beyond anything significant that I can find in my formerly wretched state of being not a-mused to say, a big merci beaucoup to this group of aficionados for that heady albeit be-masked gasp of greenhouse-dispelling gases.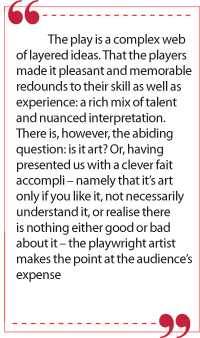 It was funded – again, per the tear-jerking promo material – by friends and family "which is not as it should be" (we agree for once). More is the pity that erstwhile sponsors have "deep pockets and short hands" (guess where I got that). And that when the 'old normal' kicks in again, corporate Sri Lanka will be elbowing its elders and betters aside to sponsor commercial (pardon my artsy jargon) crap… or narcissistically self-indulgent schmaltz. There I said it.

But is it art? Of course not: it's more… and/or less… that's the Heisenberger-Schroedingerian beauty of it. BTW, I'm not holding back on the cultural allusions because the play doesn't hesitate to invoke at least three of its sacred cows… Seneca, Nietzsche and Freud – you three are a right pair, if there ever was one!

ART revolves around an artistic 'masterpiece': a white background with white lines running across it. This gives rise to a range of questions spanning the gamut of every zany as well as significant thing ever said or thought about the nature of art. What is it? Would we recognise it if it mistook us for a frenemy and clouted us one over the ear to the extent of inviting suspected eardrum damage at best or brain haemorrhage at worst? Whither culture, convention, civilisation when the jury is out and daggers are drawn among former friends when no one can objectively (heavy emphasis on its subjectivity) define what criteria merit value or worth? (You had to be there, dear. Try to catch it if you can this weekend.)

In the end, a series of two- and three-sided conversations about the artistic merits of the objectionable artwork in question – nicely illustrated by a static set and suspended lighting with moving paintings to portray the three protagonists – boils down to a heated argument about something quite other than art. Who decides what is good or bad art? What is good or bad, but thinking makes it so? Also, what is art? And, driving the underlying tensions and stressful exploration of friendship, mentorship and human respect for another's opinion: is it art? Is it worth slandering or slaying a soulmate for? Spoiler alert: it (almost) comes to that… and even if not, the insults – 'amoeba' 'bugger' 'coward' – are bad enough.

To my mind, this pernicious play about a plethora of human experiences – from the appreciation of art to the appreciation of one's friends and their foibles – works because ART (like art, get it?) functions at many levels, concurrently and simultaneously. At the form level, it is about what art is and whether a piece of artistry is in fact or interpretation a work of art, and why.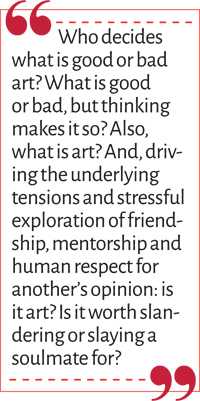 At the function level, it is about how art and its appreciation can inform society about a panoply of dimensions lying under the polite (and pugnacious) living-room exchanges on the social instinct, snobbery and the subconscious motivations of the mind in the most mundane of matters, from one's preference in life partners to one's penchant for drama, histrionics or melancholic manipulativeness.

At the fundamental level, it is about how belief in oneself over and above the adult resolution of the other minds conundrum can lead to all that's sick about the human instinct.

The play is a complex web of layered ideas. That the players made it pleasant and memorable redounds to their skill as well as experience: a rich mix of talent and nuanced interpretation. There is, however, the abiding question: is it art? Or, having presented us with a clever fait accompli – namely that it's art only if you like it, not necessarily understand it, or realise there is nothing either good or bad about it – the playwright artist makes the point at the audience's expense. ART is a white canvas with barely discernible white lines "if you screw up your eyes" enough. I saw spots of red and swathes of black. How about you?
---
- Pix by Shehan Gunasekara -
---