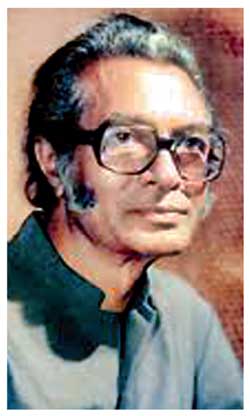 It was most encouraging to read that a galaxy of musicians will rally round to raise funds to meet medical expenses of fellow singer Ivor Dennis who has been critically ill for the past few weeks. At least 16 of them have agreed to participate – free of charge – in a musical show to be held at Bishop's College auditorium next Friday. Music will be handled by Suresh Maliyedda. What a fine gesture!

The musicians, ranging from the most senior singers to the new generation artistes, have responded to a call by Lanka Santha, son of Sunil Santha, who has taken the initiative in organising the show. He has greatly appreciated the gesture on a Facebook message on behalf of Sunil Santha Samajaya.

Of the veteran singers who have continued to be active in spite of their age, Ivor Dennis, now in his mid-eighties, is possibly the senior-most.

The simple, unassuming artiste he has been, Ivor has silently contributed his fair share towards the progress of Sinhala music. He has been in the musical scene for six decades as a high grade singer, a music teacher and a stage performer.

We came to know him as Sunil Santha's 'genuine golaya'. He once told me how he met the great master. "In an amateur program over the radio, I had sung a Sunil Santha number. It was 'Varen heen sere ridi valaave'. He had heard it and listened carefully. Then he wanted to meet me. Musician Patrick Denipitiya had told him he knew me. He was requested to bring me along. That was how I met him."

Sunil Santha found that both of them were from the same area – he from Dehiyagatha near Jaela and Ivor from Seeduwa. He wanted Ivor to come for his classes. The teacher found the pupil to be extremely talented. He was happy with the pupil's progress.

Without any hesitation he decided to send Ivor to India for the recording of the songs for Lester James Peries' maiden feature film, 'Rekava'. He assured both LJP and Fr Marcelline Jayekody (the latter wrote the lyrics and arranged for Sunil Santha to compose the music in the film) that Ivor would do exactly what he would do. It was Ivor who sang the 'viridu' in the opening scene as playback singer for the stilt-walker Sesha Palihakkara.

The loyal pupil he was, Ivor never deserted him even when times were pretty hard for the teacher. He was a great strength to the 'guru' when the latter tried out a series of experimental compositions over the radio. Among these creations were 'Mal mal vaaram', Emba ganga', 'Tikiri liya' and 'Dakuna negenahira'.

In Mahesh Denpitiya's popular Derana Dell Studio musical program Ivor did justice to selected numbers originally sung by Sunil Santha in a manner they will be remembered by music fans for a long time.

Ivor was also a regular performer in maestro Premasiri Khemadasa's operas and was always in the chorus whenever he directed music for films and dramas. One could not miss Ivor's distinct voice in them.

One of the rare occasions that Ivor agreed on a felicitation was when Lanka Santha coaxed him to agree to a musical evening to mark his 80th birthday. The show – named after the first song he sang on the radio – 'Kurulu paradeesaye' (the song Sunil Santha heard was sung by Ivor at the Amateur Talent contest presented by Laddie Ranasinghe) was highly successful with Ivor singing popular Sunil Santha numbers in addition to a few of his own songs. That was the last time I saw Ivor performing.



The fans have now got an opportunity to give something in return to Ivor by being present at next Friday's show which will feature, among others Victor Ratnayake, Edward Jayakody, T.M. Jayaratne, Amarasiri Peiris, Keerthi Pasqual, Jackson Anthony, Nadeeka Guruge, Nirosha Virajini, Deepika Priyadarshini, Nelu Adikarai and Indika Upamali.

As I was about to finish this short note, I saw a Facebook appeal by Mahesh Denipitiya: "It's the time to show our gratitude and appreciation for his 60 or more years of service to the music-loving nation. He is currently warded at the National Hospital Paying Ward, recovering from a brain surgery."