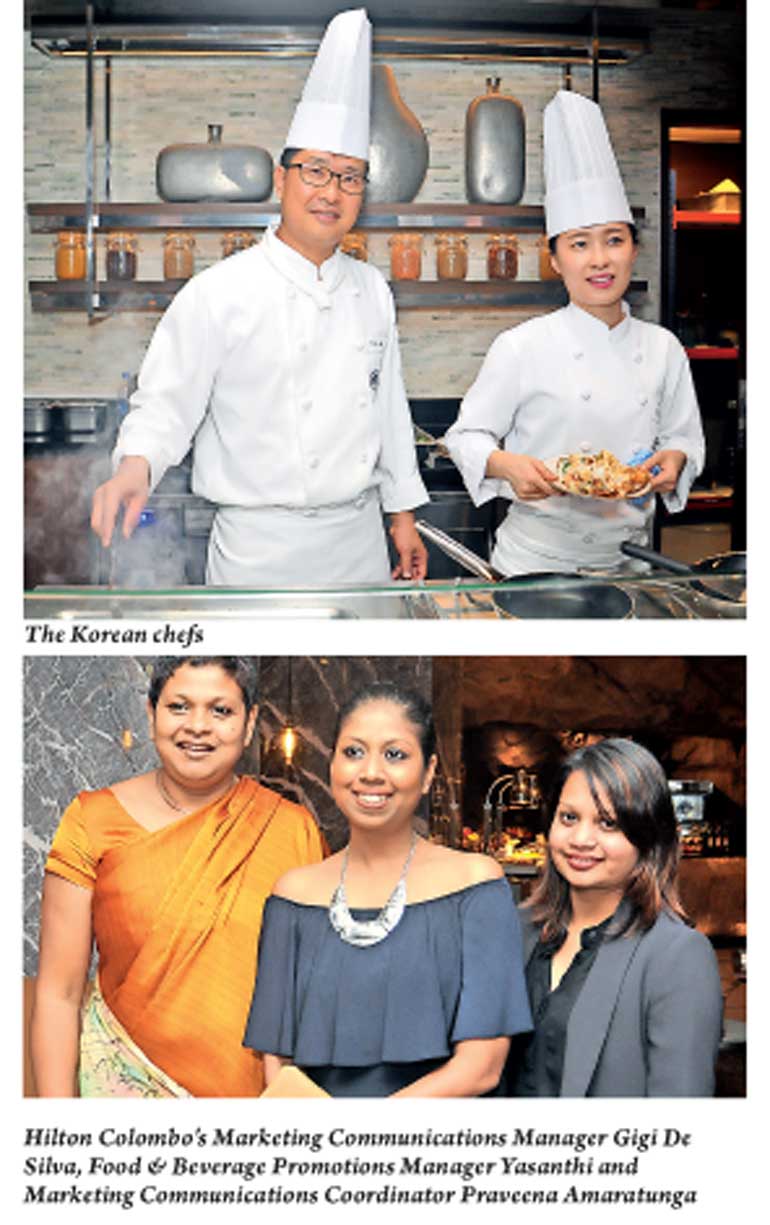 By Madushka Balasuriya

Explosions and Korea it seems are all the rage these days, but while the North has been making headlines recently for its nuclear-charged game of chicken with the US' Cheeto-in-Chief, its neighbours down South have been involved in altogether less sinister explosive undertakings.

I'm of course referring to the wondrous experience that is South Korean cuisine. Known for its steam-cooked rice, numerous side dishes, and a borderline sociopathic emphasis on spice, food from the Korean south on paper should be right up every Sri Lankan's alley.

And now thanks to the Graze Kitchen at the Hilton Colombo, these explosive flavours can be sampled in all its glory right here on Lankan shores. From 20 September to 1 October, one entire station at Graze – which is known for its multitude of cooking stations offering a range of cuisines – will be dedicated purely to authentic South Korean cuisine, with a string of signature dishes being alternated nightly.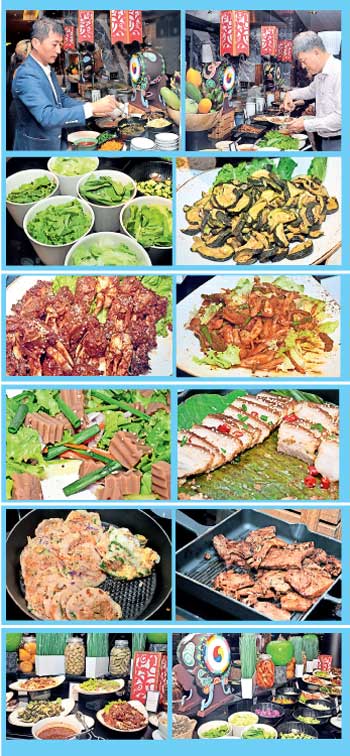 To ensure the utmost in quality, two guest chefs have been flown down from the Hilton Millennium Seoul in South Korea to overlook and offer their expertise. Daily FT sat down this week to see what all the fuss was about, and we certainly weren't left disappointed.

Starters

A range of five salads were on offer – Korean Cabbage Kimchi, Squid Chilli Salad, Sautéed Green Pumpkin Salad, Acorn Jelly Salad, Spicy Crab Salad – by way of starters. Barring the pumpkin salad – which offered a relatively mellow flavour profile – each of the others was closer in both texture and flavour to a traditional Sri Lankan achcharu than your run-of-the-mill salad.

The two most fitting this description were the Cabbage Kimchi and Squid Chilli salads; each offering a level of spice seldom seen in a salad, neatly balanced out by subtle hits of sweetness.

The Acorn Jelly and Spicy Crab Salads meanwhile focused more on the textural side of things; the gelatinous acorn jelly was offset by some crunchy lettuce, while a specially-made sauce incorporating soy sauce, garlic, and green chillies helped liven up the dish.

The spicy crab meanwhile was easily the standout; served raw, the crabs were marinated for 48 hours in garlic, chilli paste, soy sauce and ginger. The effect is that of a soft-shelled crab with delightfully viscous meat. Not even an eye-watering level of spice was enough to stop me from going back for more.

Mains

The mains meanwhile consisted of the popular Modumjeon, which is an assorted Korean piccata made up with pumpkin, spring onion, seafood and mushroom; the La Galbila (grilled sliced beef); Bibimbam (assorted vegetable rice), Braised Pork Ribs, Sliced Beef and Vegetable with Soy Sauce, as well as some surprise dishes such as Belly Pork courtesy of the a la minute preparations at the action station.

The beef and pork dishes were easily my favourites with the Grilled Sliced Beef in particular offering a flavour profile I've rarely, if ever, come across. It was an exquisite blend of sweet, sour, and smokiness; outwardly it looked almost dry, however one bite and any questions about its juiciness were quickly and quietly dispelled.

It is at this juncture that I offer a pro tip: ask for assistance from the chefs. There are few items such as the belly pork wherein the best way to eat it might not be the most obvious. Case in point, I was directed to place a slice of belly pork, some cloves of garlic, some pickled onion, and some bean paste on a slice of lettuce. I was then told to wrap all of the items in the slice of lettuce and eat it one go. I did, and it was delicious. Suffice to say I summarily proceeded to do the same for the beef as well.

Finally we come to the Bibimbap – again something I needed help with at first – it is a dish which is essentially sticky rice with your choice of vegetables (mountain root, pear flower, mountain flower, zucchini, carrots, spinach) and sauce (Korean chilli paste, sesame oil). Once your choice of ingredients are placed into a bowl, just mix them up thoroughly and enjoy – it's really that simple.

While I added meat to the dish, it really does stand out even more as a vegetarian option. The balance between the spice of the chilli paste and the fresh, crunchy elements of the vegetables are unique and packed full of flavour. A healthy tasty option if there ever was one.

Desserts

The desserts at Graze are without doubt some of the finest and most varied you will find in Colombo, however as far as the South Korean-themed ones went it was simply more of a glimpse rather than an excursion.

There was the Mae Jak Khwa and U Khwa; the former was a traditional Korean candy reminiscent of sweet papadam, while the latter was a Korean rice candy – simultaneously soft and crunchy, with not too much sweetness.

There was also two Korean berry shooters, one which had a strong hint of cinnamon and the other of berry and lime.

Overall, they are most certainly acquired tastes, but well worth trying, if not for anything but to satisfy your curiosity.

Recommendation

On the whole South Korean cuisine ticks several of the same boxes Sri Lankans look for when making their favourite local dishes. There is an abundance of spice, and certainly no shortage of flavour. The most striking thing though is the experience; it's rare to eat a meal, especially a cuisine that you're unfamiliar with, and be certain that you won't forget it anytime soon.

With the buffet at Graze priced at Rs. 3,888 nett from 7 p.m. to 10:30 p.m., making your way there at least once to experience these truly unique and memorable sets of flavours and textures is a no-brainer if there ever was one.

Pix by Ruwan Walpola