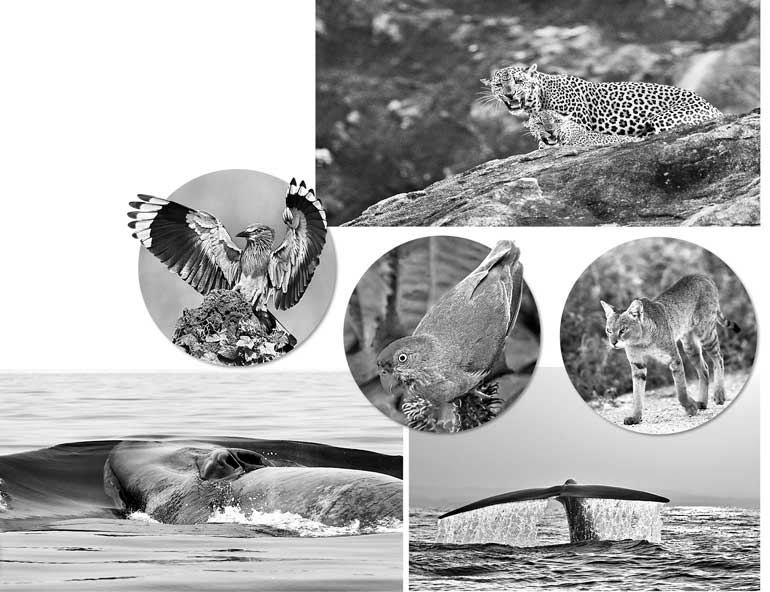 Reviewed by Rohan Pethiyagoda

With the computer screen rapidly replacing the printed page as the medium from which we derive our information and entertainment, one would have thought the days of the tea-table book (I regret I am no longer permitted to mention the alternate beverage) were over. But one would be mistaken.

Books have carved for themselves a niche that is going to be hard for the e-world of smoke and mirrors to dislodge. Unlike the fleeting image on your screen or that impossible-to-find file in your hard drive, books are permanently visible physical objects to which one can turn again and again. Whether on your tea-table or your bookshelf, you can go back to them year after year—as indeed some of the four-century old books in my library attest. And it's impossible to know the fate of the files on your hard-drive just four years from now, let alone four centuries.

With that bit of philosophy out of the way, I urge you to consider investing 'Living Free', a compilation of (mainly) Sri Lankan wildlife photographs by two of the country's best-known shutterbugs, Chitral Jayatilake and Vimukthi Weeratunga. Both were celebrated photographers already in the Kodachrome Era, and have since then published several books apiece on Sri Lanka's fauna, flora and natural landscapes. In 'Living Free' they combine forces to present their best work, most of it never previously published, all of it exceedingly memorable.

The 196 pages of 'Living Free' are crammed full of fascinating animal portraits, ranging from tiny insects to Blue Whales. Printed on beautiful satin-finish large-format paper (33x24 cm) and elegantly bound in Singapore, the book is easily the best work published by either author to date—and goodness knows they have produced some beautiful volumes in the past.

The selection of subjects is weighted strongly towards the rare and the endemic (for example, a gorgeous pair of Serendib Scops Owls), though some exceptionally artistic images of more common subjects help show off the photographers' flair. The chapter on cats, with several photos in the award-winning class, was easily my favourite, with that on Horton Plains not far behind. But it is impossible to point, except for reasons of personal preference or prejudice, to oases of excellence in a book that is clearly in the 'best-in-class' category.

'Living Free' is easily the best book of wildlife imagery to come out of Sri Lanka in several years. Few of us would aspire merely to glimpse most of the creatures and places illustrated in this volume, let alone photograph them so beautifully. If you're a visitor to Sri Lanka, this is the book you need to take home with you, if only to remind you what to look for when you return. If you live here, what more apt a celebration could there be of just how lucky you are?

Jonathan and Angela Scott, 'the big-cat people', write in their foreword, "Many children will never know the joy of a camping holiday or even a walk through a leafy woodland… enjoying real life adventures that forged a sense of wonder in the living world of hedgerows and woodlands, grassy meadows and waterways. [Today] many children barely leave the immediate surrounds of their home." How true!

Sri Lanka's predicament is graver still, because despite appearances to the contrary, the ratio of our urban to rural population has increased only marginally since Independence: only about 20% of our people live in urban centres, according to the 2012 Census of Population and Housing. Add to this the fact that our population continues to grow, and it becomes clear that the demand for rural land too, continues to grow. Almost all that growth encroaches onto state lands and forests which, once settled, are impossible to reclaim. Even as our wilderness habitats erode, then, we need to renew our commitment to conserving the remaining forests. Chitral and Vimukthi's book reminds us of just that fact—page after page.

Above all, 'Living Free' reminds us just how much there is left to see in this over-crowded island. Some of these sights, such as the Blue Whales photographed from the air or the masses of Large Crested Terns on the Adam's Bridge cays, must necessarily remain the restricted preserve of the privileged few. Like Antarctica, to open these to general tourism would spell disaster. But for the rest of it, each creature or landscape offers fresh inducement to travel into the wild to experience the luxuriance of Sri Lanka's biodiversity. Whether it's rare, bizarre or beautiful, it is always worth seeing.

You would do yourself well to buy a copy of 'Living Free'. Thanks to generous sponsorship by DIMO, the book is being sold at a very affordable price. It is most certainly in line to become the best book to come out of Sri Lanka this year.