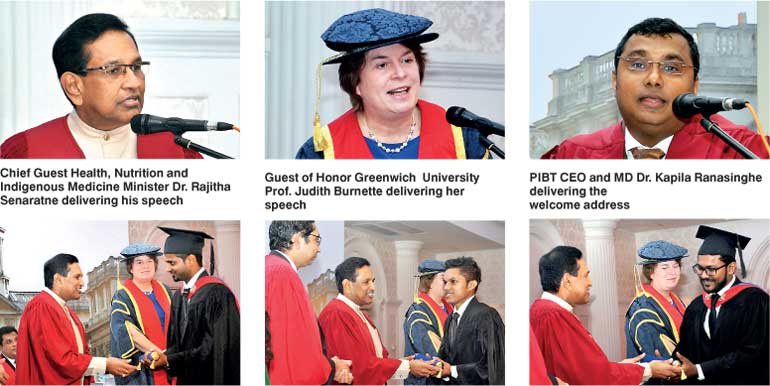 The graduation ceremony honouring graduates from the diverse programs at the Pioneer Institute of Business and Technology (PIBT) and celebrating its 10-year partnership with the University of Greenwich, UK was held recently at the Kingsbury, Colombo.

Minister of Health, Nutrition and Indigenous Medicine Dr. Rajitha Senaratne attended the event as Chief Guest while Prof. Judith Burnett, Pro Vice-Chancellor of University of Greenwich, UK attended the ceremony as Guest of Honour which saw over a 100 students graduate.

The Pioneer Institute of Business and Technology (PIBT) is the first local Institution to obtain a direct partnership to offer internal degree programs from the University of Greenwich, UK to Sri Lankan students.

PIBT is a leading private higher education provider in Sri Lanka, incorporated in 2005. It focuses on providing quality postgraduate, graduate and pre-graduate courses in collaboration with the prestigious University of Greenwich, UK. PIBT is renowned for its excellent panel of lecturers, outstanding pass rates and 100% employability rate with its graduates guaranteed a job upon passing out.

The origins of the University of Greenwich date back to 1890. It is the second-largest state university in the UK and has won prestigious accolades such as Her Majesty the Queen's Anniversary Prize for Higher and Further Education (2012) and several other greatly acclaimed awards throughout the period related to the university's incredible teaching quality and groundbreaking research contributing to one of the most important discoveries made by a university over the past 60 years.

Students at PIBT may follow a Pre-Graduate Programme in Networking (PGPN) or Software Engineering, a Higher National Diploma (HND) in Software Engineering or Network Engineering, a Bsc. (Hons) Computing and Bsc. (Hons) Computer Systems & Networking and top it up with an MSc in Computer Systems & Network Engineering, awarded by the University of Greenwich, UK. Students may transfer to the University of Greenwich, UK to complete their course or complete it locally, which allows students to graduate as an internal candidate of the university to receive a world-class educational experience at a much lower cost.

By starting at PIBT with a fast-track HND in Software Engineering or Network Engineering enables "students to obtain degrees from the University of Greenwich within two and a half years, fast-tracking the process," stated Dr. Kapila Ranasinghe, the Managing Director of PIBT. He further stated: "The objective of PIBT is to supply well groomed IT graduates to the IT market in Sri Lanka as our country lacks competent IT professionals who are ready to face the complexities in the IT sector."

Prof. Judith Burnett, Pro Vice-Chancellor of University of Greenwich, UK emphasised the "need for quality degrees which the University of Greenwich delivers" and commended PIBT for "raising the bar of local education and producing graduates equipped with skills for the modern world."

With as many as a 1,000 students graduating from the versatile programs taught at PIBT by a panel of high profile IT professionals in accordance with global institutions, graduates have a high employability rate applicable at the local and global level. Dr. Chameera Prasad De Silva (PhD – (Moratuwa, SL), BSc. (Hons) in Computing (Greenwich, UK) and BSc. (Hons) in Town & Country Planning (Moratuwa, SL). Having gone through the course at PIBT which shaped his career as a prominent state and non-state lecturer, Dr. De Silva stated "enrolling for the Greenwich degree program was the wisest choice I made for my future career. Today I am a renowned lecturer thanks to this decision." Dr. De Silva now teaches students at the pre- and postgraduate level after following the degree program at PIBT.

"PIBT offers a state-of-the-art facility for all students, inclusive of IT amenities and is prominent for providing career advancement and guidance and excellent teaching quality available from an experienced lecture panel throughout courses offered. Students are further supported by bank loan facilities and monthly instalment options allowing an easy educational journey," affirmed PIBT Director Sampath Jayasundara.

To strengthen ties and ensure students are provided with a well-rounded approach to education, PIBT is the pioneer private institute to have held an International Research Symposium in collaboration with the University of Greenwich, UK in 2012 and research is further strengthened by the facilities at PIBT such as the Language Hub, Smart Lab, Research Institute, ICT Certification Centre and the opportunity for students to present their research findings at the Annual International Symposium and other global conferences as well.

PIBT follows the required curricula, teaching methodology, examinations and assessments conforming to the standards and quality required by the University of Greenwich, UK and all students following affiliated courses are awarded an internal degree.

The courses at PIBT are available for students seeking higher education after local GCE or London O/Ls and A/Ls as well as the 95% who are ineligible to enter one of the 15 local state universities. PIBT courses are also relevant for IT and management professionals seeking further academic or professional qualifications to expand their knowledge and better equip themselves for overseas employment.

For more information about PIBT or the courses offered in affiliation with the University of Greenwich, UK, call 0772811300, email marketing@pibts or visit www.pibtsl.com.
Pix by – Ruwan Walpola