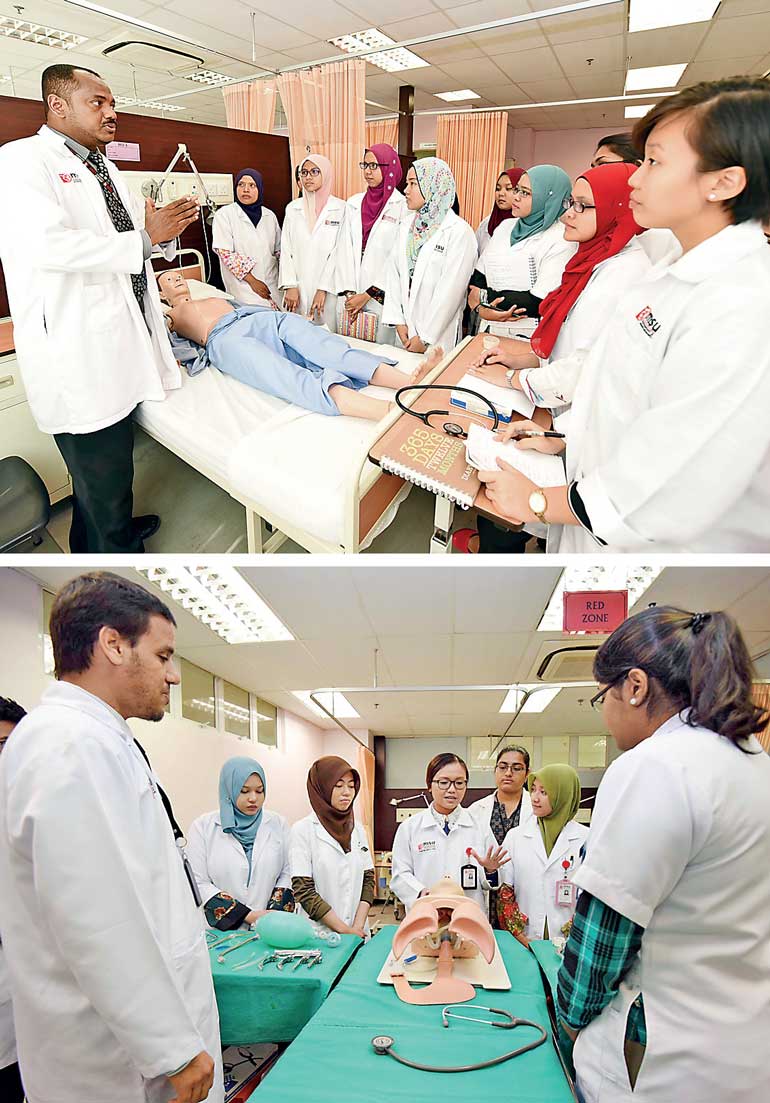 Management & Science University (MSU) is one of Malaysia's top universities, with a focus on developing and delivering quality human capital in national and global critical-need areas; among them, Medicine, Health Sciences, Pharmacy, Information Sciences, and Engineering, besides Business Management and Professional Studies, Education and Social Sciences, Hospitality and Culinary, and Music and Fashion.

As a transformative university, MSU's involvement in the medical education areas is an initiative towards complimenting the nation's need for qualified medical personnel's in Malaysia and the region.

The Bachelor of Medicine and Bachelor of Surgery (MBBS) is a five-year program offered through the International Medical School (IMS) at the MSU main campus in Shah Alam, Malaysia. The MBBS programme at MSU is accredited and approved by the Malaysian Medical Council (MMC) and Sri Lanka Medical Council (SLMC)

Accorded 'Excellent Status University' twice on the national university-rating system SETARA by the Malaysian Ministry of Higher Education (MoHE), MSU has also been awarded 'The Most Entrepreneurial Private University, 2016' by MoHE. A most recent accreditation, placing MSU on world-class standards, was the QS 2016 Rating, which awarded 5 Stars to the university for its Teaching, Employability, Facilities, Social Responsibility, and Inclusiveness.

Meticulously crafted to enhance graduate potential, the university's programs of study are among the best in the region, producing graduates that are a popular pick among employers. A graduate tracer study by MOHE shows 98.6% MSU graduates secure employment within six months of their graduation, simultaneously securing MSU the national top spot in graduate employability among the nation's higher education institutions.

The MBBS curriculum is designed in adherence to the Malaysian Medical Council (MMC) guidelines and approval by MMC. The MBBS program presents a continually expanding level of medical experiences. In the early years of study, the basic medical sciences are taught in the context relevant to patient care. Later in the course, clinical teaching builds upon and reinforces this strong scientific foundation.

In comparison to many medical schools in Malaysia, one of the key features of MSU's MBBS programme is the emphasis on clinical communication skills and early clinical contact visit to medical practices, community care facilities and hospitals. MSU focuses on developing a qualified medical doctor who excels academically but portrays commendable soft skill as well. This is hoped to ensure a long term continuous effort from MSU towards the nations' objectives in health care and services.

Intakes for MBBS program is on April and September, qualified students are required to sit for the Medical Entry Test (MET) to determine their aptitude for the MBBS program.

Management & Science University (MSU Malaysia) has organised an open day on Saturday 6 May from 15:00 hrs onwards at Movenpick Hotel, Colombo 03; interested students and their parents are welcome for the event. You can meet Malaysian professionals to obtain more information on MBBS and other programs offered by MSU Malaysia and MSI Colombo; contact them on 077 0777 880 to reserve a time.

For more information on MSU programs and specially about next PhD intake kindly contact Management & Science University, Colombo Learning Center on enquiry@msu.edu.lk, telephone: 011 257 6900/011 257 6700, hotline 077 0777 880, or visit them at No 300, Galle Road Colombo 03. Also log in to www.msu.edu.lk or www.msu.edu.my.