By Prof. A.S. Karunananda

Dean, Faculty of Computing General Sir John Kotelawala

Defence University

The dawn of the Southern Campus of Kotelawala Defence University in 2015 marked the birth of the Faculty of Computing (FOC) of KDU, which is the first ever computing faculty that offers the widest spectrum of computing degrees under one umbrella in the State University system in Sri Lanka. According to this model, FOC offers BSc honours degrees in Computer Science, Computer Engineering and Software Engineering enabling direct entry for students with GCE (A/L) qualifications in the Mathematics stream. Direct entry for students from Science, Commerce and Arts streams are offered for the BSc honours degrees in Information Technology and in Information Systems. Foreign students with equivalent qualifications are also enrolled for relevant degrees.

FOC nurtures students in a prolific learning environment with multifaceted computing flavours of Science, Engineering, Technology and Social Sciences. All computing degrees offered by FOC are benchmarked with ACM/IEEE international standards of computing degrees. Computing curricula of FOC are unique as they offer a wide spectrum of exciting modules in cutting-edge Computer Science, Artificial Intelligence, emerging trends in Engineering of computing artefacts, and smart Information Technology.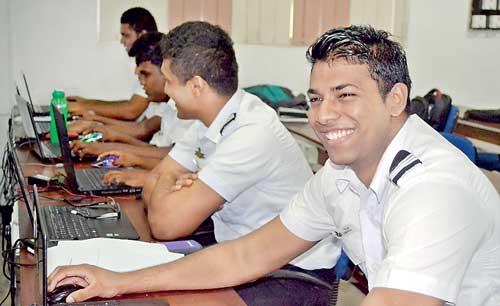 FOC enables students to involve in research and development from the first year of all degree programs. In each degree program, the first year group project has been designed to stimulate students' enthusiasm in computing through hardware and software simulations. The second year Software Engineering project enables students to involve in professional level software development and to develop team spirit in themselves. Independent study module in the third year envisions capacity building to develop critical thinking and to gain exposure to new trends in computing.

The final year research project involves cutting-edge technologies such as Brain-Mind simulations, Machine Translation, Machine Learning, Semantic Processing, Evolutionary Computing, and Multi Agent Systems. Students' projects at the first year itself have been able to secure national and international level publications. FOC students also have a unique opportunity for involving in computer-based research projects through the research arm of KDU, popularly known as KDU-CARE (Institute for Combinatorial Advanced Research and Education).

For instance, the recently launched mind simulator, BMind, which has recorded more than 60,000 annual hits and another project in progress on large scale Automated Molecular Docking launched in collaboration with KDU-CARE stand testimony for such computer based research projects of FOC.

Students of FOC are offered with a versatile student-centred learning environment, which offers initiatives including FOC-Open Source, FOC-Simulation Incubator, FOC-CodeFest, FOC-DesignFest, and preparation of students for local and foreign competitions. FOC solicits creative synergy from the Faculty of Engineering, and the Faculty of Management, Social Sciences and Humanities of KDU for offering specialised modules from the respective areas for the computing degrees. FOC also constantly strives to get the services of the best experts from the academia and industry to deliver the subject matter of computing.

Based on the GCE (A/L) results released in December each year, KDU enrols students for computing degree programs February each year enthusiastic students from GCE (A/L) are encouraged to earn an internationally recognised computing degree from FOC of KDU. Computing graduates from KDU can secure lucrative employments in all areas of computing around the globe. FOC graduates fit very well with the full spectrum of industry demand and also for doctoral studies in emerging trends in computing.