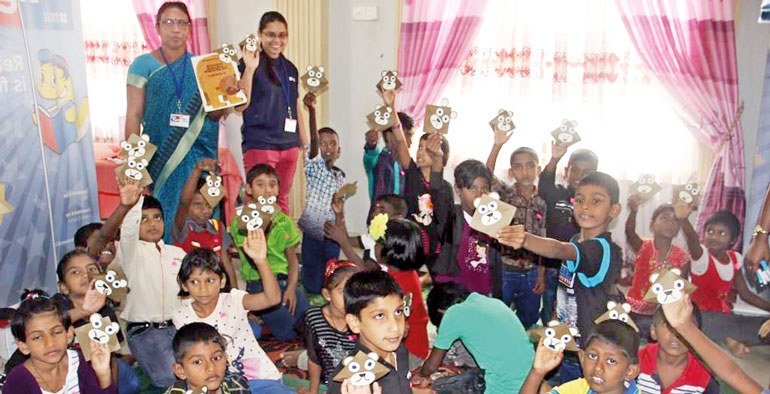 In early 2015, the British Council Sri Lanka and HSBC began an educational partnership by commencing the HSBC Kids Read Project. Already a well-established project, this has been successfully implemented in countries across North Africa, the Middle East and Asia.

The project was adapted locally with slight alterations to the regional project to better suit the needs of the Sri Lankan context. HSBC fully-funded the project and British Council acted as the delivery partners. Seven schools across the island were selected and they worked closely with the British Council between July 2015 and March 2016.

The success of this project led to HSBC funding it for a second year, and based on recommendations made in March 2016, some significant changes were made. Recommendations included giving more children and teachers access to the project, the training and the books, and equipping local Regional English Support Centres (RESCs) with the skills to support the teachers, leading to greater sustainability and localisation of the project.

These changes were made possible through the selecting of schools across five regions (five schools in each region, called 'clusters') and employing two Regional English Support Centre trainers to deliver training, monitoring and evaluation visits, and a book box rotation system within each cluster. The RESC trainers and Kids Read teachers took on a large role in the community events including storytelling at the event. The 2016-2017 project was extended from seven to 25 schools, 13 to 43 teachers, 1,500 to over 4,500 children and four to five community events. It also covered five provinces: Northern, Eastern, Western, Southern and Central.

"We are delighted to witness how Kids Read has created such a positive impact on so many children and teachers alike. This project is based on the assumption that reading opens up a world of opportunities for children, exposing them to other cultures, attitudes and issues. We have been part of Sri Lanka's growth story for the last 125 years and we see Kids Read as a project where we invest in the future of this country," commented Sri Lanka and Maldives HSBC CEO Mark Prothero.

Research shows that good reading habits, established early, improve later performance in a range of life skills as well as developing language and critical thinking skills. However, teachers and parents often struggle to find ways to motivate children to read and this is especially the case when dealing with reading in a foreign language like English.

The project has two key objectives. The primary aim is to work with local primary schools across Sri Lanka to improve access to and use of storybooks in the classroom. This includes working with the schools to transform their awareness of the value of children reading in English and developing reading and literacy skills in all children in grades three to five; providing access to 220 of the best UK children's fiction, non-fiction and big books in their schools and homes; training all English teachers to use stories effectively in order to develop English language skills and to be able to evaluate progress in reading skills development; and training and supporting the local RESC trainers to assist with delivery and monitoring and evaluation of the project.

Secondly, the project aims to promote reading by reaching out to the local community through five community events in five cities across the country. This involved delivery of community storytelling events in schools and/or public venues by Kids Read teachers, supported by HSBC volunteers and British Council Teachers and Training Consultants, reaching children in grades three to five from non-Kids Read schools and generally promoting the joys and benefits of reading books.

All head teachers responded very positively to the project. They praised their teachers' efforts, the project itself, and in some instances offered whole rooms for the teachers to convert into HSBC Kids Read activity and reading rooms. Teachers reported positively on the project.

Dula Liyanage, a teacher from Trincomalee, commented: "Kids Read came to my school just like an aura which enlightened student's reading skills. I'm so glad to proclaim the beginning and the ongoing project … though we had a library, children used to read and borrow only Sinhala story books, but Kids Read changed their minds to read English story books too. Today, we see the students gathered around the Kids Read books to read, look at pictures and draw pictures too….I used many new methods of story-telling which our trainers give to us as well some other techniques which are found in internet…It's an unbelievable chance for me and my school to join with Kids Read and continue with a great success like this."

July sees the start of the third year of the HSBC Kids Read Project. Hanwella, Jaffna, Kandy, Matara and Vavuniya are the areas targeted this year.