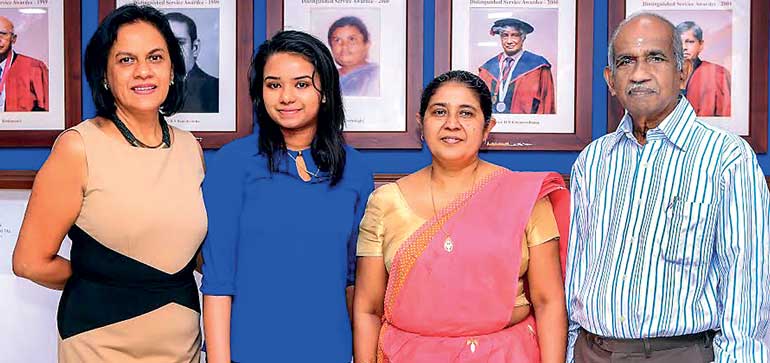 Imesha Siriwarden (second from left). Scholarships for USA Ltd Joint Managing Director Priyanthi Dissanayake (left), Professor Priyani Paranagama Dean College of Chemical Sciences, N.I.N.S. Nadarasa Registrar are also present
Imesha Siriwardena from Kandy was recently accepted to Truman State University in Kirksville Missouri USA as a transfer student from the Institute of Chemistry Ceylon with a scholarship and transfer of Ichem credits. She plans to major in Chemistry within the next two years. Professor Priyani Paranagama Dean College of Chemical Sciences, N.I.N.S. Nadarasa Registrar and Priyanthi Dissanayake joint M/D Scholarships for USA (SUSA) joined together to wish Imesha a pleasant stay and a bright future in USA.

SUSA since '01 is engaged in discovering and teaming up with the most affordable colleges and universities for Lankan academics; being the only local recruiter who works exclusively with US schools directors of SUSA travel across US each summer with the aim of finding new partners agreeing to offer even more benefits including higher scholarships, credit transfers based on A-Ls, part-time work within campuses and summer internships. Having passed 300 students SUSA is enthusiastically looking forward to making few more Lankans global professionals during the New Year.

Truman State is nationally ranked by US News and World Report as the number one public university in the Midwest. Kiplinger's has ranked Truman 9th in the nation for best out-of-state value. Truman is one of only 27 public liberal arts and sciences universities in US.

GIC Programme

of the Institute

of Chemistry Ceylon

Students may enrol to GIC Programme with GCE A/L – equivalent or DLTC Programme or OUSL foundation. The GIC Programme is a four year degree programme where the Academic year of the GIC Programme is divided into two semesters. Applications are invited from those having at least a pass at BSc degree examination with Chemistry as a subject. Provisional admissions will be given to those who have completed two years of study at the B.Sc. degree.

Opportunities

Students could opt after two years of successful completion of examinations for an Advanced Diploma qualification after Level 2. Advanced Diplomates can thus exit the programme after two years and obtain a BSc Hons degree in Applied Chemistry at UK (after one more year of study in UK), BSc degree from Truman state University.