From left: ANC Pathe Study Medicine Official Represent of Belarus Belenki Andrei, ANC Pathe Study Medicine Head of Operations Dr. Harry Prasad MD, VSU Dean of Further and Advanced Training Faculty Tohuleva Alena, ANC Education CEO Executive Director Dr. Punarjeeva Karunanayake MD, ANC Education Director Chief Finance Officer P. Saravanan and ANC Foundation head of Diploma Programme

By Charumini de Silva

Paving the way to fulfil aspirations and dreams of 99% medical students that does not get entry to national universities in the country, ANC Education, the leading transnational education provider in Sri Lanka recently launched the pre-medicine program in partnership with Vitebsk State University (VSU) in Belarus.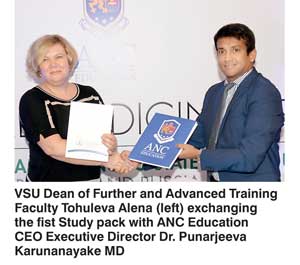 The pre-medicine program will help students to obtain the basic knowledge or the foundation for a proper medical career in Belarus or Russia to study a range of medical disciplines such as Medicine, Dentistry, Pharmacology and Bio Medicine at an affordable cost.

ANC Education CEO and Executive Director Dr. Punarjeeva Karunanayake said being in the industry for 15 years its strength lies in its expertise in providing the necessary academic foundation and transferring students to globally recognised universities.

"Over the years, we have built a gamut of tools along with trusted partnerships with leading universities in Belarus and Russia to guarantee the best outcome for our students," he added.

Noting that he is also a product of foreign education because only a small percentage of students who sit for Advanced Level Examination get entry to national universities in Sri Lanka, he said it a very unfair education system that we have in the country to decide on a dream career of a child and hence he initiated ANC with an objective to give those unprivileged students to pursue their aspirations.

"I believe this is very unfair and I started ANC PATHE Study Medicine with the objective of giving Sri Lankans the opportunity to fulfil their dreams. Around 25% of the Advanced Level students in Sri Lanka study bio medical science and only 1% of the students get university admission. I am worried for these 99% students because 19 is not an age to determine one's success," he pointed out.

Commenting on the relevance and the recognition of the medical educational programs offered by ANC PATHE Study Medicine Dr. Karunanayake assured that all the programs offered are recognised by the Sri Lankan Medical Council (SLMC) and other endorsing bodies around the world such as the ECFMG in USA, GMC in UK, AMC in Australia and WHO.

"I completely endorse the fact that medical education should be recognised by the Sri Lankan Medical Council, and the GMOA. You cannot have private medical universities which are not recognised. Medical doctors need to maintain a certain standard because end of the day they are dealing with life and death situations," he stressed.

He further added that as the Government had failed to provide a solution to those 99% students, they can at a cost obtain a medical program in a European economic zone country. According to him around 500 students graduates annually, while another 1,000 students takes on transnational transfer programs and go abroad. ANC at present has around 20,000 students overseas fulfilling their degree, aspirations and dreams.

The pre-medicine program duration is 10 months and the entire program (completion of the degree) would cost around Rs. 5 million, where the institute expects to enrol around 40 students for the first batch. The VSU has two intakes per year in January and September.

ANC-PATHE Study Medicine is the most experienced and number one academic institute in the medical student placement in Sri Lanka with 13 years of experience. ANC-PATHE Study Medicine has placed over 2000+ medical students around the world and more than 100 registered medical practitioners working in Sri Lanka. Furthermore, having gone through the required training and exposure, the academic staff at ANC-PATHE Study Medicine is well-equipped to guide students through the Pre-Medicine curriculum in their first year of study.

ANC- ATHE Study Medicine Head of Operations Dr. Harry Prasad (MD) said the pre-medicine program will contain the same curriculum with biologic, physics and chemistry, which will include mathematics and Russian language component. Simultaneously students who obtained low results (below 3Cs) can also sit for the London or Local A/Level during the Pre-Medicine Program

VSU Dean of Further and Advanced Training Faculty Alena Tohuleva highlighted VSU is the oldest university in Belarus, established in 1910, has prolonged to 10 faculties and 39 departments with a vast number of international students from USA, Canada, Europe, Ghana and Asia.

She said that VSU was pleased to join hands with ANC-PATHE Study Medicine, to provide quality foundation to students in pursuing their medical career. "VSU assures that ANC-VSU Pre-medicine program would provide a guaranteed pathway to State Medical Universities in Belarus/Russia."

ANC/PATHE Study Medicine Official Representative of Belarus Andrei Belenki said they are delighted to work with ANC Education, the leading transnational education provider in Sri Lanka. "We will extend our full support for ANC-PATHE Study Medicine students in obtaining visa, and apart from the legal support we would also like to guide students throughout the six years of study in Belarus."

Once students complete the Pre-Medicine program, ANC-PATHE Study Medicine is geared to assist students throughout the whole process initiating with sending in applications, career guidance counselling, visa applications, accommodation arrangements, air tickets reservation to airport pickups. Further, each student will receive individual attention during the process, enabling each and every one of them to successfully transfer to their university of choice to commence their higher studies.

During the last phase of the program conducted at the VSU in Belarus students will be provided with the necessary environs and facilities to follow the Pre-Medicine program. The facilities include medical facilities, private or hostel accommodation, access to university cafeteria, gym and the stadium for a well-rounded preparatory course.
– Pix by Daminda Harsha Perera