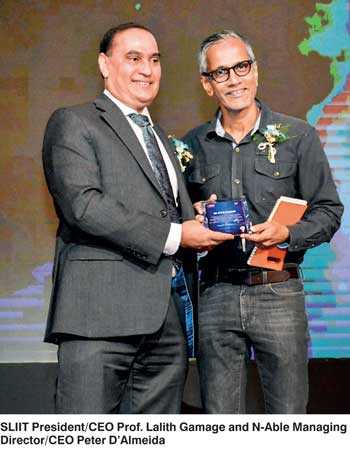 SLIIT's Business Management Students' Conference 2018, organised by the Faculty of Business Students' Community (FBSC) was held for the 12th consecutive year on 2 August at SLIIT Main Auditorium.

This year's conference themed as, 'Imagine, Innovate, Inspire' sought to guide business management students towards the path of being successful future business leaders. Given today's dynamic corporate environment, the conference also aimed to assist these undergraduates to enhance their leadership and professional skills and improve their employability.

Acclaimed industrial and inspirational speakers including N-Able Managing Director/CEO Peter D'Almeida, Chandanalepa CEO Philip Nehri Mullegama and Motivation and Life Skills Specialist

Fahad Farook enlightened the gathering on being imaginative, innovative and inspiring. Hemas Manufacturing Ltd. Brand Manager Isurini Wickramanayake advised students on personality development.

Addressing the gathering, SLIIT President/CEO Prof. Lalith Gamage said, "Our students have chosen a very appropriate theme for this year's conference as it is SLIIT's mission to create a learning and research environment to encourage our students to imagine a million things leading to innovations that will inspire all of us. I congratulate the SLIIT Business School on organising another successful conference involving eminent industry leaders and believe that our students would have immensely benefitted from this conference."

Present at the event were senior management from SLIIT, faculty members, SLIIT undergraduates and undergraduates from other government and private universities in Sri Lanka. Several interactive sessions in the day's programme engaged participants to develop their leadership skills.

Commenting on the Conference, SLIIT Business School Dean Prof. Samantha Thelijjagoda said, "As a much-awaited calendar event in the Business Faculty, the conference is an ideal platform for students to engage with cross-disciplinary interests, and to listen and learn about best innovative business practices. I congratulate the conference organising team for their efforts to enhance students experience and help them succeed in any future endeavours."

Begun in 2007, the Business Management Students' Conference is one of the main events organised by the Faculty of Business Students' Community (FBSC) of SLIIT. The faculty's main objective is to support and guide business management students to transform into inspirational business leaders. The faculty, for more than a decade has continuously and successfully organised the conference to help students understand and develop their competencies in both co-curricular and extra-curricular activities recognised as a crucial requirement to compete in the local job market. Hemas Manufacturing Ltd. was the main sponsor of the SLIIT Business Management Students' Conference 2018.