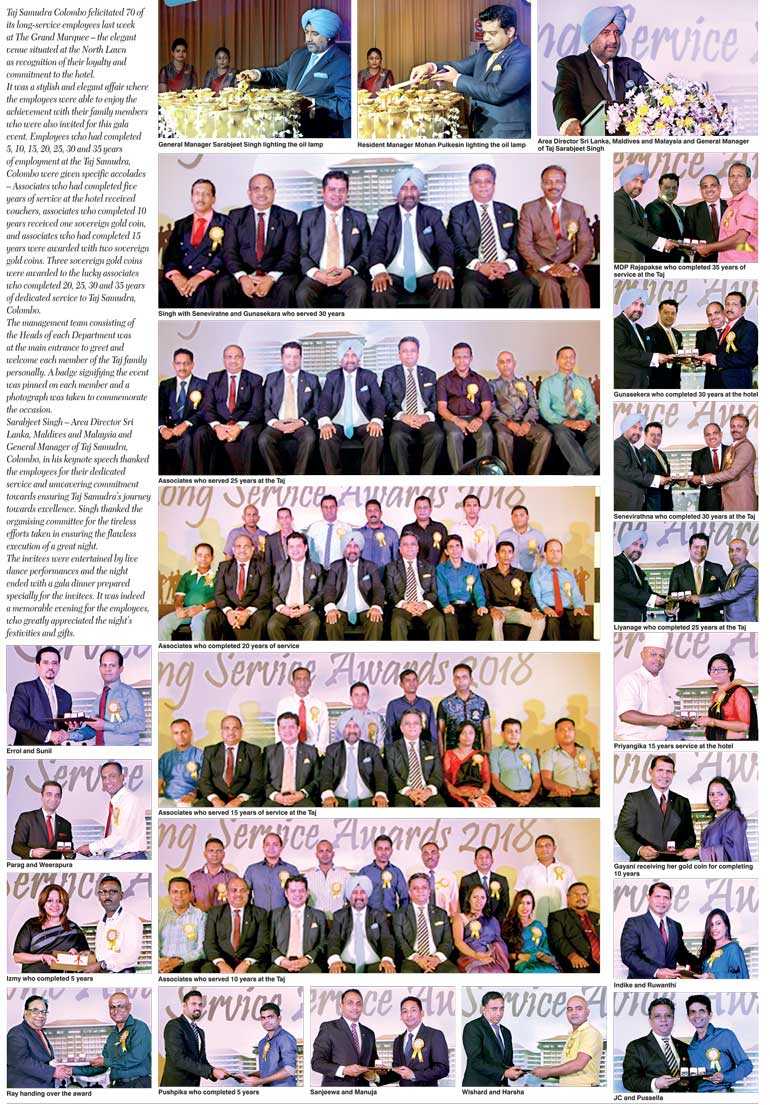 Taj Samudra Colombo felicitated 70 of its long-service employees last week at The Grand Marquee – the elegant venue situated at the North Lawn as recognition of their loyalty and commitment to the hotel.

It was a stylish and elegant affair where the employees were able to enjoy the achievement with their family members who were also invited for this gala event. Employees who had completed 5, 10, 15, 20, 25, 30 and 35 years of employment at the Taj Samudra, Colombo were given specific accolades – Associates who had completed five years of service at the hotel received vouchers, associates who completed 10 years received one sovereign gold coin, and associates who had completed 15 years were awarded with two sovereign gold coins. Three sovereign gold coins were awarded to the lucky associates who completed 20, 25, 30 and 35 years of dedicated service to Taj Samudra, Colombo.

The management team consisting of the Heads of each Department was at the main entrance to greet and welcome each member of the Taj family personally. A badge signifying the event was pinned on each member and a photograph was taken to commemorate the occasion.

Sarabjeet Singh – Area Director Sri Lanka, Maldives and Malaysia and General Manager of Taj Samudra, Colombo, in his keynote speech thanked the employees for their dedicated service and unwavering commitment towards ensuring Taj Samudra's journey towards excellence. Singh thanked the organising committee for the tireless efforts taken in ensuring the flawless execution of a great night.

The invitees were entertained by live dance performances and the night ended with a gala dinner prepared specially for the invitees. It was indeed a memorable evening for the employees, who greatly appreciated the night's festivities and gifts.