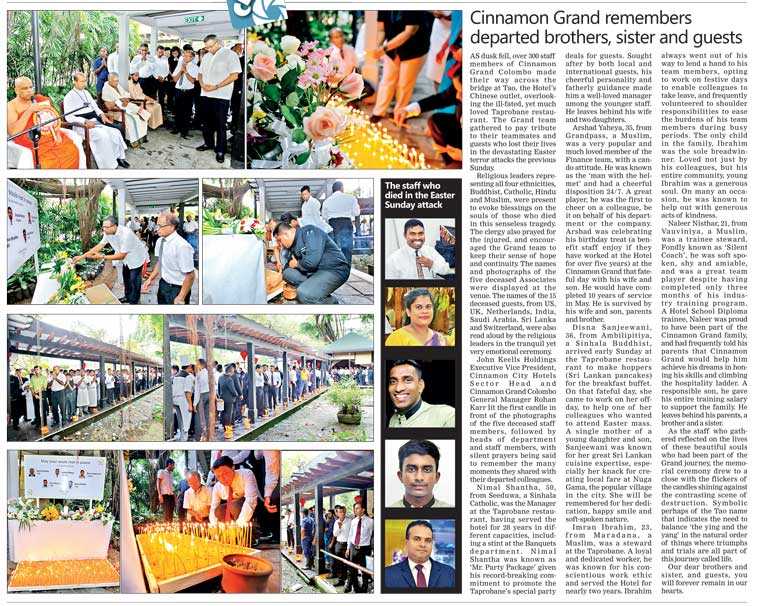 As dusk fell, over 300 staff members of Cinnamon Grand Colombo made their way across the bridge at Tao, the Hotel's Chinese outlet, overlooking the ill-fated, yet much loved Taprobane restaurant. The Grand team gathered to pay tribute to their teammates and guests who lost their lives in the devastating Easter terror attacks the previous Sunday.

Religious leaders representing all four ethnicities, Buddhist, Catholic, Hindu and Muslim, were present to evoke blessings on the souls of those who died in this senseless tragedy. The clergy also prayed for the injured, and encouraged the Grand team to keep their sense of hope and continuity. The names and photographs of the five deceased Associates were displayed at the venue. The names of the 15 deceased guests, from US, UK, Netherlands, India, Saudi Arabia, Sri Lanka and Switzerland, were also read aloud by the religious leaders in the tranquil yet very emotional ceremony.

John Keells Holdings Executive Vice President, Cinnamon City Hotels Sector Head and Cinnamon Grand Colombo General Manager Rohan Karr lit the first candle in front of the photographs of the five deceased staff members, followed by heads of department and staff members, with silent prayers being said to remember the many moments they shared with their departed colleagues.

Nimal Shantha, 50, from Seeduwa, a Sinhala Catholic, was the Manager at the Taprobane restaurant, having served the hotel for 28 years in different capacities, including a stint at the Banquets department. Nimal Shantha was known as 'Mr. Party Package' given his record-breaking commitment to promote the Taprobane's special party deals for guests. Sought after by both local and international guests, his cheerful personality and fatherly guidance made him a well-loved manager among the younger staff. He leaves behind his wife and two daughters.

Arshad Yaheya, 35, from Grandpass, a Muslim, was a very popular and much loved member of the Finance team, with a can-do attitude. He was known as the 'man with the helmet' and had a cheerful disposition 24/7. A great player, he was the first to cheer on a colleague, be it on behalf of his department or the company. Arshad was celebrating his birthday treat (a benefit staff enjoy if they have worked at the Hotel for over five years) at the Cinnamon Grand that fateful day with his wife and son. He would have completed 10 years of service in May. He is survived by his wife and son, parents and brother.

Disna Sanjeewani, 36, from Ambilipitiya, a Sinhala Buddhist, arrived early Sunday at the Taprobane restaurant to make hoppers (Sri Lankan pancakes) for the breakfast buffet. On that fateful day, she came to work on her off-day, to help one of her colleagues who wanted to attend Easter mass. A single mother of a young daughter and son, Sanjeewani was known for her great Sri Lankan cuisine expertise, especially her knack for creating local fare at Nuga Gama, the popular village in the city. She will be remembered for her dedication, happy smile and soft-spoken nature.

Imran Ibrahim, 23, from Maradana, a Muslim, was a steward at the Taprobane. A loyal and dedicated worker, he was known for his conscientious work ethic and served the Hotel for nearly two years. Ibrahim always went out of his way to lend a hand to his team members, opting to work on festive days to enable colleagues to take leave, and frequently volunteered to shoulder responsibilities to ease the burdens of his team members during busy periods. The only child in the family, Ibrahim was the sole breadwinner. Loved not just by his colleagues, but his entire community, young Ibrahim was a generous soul. On many an occasion, he was known to help out with generous acts of kindness.

Naleer Nisthar, 21, from Vauviniya, a Muslim, was a trainee steward. Fondly known as 'Silent Coach', he was soft spoken, shy and amiable, and was a great team player despite having completed only three months of his industry training program. A Hotel School Diploma trainee, Naleer was proud to have been part of the Cinnamon Grand family, and had frequently told his parents that Cinnamon Grand would help him achieve his dreams in honing his skills and climbing the hospitality ladder. A responsible son, he gave his entire training salary to support the family. He leaves behind his parents, a brother and a sister.

As the staff who gathered reflected on the lives of these beautiful souls who had been part of the Grand journey, the memorial ceremony drew to a close with the flickers of the candles shining against the contrasting scene of destruction. Symbolic perhaps of the Tao name that indicates the need to balance 'the ying and the yang' in the natural order of things where triumphs and trials are all part of this journey called life.

Our dear brothers and sister, and guests, you will forever remain in our hearts.