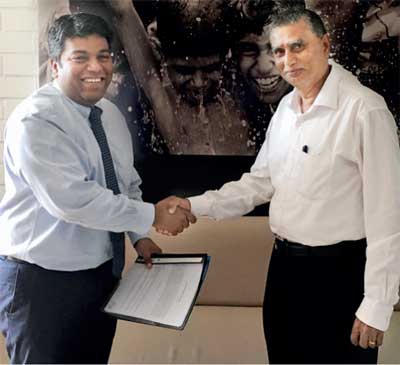 (St Anthony's Group Executive Director Jeevan Gnanam (left) and Jinasena Ltd Director Anil Amarasuriya shake hands after the MOU)
Two of the country's largest family-owned business groups, Jinasena Ltd. and St. Anthony's Industries Group Ltd, recently signed a Memorandum of Understanding (MoU) that will enable them to utilise key competencies they have acquired over time in their individual industrial value chains for their mutual benefit.

Both organisations, which have a rich local heritage, global outlook and cutting-edge business acumen, agreed on the MoU as a strategic move and timely effort to combine their distribution networks to reach a wider consumer and customer base to position their products across the country.

St. Anthony's Industries Group has one of the most experienced and time-tested distribution networks in the construction industry, with coverage reaching all corners of the country, including the north and east.

Meanwhile, the Jinasena Company owns and operates an island-wide showroom network, with the exception of the Northern and Eastern provinces. Both companies, which are keen total solution providers to their valued clientele, identified each organisation's key attributes and strategies in terms of achieving customer convenience and decided to enhance the friendship that has existed between these two prominent business families to a business partnership.
St. Anthony's Industries Group Ltd, the manufacturers and marketers of the Anton brand of uPVC, HDPE and CPVC pipes and fittings, is an organisation which has stood the test of time. Since its inception in 1958, for close to six decades, the organisation and Anton has won the trust of Sri Lankan consumers.

In addition to Anton pipes and fittings, the St. Anthony's Group is the manufacturer of Max, Dolphin water tanks, Ultima uPVC doors, uPVC windows and doors, BioCell waste water treatment solutions, polar Insulation foils, Net-Z PVC netting for different applications and Azure water purification units. Anton is a company which is fondly remembered by Sri Lankans as being a pioneer in local manufacturing.

Jinasena Ltd. has been in operation for over 110 years and was the first Ceylonese engineering company. By 1932 it was rated among the five leading engineering companies in the island. In 1950, the son of the founder T. S. Jinasena, designed and manufactured the first Jinasena centric water pump. The range of water pumps, tractors, threshers, reapers, choppers and weeders really began to make its presence felt when the brand quickly gained the trust of the rural Sri Lankan farmer, who is traditionally extremely sceptical about the mechanisation of time-tested methods.

As per the guidelines set out in the MoU, Anton will now distribute Jinasena water pumps and domestic pressure pumps to deserving customers spread across the Northern and Eastern provinces, while Jinasena will provide a total solution for their walk-in customers at Jinasena showrooms which will include uPVC, CPVC cold and hot water pipes and fittings, Max Triple Water Tanks and ball valves, etc.

Jeevan Gnanam and Mr. Jinasena both expressed their excitement and gratitude in being able to provide better service and total solutions to valued customers that have placed their trust and confidence in these two pioneering organisations for over 10 decades.

There are only a few local family-owned establishments in Sri Lanka that can boast of sustained business and value generation strength for over 50 years, considering the country's past volatile business environment, market dynamics, strong external competition, civil unrest and ethnic conflict.