By Charumini de Silva

Former Central Bank Governor Ajith Nivard Cabraal last week warned that the country's economic dashboard was signifying a vulnerable condition ahead, insisting improved fiscal management would mitigate any turmoil.

Having served the Central Bank for nine long years, he outlined the analogy between a vehicle dashboard and an economy dashboard at a Rotary Club West luncheon meeting held in Colombo.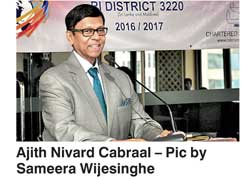 Highlighting that the dashboard was a useful technique to navigate through the journey, Cabraal pointed out that the outlook of the economic dashboard at present signified an alarming situation.

"My look at the economic dashboard doesn't tell me a good story. It is telling me to panic," he said.

According to Cabraal, the five major displays of the economic dashboard – real economy, monetary sector, fiscal sector, external sector and financial sector – had not been given attention by the current economic managers.

He pointed out that although the real economy was at benign levels, if there was a high inflation rate in the economy, in sympathy all the other rates would increase simultaneously.

Denying all allegations on maintaining an artificial currency during his tenure, Cabraal reasoned that it was a result of prudent management of economic fundamentals and said they took great pains to ensure that.
"At the time we were in office, we used to ensure that total depreciation of the currency was managed prudently, not artificially. People say we controlled it artificially. You can control the foreign exchange or rupee for nine weeks, but you cannot control it for nine years. The fundamentals were well managed for the currency to behave in such a manner," he explained.

He said the economy was in a vulnerable situation today not because debt had gone up, but because the rupee had depreciated drastically.

"Along with the rupee depreciation, overall foreign debt and interest rates have gone up, as a result the interest cost has increased to great heights. Those are going to be very difficult facets to manage in an economy," he added.

He said except three-month Treasury bill rates which are at 9.7%, all the other interest rates had escalated to double digit levels at present.

Noting that the total debt when he took office was Rs. 2,222 billion, or debt to GDP was 91%, he emphasised that over the period of time, with many development projects, the debt had increased to Rs.7,494 billion.

"Now although there is an increase of about Rs. 4,000 billion in debt, as a percentage to the GDP it was down to 70%. That's the trick. If you can increase the income, you can tolerate debt. Managing the fiscal deficit is a fundamental requirement of managing the economy," he noted.

He claimed that the Government has printed Rs. 238 billion during the first three months of the year to endure short-term difficulties, whereas when the previous regime was fighting a war the total money printed at the highest level was only Rs. 70 billion.

"When you look at the economic dashboard there is Rs. 238 billion the Government has borrowed as at 24 March from the Central Bank."

However, he emphasised that when it comes to meeting external obligations, it is important to have sufficient dollars in the Central Bank to function.

He pointed out that from $ 2.6 billion in 2006 the reserves were built up steadily to $ 8.2 billion till they left office in 2014. However, the current Governor Dr. Indrajit Coomaraswamy had recently said that the reserves were down to $5.1 billion.

"This to my mind tells that we are in difficult situation," he added.

In addition, Cabraal noted that the short-term debt which was $6.6 billion in 2014 had now increased to $7.7 billion.

"No wonder why Dr. Coomaraswamy says that they need to sell Hambantota Port. He realises that he doesn't have the flexibility or the ability to print the dollars the same way he does with rupees. Therefore, it is crucial to keep a very close tab on your dollars and cash flows," he said.

He went on to say that the story did not end with the dashboard because the dashboard didn't make the journey, but steering also contributed to make it to final destination.

"Today what needs to be concerned about is how you manage that and I hope the country will do and hopefully Sri Lanka will prosper once again," Cabraal said.
---
Cabraal claims GDP recalculation a mistake
The Government's decision to recalculate Gross Domestic Product (GDP) was termed a 'huge mistake' by former Central Bank Governor Ajith Nivard Cabraal, insisting that it traded away the credibility of the Central Bank and Census and Statistics Department.

He pointed out that according to the old method the average GDP growth accounts to 7%, while the new method comes to 6.8%, which is merely 0.2% which is not much of an impact to anybody.

Cabraal charged that Treasury bills and Treasury bonds which were at $3.4 billion as at 31 December 2014 had dropped significantly to $1.2 billion at present, adding that it was more alarming than a mere 0.2% revision of the GDP which cost the credibility of the entire system.

"It is not only the physical change; the reason was that we lost our credibility. By recalculating we disturbed the serenity of the Central Bank and Census and Statistic Department. In retrospect, I think we made a huge mistake," he stressed.
---
Sri Lanka needs international investors, absurd to chase them away: Cabraal
​
Stating that domestic savings were not sufficient for the country to move on to the next level of development, former Central Bank Governor Ajith Nivard Cabraal emphasised the importance of attracting sufficient foreign money to come in order to boost the economy.
He said that knowing the real state of the economy, it was absurd to chase away longstanding international investors from the market place.

"Templeton, one of the largest investment funds in the world which has assets over $9 80 billion, was described as corrupt institute. For them $ 1.5 billion is nothing. When they are investors of a country you don't call them cons and rouges."

He highlighted that the FDIs which accounted for $1,635 million in 2014 had also plunged drastically to $449 million last year.
---
Repaying Golden Key depositors with taxpayers' money illegal, claims Cabraal
​
Former Central Bank Governor Ajith Nivard Cabraal asserted that the Government's decision to repay Golden Key depositors, a company that was not regulated by the Central Bank, from taxpayers' money was illegal.

"There is no compulsion of the taxpayers to pay for a company that was not regulated by the Central Bank or the Government. Payments that have been made to Golden Key depositors in my view are illegal," he pointed out.
Justifying his method of repayment for the depositors, Cabraal said that they recommended taking the money off the people who were directors of that company and using those funds to pay back the depositors, but not from taxpayers' money.