Become first home-grown energy company to become a multinational, acquires Bangladeshi LPG operation
LAUGFS Gas PLC, the most aggressively growing Sri Lankan energy company, made the historical announcement yesterday of becoming a multinational with its first overseas acquisition of one of the largest LPG downstream companies in Bangladesh.

LAUGFS Gas PLC acquired controlling interests of Petredec Elpiji Ltd. (PEL), at an investment of $ 18.75 million (over Rs. 2.6 billion) and became the first Sri Lankan energy brand to become a multinational.

PEL was one of the first to enter the downstream LPG business in Bangladesh during 1997, and was later acquired by Australian energy giant Kleenheat Australia. PEL is a dominant player in the Bangladeshi LPG industry with over 21% market share and operates with a modern LPG import facility in Mongla Port area.

LAUGFS, the first home-grown energy brand of Sri Lanka, has seized its vision to become a regional and global player, having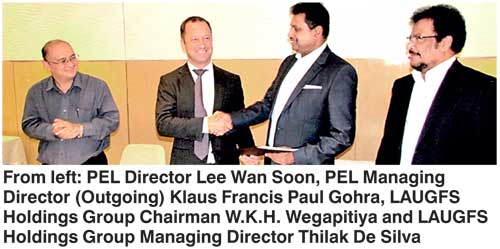 already reached the far corners of the country and been affectionately embraced by the local consumer as a trusted Sri Lankan brand. With the acquisition of 69% stake of PEL, LAUGFS will commence its operations in Bangladesh strengthening its presence in the power and energy sector beyond national borders.

With this acquisition, the growth opportunities for LAUGFS Gas PLC catapults to a level that is several-fold more than with the existing local market. This also propels the entity into a different league and will open doors for far greater business expansion in the region and globally over the coming years.

The distribution of business risk and better economies of scale in supply chain management in association with LAUGFS's maritime business where two LPG vessels are in operation, is expected to give cutting edge efficiencies thus propelling a growth momentum that goes beyond the domestic norms.

With over 160 million population, Bangladesh has been identified as one of the most lucrative emerging markets in South East Asia. The steady depletion of natural gas and the double digit growth of LPG with CAGR 12% year on year average, the potential for domestic and industrial LPG is significantly large. With more government focus on alternate energy to compensate for the impending depletion of natural gas, the demand for LPG is expected to soar to much higher levels over the next few years.

"We see tremendous potential for expanding LPG as a domestic and commercial energy source in Bangladesh. The country's economy is expected to show robust growth with a 7% GDP growth forecasted by the IMF, signalling rising disposable income in the domestic market. The gap between supply and demand in terms of commercial energy needs is also increasing with their natural gas reserves now depleting at a fast pace," remarked W.K.H. Wegapitiya, the Group Chairman of LAUGFS.

"The acquisition of PEL will mark an important milestone in our global expansion plans. We will soon disclose our next move to a few other Asian markets. We are aggressively working on it, however, it is too early to disclose in detail," he stated.

Commenting on the significance of the acquisition, Wegapitiya further noted: "LAUGFS Gas commenced LPG operations in 2001, at a time when the Sri Lankan LPG market was dominated by a multinational. We began our journey amidst many challenges that day. Since then, we have expanded and grown rapidly to today become a Sri Lankan energy conglomerate with global presence. As a truly Sri Lankan home-grown business, we believe that this will be a momentous occasion not just for LAUGFS, but for the whole country."

"This acquisition comes at a time we celebrate 20 years in business, enabling us to take a leap from a mere home-grown business to a multi-national, and strengthen our energy presence across the region," remarked Thilak De Silva, the Group Managing Director of LAUGFS.

"Our strategic decisions and investments have always firmly focused on our vision to make LAUGFS a multi-national brand. With this acquisition we have fulfilled this vision and delivered tremendous value to our stakeholders, strengthening our position in the power and energy sector, not just in sri lanka, but globally. The recent acquisition of our second LPG vessel, Gas Success, and our investments in building one of the largest LPG storage facilities in the region at Hambantota, are all strategic investments made as part of this global expansion strategy," he further commented.

Petredec Elpiji Ltd is one of the largest LPG distributors in Bangladesh with its LPG downstream businesses in industrial and wholesale, commercial, domestic and autogas segments. It currently operates its plant at Port Mongla, distributing over 22,000 MT of LPG per annum through its extensive distribution network.

With the acquisition of this entity and the addition of the second LPG vessel Gas Success to its fleet, LAUGFS Gas PLC will have the added benefits of these operations reflecting in their financials through consolidations from the third quarter of the current year. Continuous enhancement of stakeholder value is an ongoing philosophy at LAUGFS and these additions are a reflection on the focus towards these core ideologies.

LAUGFS Gas was established in 2001 with its entry into the local LPG downstream industry, and has since expanded rapidly to become a dominant player in the energy sector. In 2010, LAUGFS Gas PLC was listed in the Colombo Stock Exchange with an IPO drawing an unprecedented response. Its presence in the power and energy sector has been further strengthened over the years through its subsidiaries LAUGFS Maritime and LAUGFS Power.

LAUGFS Maritime engages in LPG transportation, and operates with its 3,500 MT Gas Challenger and the recently acquired LPG vessel Gas Success. LAUGFS Power operates in the renewable energy sector, with substantial interests in hydro and solar power generation. The largest solar power project in the country is currently being set up by LAUGFS Power, with plans to expand into larger scale generation of wind and hydro energy in the region.

LAUGFS Gas PLC has further diversified interests in vehicle emission testing, leisure and property and real estate sectors through Eco Sri, LAUGFS Leisure and LAUGFS Property.